About City Link
City Link Express is one of Malaysia's leading courier companies with extensive reach to several Southeast Asia countries, covering countries including China, Singapore, Indonesia, Thailand, Vietnam, and many others. Established in 1979, the logistics company is widely recognized for its quality services that meet and even exceed many customers' expectations.
City Link provides multiple courier services, from door-to-door domestic & international delivery service and same-day delivery to air/sea freight service, bulk delivery, and shipping insurance. City Link has also developed an integrated e-commerce fulfillment solution.
Boasting its broad reach in more than 220 countries, City Link Express recently marked a significant milestone of 43 years of integrated logistics services. Other milestones in its development include:
Cooperation with Xtra Delivery to enhance City Link's frozen services

Received the award of "Top 3 Best Courier Services in Malaysia" - MCMC Star Award

2023's launch of Motorcycle Parcel delivery for fast navigation through traffic

Bulk shipment service at more competitive rates available in 2022

Launch of City Link Mobile App with track and trace features
City Link Express strives to provide effective and efficient services, guaranteeing its strong presence in Malaysia's logistics industry and Asia Pacific. The Malaysian logistics company has also established multiple partnerships, solidifying its position as a trusted logistics company. Some of City Link's partners include Xtra Delivery and Shoppymore.
Despite its continued presence and achievements in the industry, City Link Express competes with other logistics providers like J&T Express, PosLaju, GDEX, DHL, Shopee Express, Ninja Van, and FedEx.
City Link Tracking
City Link offers many accessible and manageable services within Malaysia and across borders, including courier services, integrated e-commerce solutions, and dedicated logistics solutions such as customs clearance, reverse collection, storage rental, 3PL, and bulk delivery services. City Link also boasts the assured whole freighting process, from managing complicated documentation to ensuring a successful delivery. Whether your requirements involve air freight, sea freight, or land transportation services, all these solutions are designed with a customer-centric approach.
An advanced City Link end-to-end tracking technology powers these delivery solutions for an improved customer experience. By choosing City Link, you can benefit from responsive customer service and strategic freight management and rest assured of the transparent shipment processes. This means you can track and trace all City Link shipments at any time, whether they are sent within Malaysia or across its borders.
The City Link Express tracking platform also features simple and user-friendly interfaces that facilitate customers to monitor and stay informed of their City Link packages' whereabouts.
City Link Tracking Malaysia also features an electronic proof of delivery (e-POD) system, ensuring customers can access their shipment delivery records. However, to access the e-POD, customers must fill in their tracking numbers, account numbers, as well as the sender and recipient's contact information.
City Link Tracking Malaysia
City Link provides a vast range of integrated services with assured City Link employees managing all the delivery services across Malaysia. Whether you need to send parcels within Peninsular Malaysia or across Borneo Island, the company boasts its vast network in Borneo, Sarawak, Sabah, and Labuan. You may choose from Prepaid Document and Prepaid Parcel options and benefit from flat-rate pricing.
The Malaysian service includes multiple solutions such as 24-hour special deliveries, warehousing, and many other services guaranteeing faster and easier shipments across Malaysia.
City Link tailors the service to meet customers' needs, including corporate clients and banks. Customers within Klang Valley are also assured of same-day collection and delivery before 6 pm.
City Link's Malaysian service also has enhanced tracking features for full shipment visibility and customers' peace of mind as they can stay informed throughout the entire City Link shipment process.
City Link Tracking International
With its global airline partners, City Link Express extends its air freight and sea freight services internationally. Whether you need to import/export goods or deliver parcels fast abroad, the company provides comprehensive solutions to meet your needs.
The City Link international services include consolidation, charter services, and customs clearance. Despite the multiple logistics parties and modes of transport involved in City Link's international shipping, all customers are assured of guaranteed safe and correct deliveries on time and within the estimated budget.
City Link's international services also feature reliable tracking capabilities, which allow customers to know where their parcels are and give them peace of mind.
How to Track City Link
Like any other parcel shipping carrier, you have multiple ways of tracking your City Link Express shipments. Here are 2 of the easiest and most reliable ways to track City Link shipments step by step.
By Using City Link Tracking Tools
You can use the City Link Track and Trace tool on the official website or App.
City Link Website
To track with the logistic provider's service, you need to:
Visit the official City Link official website. On the homepage, you can find the City Link tracking tool. Alternatively, you can access it by going to "Useful Tools" and choosing "Track Your Shipment" in the drop-down menu.
Click on the "Track Shipment" option. To ensure you clicked on the right option, note that the tracking option and the tracking field are in the same color.

Enter your City Link tracking number in the tracking field and click the "Track" button. Notably, City Link lets you track up to 30 parcels in one go. To track shipments in bulk, enter one tracking number per line.
Here is a sample result that you can expect. In the "Details" section, you can find shipment information, including the consignment number, reference number, origin, destination, shipment type, weight, etc.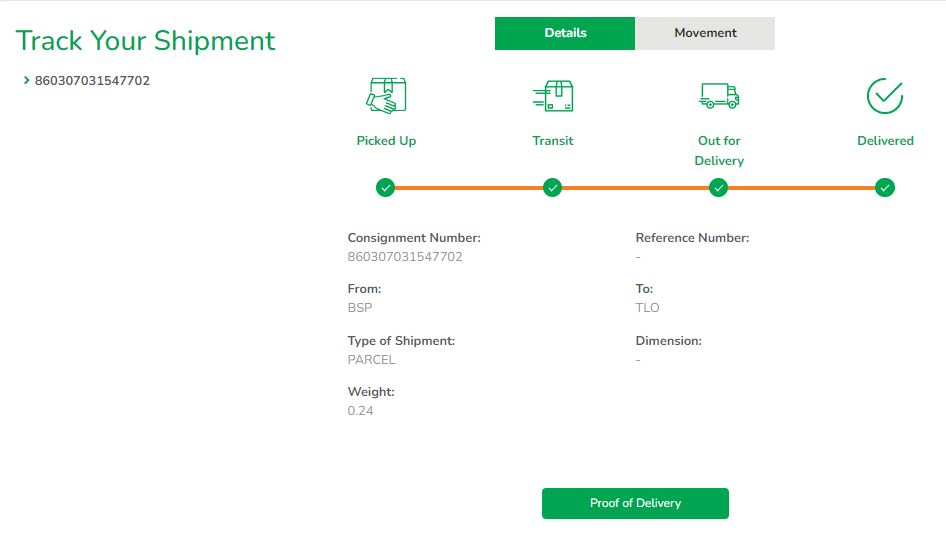 In the "Movement" section, you can find the detailed transit history - a list of transit points that the City Link shipment has passed at a specific time.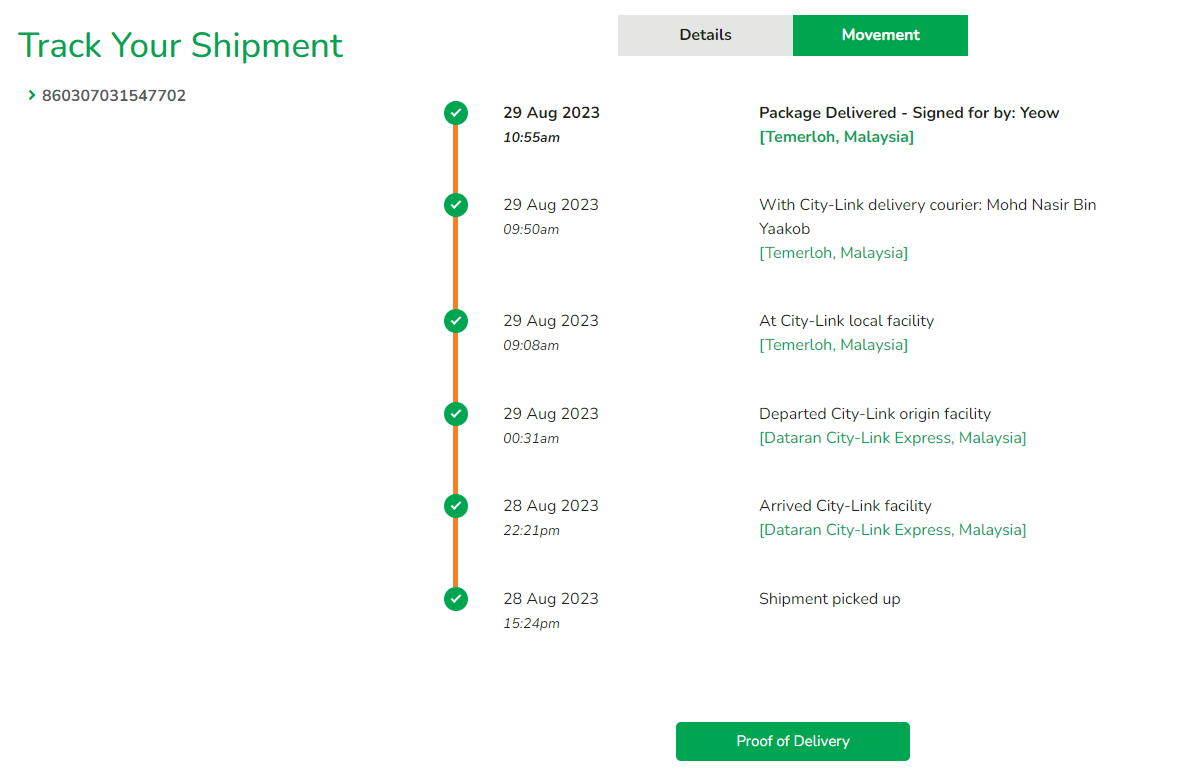 If you need delivery proof, click the "Proof of Delivery" button at the bottom of your tracking result.
Once you click the button, you'll be redirected to a "Proof of Delivery" page where you must enter the relevant details to receive the electronic proof of delivery.
City Link App
The City Link Mobile app has complete service packs, allowing you to track your shipments effortlessly.
Just as you would track on the City Link website, you must enter the respective City Link shipment tracking number to track your parcel. An additional advantage of using the mobile App is that you can monitor your City Link parcels at any time and from any place.

Other key features of the mobile App include;
Request reattempt in case of an unsuccessful delivery

Get estimated shipping rates using the sender and recipient's information

Use City Link's outskirt delivery areas lookup
By Using ParcelPanel
ParcelPanel is a leading e-commerce third-party tracking tool with over 1,100 integrated carriers. Since its establishment, the powerful platform has tracked over 2.3+ billion shipments and offers order tracking functionality through the official website and the ParcelPanel order tracking app.
Here, we'll go into detail about how to use ParcelPanel for City Link tracking.
To track City Link Express by using the ParcelPanel website:
Visit the ParcelPanel official website.

Go to the "

Carriers

" section and click to open the webpage.

Scroll down to the "All Carriers" list.

Enter City Link on the search field, then select the search result.

Once redirected to a dedicated

City Link Express tracking

page, enter your City Link tracking number and click on the "Track" button.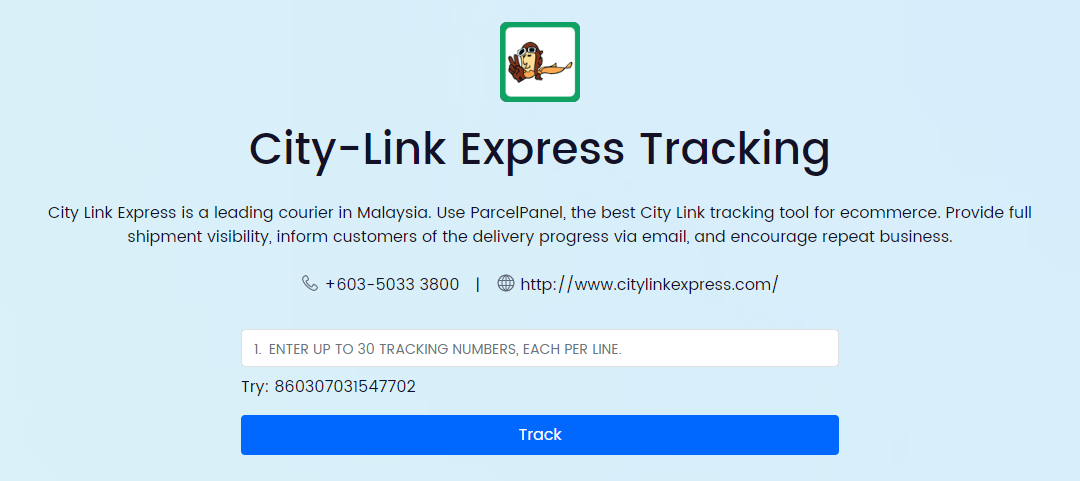 Please note that you can key in up to 30 City Link tracking numbers simultaneously. A new City Link tracking page will open immediately, and you'll get detailed tracking information, as shown in the image below.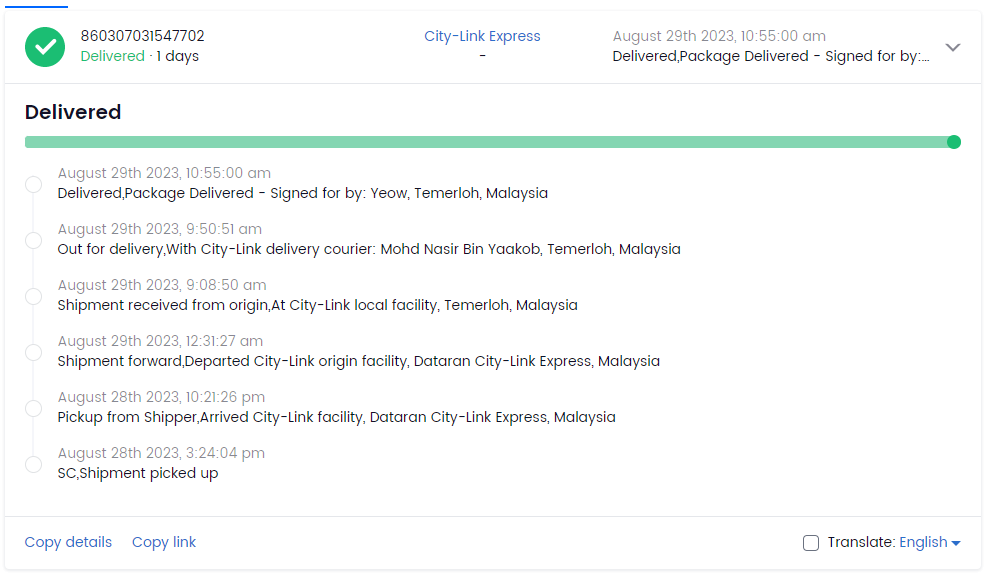 If you need to export City Link tracking information to a spreadsheet or translate it into another language, the City Link tracking tool on ParcelPanel is a better choice.
ParcelPanel's order tracking app is a great revolution for e-commerce, offering a user-friendly automation tool for tracking all your orders efficiently. The App embeds a self-service order tracking feature that online merchants offer their customers for 24/7 parcel tracking from anywhere.
The App further helps drive more sales through its AI-powered product recommendations, designed to target return customers, encouraging repeat purchases. You can also edit the settings to display the estimated delivery date, saving your customers from unnecessary delivery anxiety.
Moreover, you can enable automatic email notifications to update customers on the latest shipment status and engage with them effortlessly. The engagement enhances your customers' post-purchase experience, boosting overall sales from increased customer loyalty and return purchases.
To use the order tracking app, install it from the Shopify App Store to enjoy its centralized order tracking features and positive effects on your sales.

City Link Tracking Number
A City Link tracking number is the City Link consignment number, which is a unique series of numerical digits assigned to each shipment. It serves as a unique shipment identifier that customers can use to trace their parcels or freight shipments sent through City Link Express.
How to find your City Link tracking number:
Check for the City Link tracking No. on your shipping receipt issued when you booked your shipment with City Link.

Inspect your email confirmations for the City Link tracking number if you placed an online purchase.

Contact City Link customer service for assistance if you need help finding your package's tracking number.
City Link Tracking Number Format
The City Link tracking number contains a unique series of 15 digits that are, therefore, not consistent with each shipment.
City Link Tracking Number Example
860307031547702
060301682196154
City Link Customer Service
City Link offers multiple ways to contact its customer service. Although the specific working hours may vary, here is how to contact City Link Express: