About SF Express
Established in 1993, SF Express (Chinese:顺丰速运) Corporation is the renowned express service provider in China, ranking in the 1st place among all China's privately-owned logistics companies. Listed in Fortune Global 500 in 2022, SF Express is comparable with FedEx, UPS, and DHL. It has developed a wide range of end-to-end shipping services to meet customers' needs, including time-definite delivery, economy express, freight, cold chain transportation, intra-city delivery, and international shipping services. Notably, SF International (Chinese:顺丰国际) is responsible for international shipping services. Meanwhile, it offers smart integrated supply chain solutions to many industries, from purchases, production, distribution, and sales to reverse logistics. In addition, SF Express has an extensive global service network that boasts deep penetration in major countries.
SF Express has been headquartered in Shenzhen since 2002, and it became China's first express delivery company with its own cargo aircraft at the time of SF Airlines' establishment in 2009. In 2010, SF Express started to expand its business globally by setting up a branch in Singapore. Then, in 2017, SF went public under the name of SF Holding in the Shenzhen Stock Exchange (SZSE:002352). SF acquired the supply chain business of DHL Greater China Area in 2019, aiming to become a comprehensive logistics supplier. It acquired 51.8% of Kerry Logistics' shares in 2021 to speed up its global expansion. In the same year, reSF Express USA was founded, and its pickup service is now covered 48 contiguous US states, and it can deliver to every US state. In 2022, SF was listed among the Fortune Global 500 companies.
SF International Tracking
SF Express is known for its fast delivery speed and high service standards. Here, we'll mainly focus on SF International shipping and tracking services.
Notably, SF International services fall into two different categories, international express services, and cross-border e-commerce services.
SF International Express Services
SF International Standard Express
SF International Economy Express
SF Cross-Border E-commerce Services
SFBUY
SF eParcel
E-Commerce Express
Overseas Fulfillment/Warehousing
We can find that SF International express services cater to individuals, while SF Cross-Border E-Commerce Services are tailored to international businesses' needs for shipping from/to China, overseas warehousing, and order fulfillment.
SF International Small Packet Tracking (SF eParcel Tracking)
SF International Small Packet, also known as SF eParcel, is a premium shipping service intended for B2C cross-border e-commerce businesses that need to deliver packages under 2kg to over 200 countries in the world. By choosing SF eParcel, you can ship electrical products with built-in lithium-ion batteries in compliance with safety standards for air transportation.
You can find the estimated shipping time of SF eParcel to different countries below:
| Destination | Estimated Shipping Time |
| --- | --- |
| Great Britain | 6 - 9 working days |
| Austria, Belgium, Denmark, France, Germany, Ireland, Luxembourg | 6 - 10 working days |
| Czech Republic, Romania, Switzerland, Slovakia, Slovenia, Spain, Greece, Hungary, Iceland, Italy, Portugal | 7 - 10 working days |
| Canada | 7 - 10 working days (another 5 days for deliveries to remote areas) |
| USA | 7 - 12 working days |
| Russia | 14 - 24 working days |
| Australia | 5 - 8 working days |
| Lithuania, Latvia, Estonia, Finland, Norway, Sweden, Belarus, Ukraine, Poland | 9 - 14 working days |
| Other countries | 6 - 22 working days |
SF International provides fast pickup from all service points in Mainland China, as well as end-to-end shipment tracking. The tracking update is available on the same day when the product is shipped. SF International website supports real-time SF eParcel tracking. Alternatively, you may use a professional package tracking website like ParcelPanel to track SF eParcels in bulk, up to 30 each time.
If SF eParcel fails to deliver your package within 120 days after consignment, you can submit an order tracking request or file a claim in case the package is damaged or lost. The compensation is up to 200 CNY per shipment.
SF Ecommerce Express-CD Tracking
Unlike SF eParcel, SF E-Commerce Express-CD can ship general products from China to 27 countries. The shipping service depends on SF Express's robust domestic pickup service network, efficient customs clearance, and last-mile delivery partners. Shipment tracking is included as standard from pickup to doorstep delivery. However, returns, redirection, redelivery services are not included.
| Destination | Estimated Shipping Time |
| --- | --- |
| USA, Italy, Spain, Portugal, Mexico | 7 - 12 working days |
| Great Britain, France, Germany, Philippines, Indonesia | 6 - 10 working days |
| Austria, Netherlands, Luxembourg, Belgium, Czech Republic, Denmark, Ireland, Hungary, Lithuania, Slovenia, Slovakia | 10 - 15 working days |
| Sweden | 12 - 20 working days |
| Thailand, Singapore | 4 - 6 working days |
| Malaysia | 4 - 7 working days |
| Canada | 7 - 10 working days |
| Australia | 8 - 12 working days |
Compared with SF eParcel, SF E-commerce Express-CD has a shorter period for claim processing and order tracking query, namely, within 80 days after consignment. In case of loss during transit, you'll be compensated up to 300 CNY per shipment.
SF Express Tracking Amazon
As for Amazon sellers, they mainly leverage SF's integrated overseas warehousing and fulfillment services, including first-leg transportation, warehousing, and last-mile delivery for great shopping experience.
SF International has Eastern US (New Jersey) and Western US (Los Angeles) warehouses for delivering across the United States; its UK warehouse is located in Birmingham for deliveries within the UK; and its German warehouse serves 27 European countries. Although SF International has fewer warehouses than major cross-border e-commerce logistics providers, it stands out with fast speed in both the first-leg transportation and last-mile delivery.

Overseas Warehouse



Destination



First-Leg Transportation



Last-Mile Delivery


UK Warehouse
All UK territories
By air: 7 - 12 days
2 - 5 working days
German Warehouse
27 EU countries
By air: 7 - 12 days
By sea: 42 days
By land: 22 - 25 days
Germany: 2 - 3 working days,
Other EU countries: 3 - 7 working days


US Warehouse
(New Jersey)
All US territories
By express service: 3 - 7 days
By air: 5 - 7 days
2 - 5 working days
US Warehouse
(Los Angeles)
All US territories
By express service: 3 - 7 days
By air: 5 - 7 days
2 - 5 working days
The service of SF Express tracking Amazon customers and sellers need is accessible on the SF Express and SF International websites. As the SF Track & Trace tools on the official websites can only accommodate 20 SF tracking numbers each time, you may choose ParcelPanel for SF logistics tracking. By doing so, you can improve your efficiency and export the tracking information to a spreadsheet. As for Amazon sellers who need to incorporate SF Express tracking into their official website, EPR, WMS, and other systems, it's better to choose the tracking APIs provided by professional parcel tracking websites like ParcelPanel.
SF Express Tracking USA
In the wake of UPS - SF Express joint venture in 2017, SF's US-bound parcels will be transported to the US via the UPS network. Apart from SF International Standard Express and Economy Express, SF International provides businesses with a wide range of services for deliveries within the United States, including small packet and e-commerce express services for shipping from China and overseas warehousing & fulfillment services.
Additionally, SF US Standard Express and US Economy Express services are available for shipping from the United States to China Mainland, Hong Kong, Macau, Taiwan, Canada, Mexico, and many countries in southeastern Asia.
SF International offers full shipment visibility. To access the SF Express Tracking USA service, you can go to the US subfolder of SF International website, use the SF International app, or choose a professional package tracking website that supports SF tracking, like ParcelPanel.
Please note that if you choose SF International, local delivery takes about 2 - 5 working days, while international delivery to the UK can take approximately 7 - 12 working days.
SF Express Tracking UK
Similar to SF Express USA services, SF Express UK services fall into the same categories, with differences in the shipping time, shipping fee, etc. Notably, if you choose SF International, local delivery in the UK takes about 2 - 5 working days, while international delivery to the UK can take around 6 - 10 working days.
Plus, SF UK Economy Express is available for delivering non-urgent packages to China Mainland and Hong Kong within 7 - 10 working days (plus another 1 or 2 days for remote area deliveries).
Since end-to-end shipment tracking is included as standard for all SF Express UK services, you can go to the SF International website or use the app to get real-time updates.
SF European Mail Tracking
SF European Mail is an SF International shipping service categorized as the direct-line by DHLink, DHgate's shipping division. This means that the delivery time is longer than express delivery services such as DHL and FedEx, while faster than ePacket and postal parcels. The estimated shipping time is around 7 - 10 working days, whereas it takes longer for SF International to deliver to Eastern European countries, i.e., about 9 - 15 working days.
SF European Mail tracking service is available on the SF International website and app. Likewise, you can count on ParcelPanel's SF International tracking service.
How to Track an SF International Parcel?
There are many ways to track SF International parcels. You can use the Trace & Trace tool on SF Express and SF International website/app, as well as any of the third-party shipment tracking websites that support SF tracking. ParcelPanel is one of the best SF Express tracking tool.
Here, we will go into the nitty-gritty details of how to use SF International tracking services and ParcelPanel.
By Using SF International Tracking
The official SF International tracking service is available on both the SF International website and the app. Let's find out how to use these two types of services.
The SF International website is very user-friendly - there are many subfolders for different countries and regions, including US/Canada, UK, Australia/New Zealand, France, Germany, Hong Kong/Macau, and many Asian countries. You can choose from different language options as you need. The designs are similar.
On the homepage of SF International, you can find the Track & Trace tool floating above the hero banners. Click "Track Now" to access the dedicated tracking page.

Normally, you choose to track "By Waybill No." and enter your SF Express tracking number. The search box can accommodate up to 20. Don't forget to use separators, such as commas and spaces. Or, you can put one tracking number per line.
After entering your tracking number, click on the "Inquiry" button to start tracking. For example, I use SF6043695759180. After completing the puzzle for verification, I've got detailed tracking information, including the latest shipment status and delivery time. Previous events are all collapsed.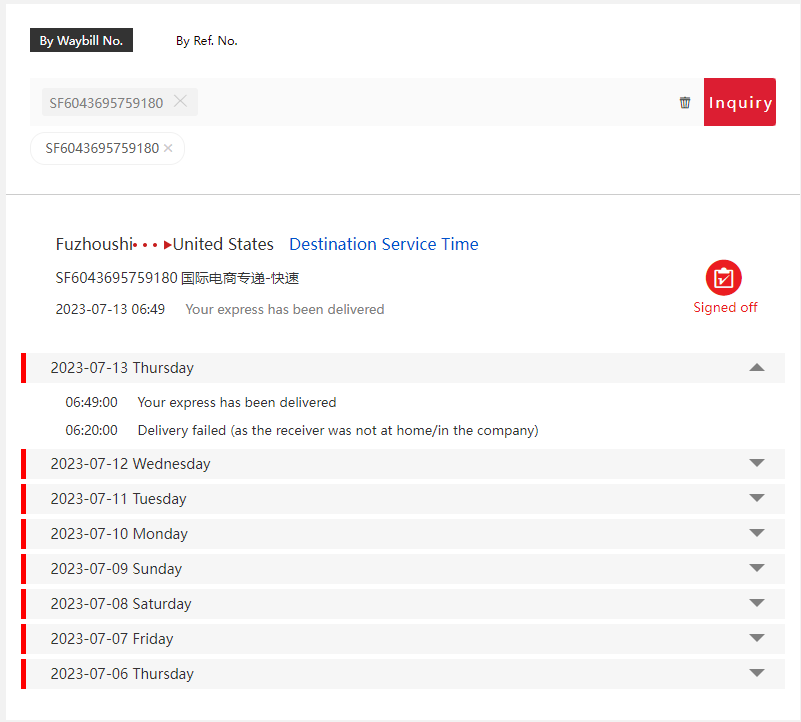 Honestly, the Chinese-to-English translation is either incomplete or somewhat awkward. You can find the shipping service, and many locations in square brackets are not translated. What's more, you can't copy or export the tracking details easily.
SF International App is available on Google Play and App Store for end customers expecting SF International parcels. The app supports English, Chinese, Japanese, and Korean. You can use it to ship and track SF parcels on the go and schedule a door-to-door pickup. To start using it, you need to install the app and sign up with your mobile phone.

ParcelPanel is the best e-commerce order tracking solution for Shopify & WooCommerce businesses, with over 1,100 carrier integrations, including SF Express and SF International. You can access Domestic SF Express Tracking and SF International Tracking by using ParcelPanel Official Website and Order Tracking app.
ParcelPanel Official Website
On the ParcelPanel website, you can access over 1,100 carrier tracking services by going to "Carriers." Search "SF," and the corresponding Domestic SF Express and SF International tracking services will appear immediately. Move on by clicking on "SF International Small Packet" to track SF International deliveries.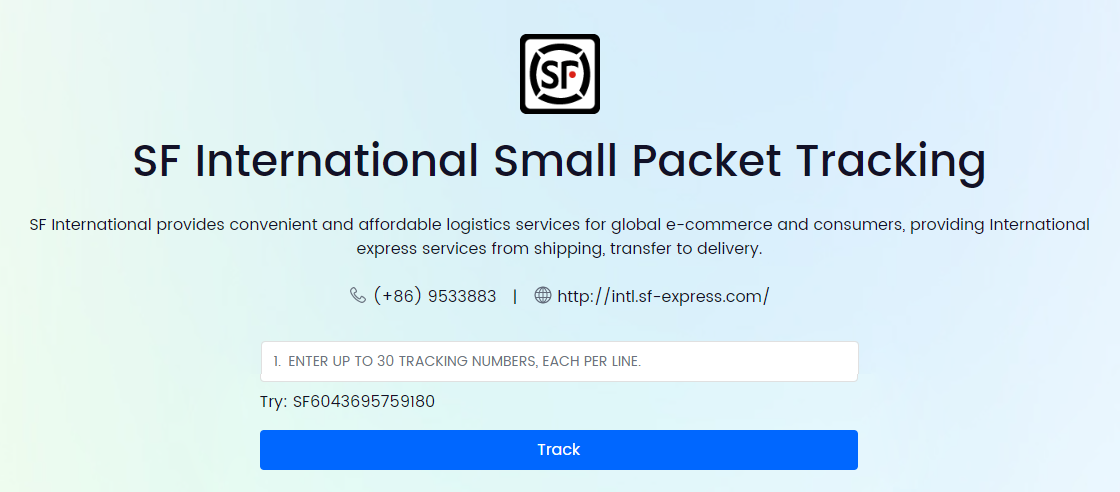 You can enter up to 30 SF International tracking numbers each time, with one per line.
Then, click "Track" to start the tracking process, and you'll get all tracking information available, including the origin and destination country, transit time, shipment status, and detailed transit history.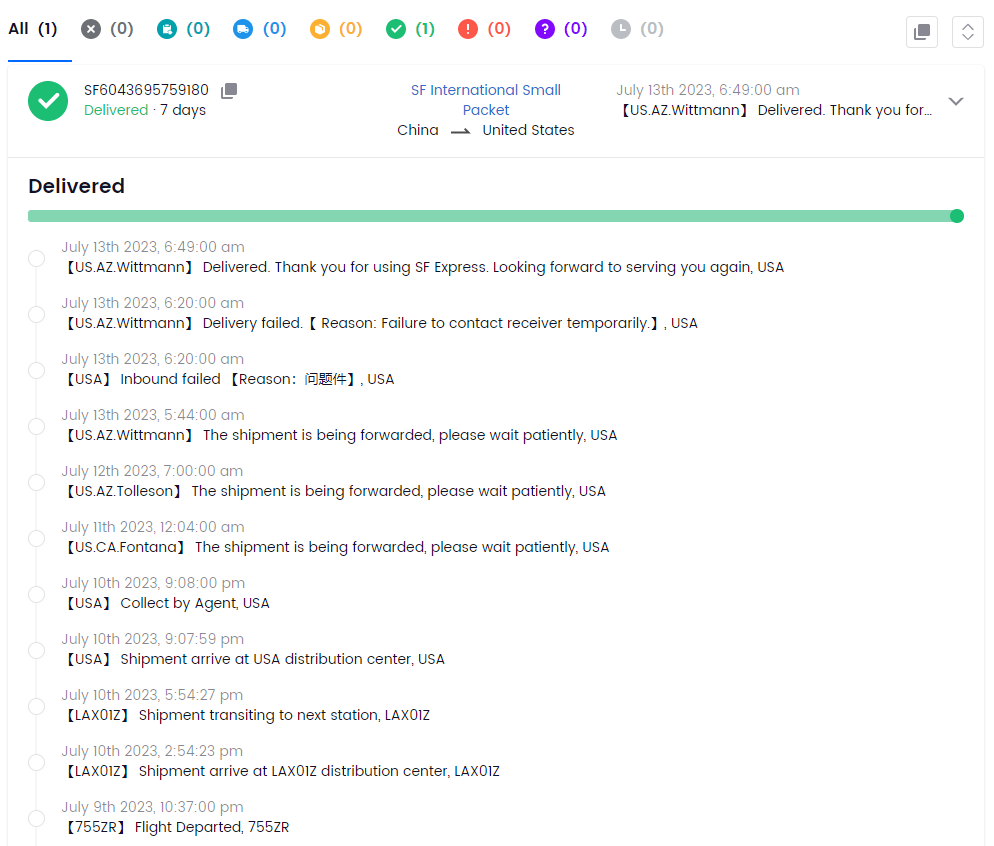 Notably, insignificant SF Express transit hubs and facilities are represented by codes here. The English translation is much better, and the tracking information can be translated into more languages. For bulk shipment tracking, you can copy and export the tracking information to a spreadsheet in a second.
ParcelPanel Order Tracking is the most popular Shopify order tracking app, rated 5.0 out of 5.0 stars based on over 1,500 reviews. Over 40,000 Shopify merchants choose ParcelPanel to improve the post-purchase experience, while the ParcelPanel WooCommerce plugin is now available for free.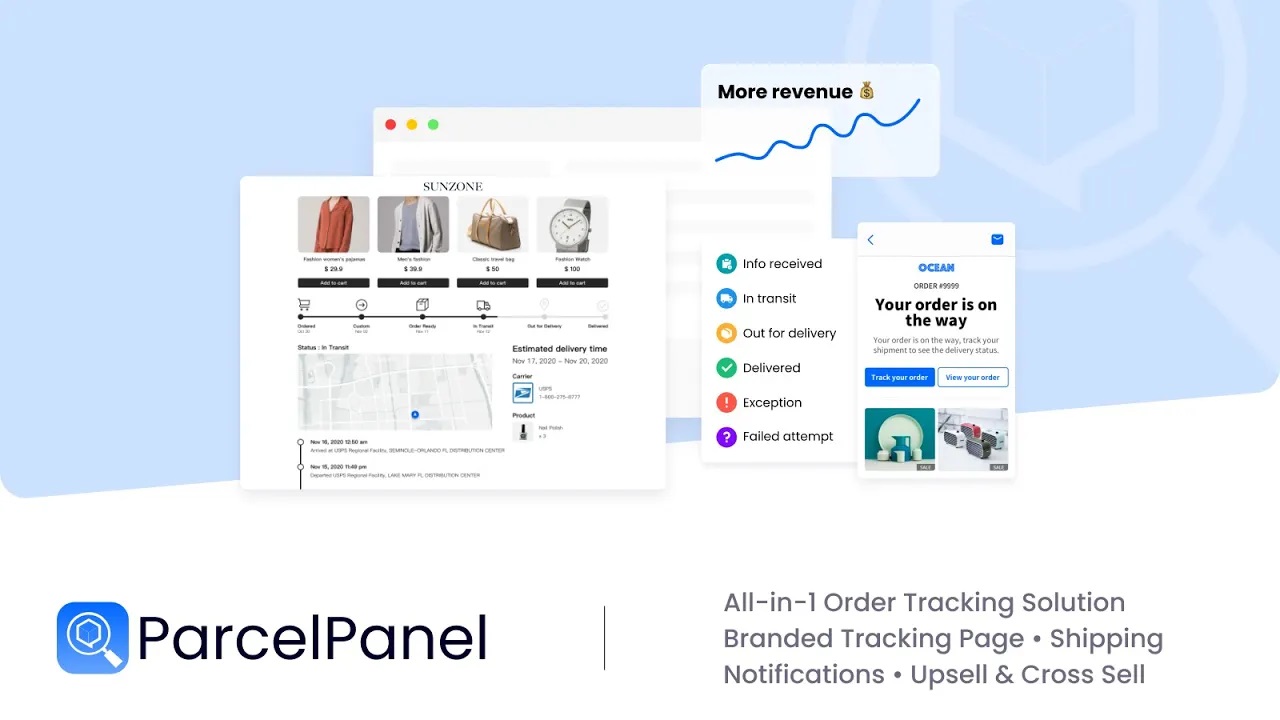 After you add the order tracking page to the navigation menu, your customers can access the real-time shipment updates by entering either their order number or tracking number.
The ParcelPanel Order Tracking app automatically creates a branded order tracking page that perfectly fits your branding after installation. A wide range of options are provided for you to further customize the look and feel. For example, you can enable the "Estimated Delivery Time" and "Product Recommendations" sections to reassure customers and encourage repeat business.
In addition, you can also enable email notifications so that ParcelPanel will send shipment notifications on your behalf to keep customers in the loop of the delivery progress whenever the shipment reaches a new milestone. Packages' whereabouts are their primary concern, so you can effectively interact with your customers.
Compared with the official website, the ParcelPanel app can gather more order information, including the recipient's phone number, thus offering a better order tracking experience.
SF Express Tracking Number
An SF Express tracking number, also referred to as a waybill number, can be found under the barcode of a shipping label. If you've ordered from an online store that uses SF Express's services, you can find it in the shipping confirmation email. If you've lost your SF Express tracking number, ask the sender to retrieve it for you.
SF Express Tracking Number Format
Since July 2019, the SF tracking number format has been upgraded to 15 alphanumeric characters. Therefore, currently, a typical SF tracking number starts with "SF" at the beginning, and these two letters are followed by 13 digits.
SF Express Tracking Number Example
SF6043695759180
SF6043689990809
SF6043700911132
SF6042479696654
SF1420134407592
SF International Tracking FAQ
Why is SF Express tracking not working?
SF Express tracking is not working probably because:
You entered the wrong SF Express tracking number. Please double-check and try again.

Your package has not entered the SF Express network yet. It's recommended that you wait for a few hours and come back later.

The SF Express tracking number has already expired, so you can't find any information about your package with it. In this case, contact the sender in time.

There are hiccups in SF Express's tracking system, or it is under maintenance now. You should try again later or contact SF Express customer service for further assistance.
Who delivers SF Express in USA?
SF Express doesn't have a delivery network in the United States. However, it partners with UPS for last-mile delivery.
How does SF Express deliver in USA?
After SF Airlines transports parcels to Los Angels, SF Express will pass the responsibility on to UPS. The courier will take care of customs clearance and final delivery for SF Express's US-bound packages. To learn more about UPS services in the USA, please go to our "UPS Tracking" page.
What happens if I miss my SF Express delivery?
Don't worry if you missed SF Express delivery for the first time. Just follow the instruction on the "Delivery Absence Notice" you receive to arrange free redelivery. Should a second delivery attempt fail, or the recipient can't be contacted, SF Express will seek the sender's advice.
Why did Amazon ship my package with SF Express?
As we know, there are many third-party sellers on Amazon, but not all of them are using the Fulfillment by Amazon (FBA) service. Because SF Express is a well-known express delivery company in the world and the shipping fee is lower than UPS, FedEx, and DHL, it's likely that a large number of Amazon sellers tend to choose SF Express to deliver packages to American, European, and Southeast Asian countries.
How long does SF Express take from China to US?
It takes about 7 - 12 working days for SF Express to finish the delivery of packages destined for the US. The actual shipping time might be longer if the package is held at customs for too long or the destination is in a remote area.
SF International Customer Service
SF International offers stellar customer service. You can find a list of its global service hotlines easily. The working hours of SF International customer service vary.
As for the service in China Mainland, here is the more detailed contact information:
| Service | Hotline/Email | Service Hours |
| --- | --- | --- |
| International Standard/Economy Express | 95338 | 8:00 - 21:00 GMT+8, Mon. ~ Sun. |
| International eParcel/E-Commerce Express | 95338 | 8:00 - 21:00 GMT+8, Mon. ~ Sun. |
| Overseas Warehousing & Fulfillment | [email protected] | 9:00 - 18:00 GMT+8, Mon. ~ Sun. |
| SFBuy | Only live chat is available | 9:00 - 18:00 GMT+8, Mon. ~ Sun. |