About SpeedPAK
SpeedPAK is a prominent logistics service provider in Orange Connex (China) Limited's portfolio that offers bespoke direct mail solutions to eBay's cross-border e-commerce sellers in Mainland China, Hong Kong, Macau, and Taiwan in accordance with the shipping policies of the online marketplace. SpeedPAK's direct mail shipping services cover more than 52 countries and territories worldwide, including the United States, United Kingdom, Canada, Australia, New Zealand, Israel, Germany, France, Italy, Spain, and many other European countries.
Notably, as a technology company dedicated to global e-commerce, the parent company of SpeedPAK is a joint venture of a leading private equity investment company in China, CITI CPE, and eBay, the reputable online ecommerce platform in the world. Therefore, SpeedPAK's primary competitors include Amazon Logistics, as well as SF Express, YunExpress, 4PX, Cainiao, and DHLink.
SpeedPAK Tracking
SpeedPAK's direct mail shipping services available online fall into two categories: SpeedPAK Standard and SpeedPAK Economy. They mainly differ in the shipping time and shipment visibility:
| Shipping Service | Shipping Time | Tracking |
| --- | --- | --- |
| SpeedPAK Standard | Approx. 8 ~ 12 working days | End-to-end tracking available |
| SpeedPAK Economy | Approx. 10 ~ 14 working days | Shipment tracking not available in the destination country |
These two shipping services include shipment tracking as standard. The tracking information will be automatically synchronized to eBay, eDIS (eBay's eDelivery International Shipping platform), and Orange Connex's official online package tracker for self-service. Normally, the Acceptance Scan (A-scan) is available within 24 hours.
SpeedPAK Standard Tracking
Generally, SpeedPAK Standard delivers packages under 20 ~ 30kg within 8 - 12 working days on average to 28 countries, including the US, UK, Germany, France, etc. The SpeedPAK shipping service comes with end-to-end shipment tracking, which means that your customers can track their packages at any time from order to door.
| Continent | Destination Countries |
| --- | --- |
| America | United States, Canada, Mexico, Brazil |
| Oceania | Australia, New Zealand |
| Asia | Israel, Singapore, Malaysia |
| Europe | United Kingdom, Germany, France, Italy, Spain, Austria, Belgium, Czech Republic, Denmark, Hungary, Ireland, Netherlands, Poland, Portugal, Russia, Switzerland, Sweden, Greece, Croatia |
ParcelPanel is the best SpeedPAK tracking tool for ecommerce that can be embedded into your Shopify/WooCommerce store instantly so that you can get return traffic and additional sales as customers want to know where their packages are and when to expect the final delivery.
SpeedPAK Economy Tracking
According to the latest news, the SpeedPAK Economy service coverage has been expanded to 49 countries out of China, including the UK, Canada, Mexico, Australia, Germany, France, Italy, Spain, Israel, and even pan-European countries.
Continent
Destination Countries
America
Canada, Mexico
Oceania
Available: Australia
Suspended: New Zealand
Asia
Israel
Europe
Available: United Kingdom, Germany, France, Italy, Spain, Austria, Czech Republic, Belgium, Denmark, Finland, Greece, Hungary, Ireland, Netherlands, Norway, Poland, Portugal, Switzerland, Slovenia, Slovakia, Sweden, Greece, Croatia, Turkey, Bosnia and Herzegovina, Andorra, Albania, Bulgaria, Cyprus, Estonia, Faroe Islands, Iceland, Liechtenstein, Lithuania, Luxembourg, Latvia, Monaco, Serbia, San Marino, Romania, Malta, Republic of Moldova, Montenegro, North Macedonia
Suspended: Russia, Belarus, Ukraine
The weight limit for SpeedPAK Economy shipping to most of these countries is mostly 2 ~ 3kg. Apart from shipping to Australia (22 ~ 27 working days), the average shipping time is between 10 ~ 15 working days.
When it comes to SpeedPAK Economy tracking, the package tracking information is not available in the destination country. Therefore, if you're expecting a SpeedPAK Economy package, you'd better check the delivery status regularly after your package leaves China.
SpeedPAK Tracking USPS
SpeedPAK packages destined for the United States are mostly sent via SpeedPAK Standard, with end-to-end tracking included as standard. USPS is responsible for the last-mile delivery of SpeedPAK US-bound packages. However, SpeedPAK doesn't include the USPS tracking number in the tracking information. You can only check the transit events via the SpeedPAK tracker on the Orange Connex official website or other professional package tracking websites that support SpeedPAK tracking, e.g., ParcelPanel. If you are using the USPS Informed Delivery, you can opt-in for package notifications as you need to monitor the delivery of your SpeedPAK packages.
eBay SpeedPAK Tracking
If you place an order from a Chinese cross-border seller on eBay, your eBay order will likely be shipped via SpeedPAK. In this case, you can go to your "Purchase history" to view the delivery status. Here you can also find the corresponding SpeedPAK tracking number with a hyperlink. You can choose to follow the link for more detailed tracking information.
On the contrary, if you are an eBay seller, you may log in to your eDIS account to access the latest SpeedPAK tracking updates, as the system is already integrated with SpeedPAK shipping and tracking APIs. You may also use the ParcelPanel official website for improve your efficiency in eBay SpeedPAK tracking.
How to Track SpeedPAK Packages?
There are many ways to track SpeedPAK packages' delivery progress. Here, we will focus on popular SpeedPAK tracking methods for online shoppers and retailers, namely, by using the official SpeedPAK tracking tool and ParcelPanel.
By Using Official SpeedPAK Tracker
Go to the tracking page of Orange Connex's official website. Under the tab of "Shipment Tracking," you can find a field to enter your SpeedPAK tracking number. Up to 20 tracking numbers can be input in the field, with one per line.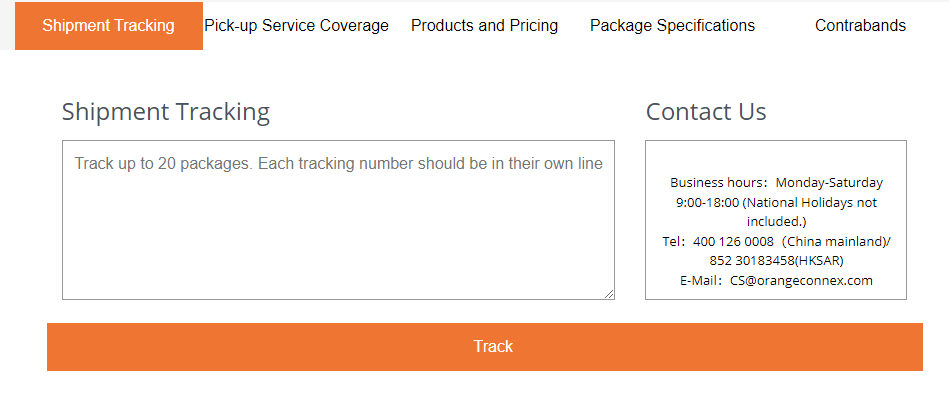 After you enter your SpeedPAK tracking number in the Orange Connex tracking tool, click "Track" to proceed, and you'll find a new line under the button. Click on it so it will expand, presenting more shipment transit details to you, as shown in the below image.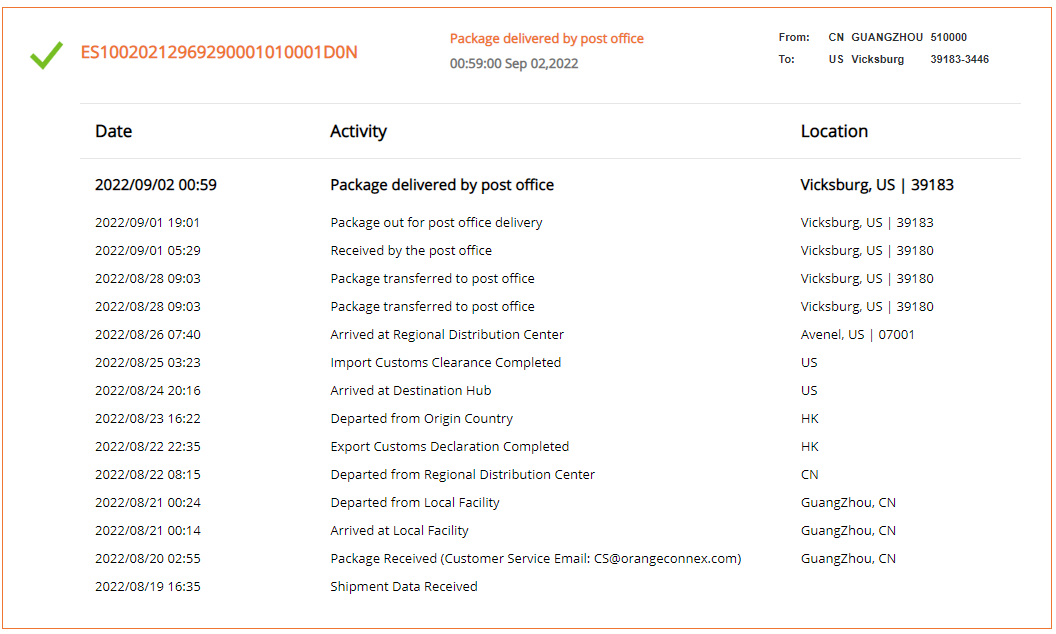 If you're a seller using Orange Connex's shipping services directly instead of eBay's eDIS, you may track SpeedPAK packages by logging in to the Orange Connex Fulfillment Platform.
ParcelPanel is the best e-commerce order tracking solution for Shopify and WooCommerce merchants. It seamlessly integrates with over 1,100 carriers worldwide, including SpeedPAK, to enable real-time shipment tracking. It's a perfect choice for e-commerce businesses to centralize Standard SpeedPAK tracking and Economy SpeedPAK tracking. There are two different ways to use ParcelPanel for tracking SpeedPAK packages:
ParcelPanel Official Website
Land on the "Carriers" page of the ParcelPanel official website, and you can use the universal package tracking service right away. For the dedicated SpeedPAK tracking service, you should enter "SpeedPAK" in the search bar and click on the search result to access it.

Compared with the official SpeedPAK tracker, ParcelPanel allows you to track up to 30 SpeedPAK shipments in one go. Just enter one tracking number for each line, click the "Track" button, and a new page containing detailed tracking information will appear immediately.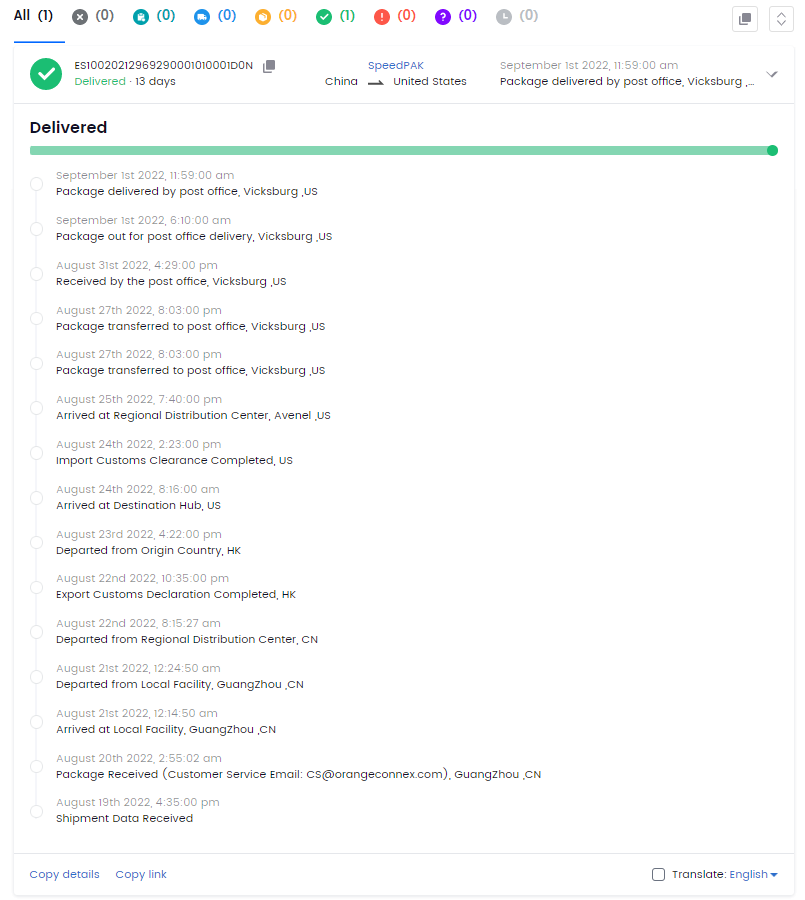 ParcelPanel's SpeedPAK tracking tool is superior to the official in that apart from providing accurate tracking information, it displays the actual transit time and allows you to copy, export, translate and share the tracking information easily.
As for eBay sellers with a Shopify/WooCommerce store who are looking for ways to bring paying customers back to their online stores to improve customer satisfaction with shipment visibility and personalized product recommendations, the ParcelPanel app is the best choice.

As soon as the ParcelPanel Order Tracking app is installed, a branded order tracking page that perfectly matches your branding will be created automatically. The tracking page provides your customers with easy access to the latest tracking update. Meanwhile, AI-powered product recommendations catering to individuals will be displayed to encourage repeat business.
For those who are unaware of the self-service, they can stay informed of the delivery progress thanks to the automated shipment notifications every time the shipment reaches a new milestone. You can customize the email notifications as you need, and ParcelPanel will handle the delivery.
SpeedPAK Tracking Number
A SpeedPAK tracking number serves as a unique identifier for each package sent via SpeedPAK. It can be found in the eBay order details, the eBay seller's eDIS account, and the shipping confirmation email you've received after placing an order.
SpeedPAK Tracking Number Format
The SpeedPAK tracking number format depends on the shipping service. SpeedPAK tracking numbers are typically composed of 28 alphanumeric characters, with "ES" or "EE" at the beginning to distinguish the SpeedPAK Standard and Economy services.
SpeedPAK Tracking Number Example
Here are examples of SpeedPAK tracking numbers:
ES10020212969290001010001D0N (SpeedPAK Standard)
ES10024287564060001010001D0N (SpeedPAK Standard)
EE10018162629700001010001D0N (SpeedPAK Economy)
SpeedPAK Tracking FAQ
Is SpeedPAK legit?
Yes, there is no denying that SpeedPAK is legit. eBay launched SpeedPAK on its own shipping platform to help merchants to meet customers' needs for fast shipping. SpeedPAK shipping services are in compliance with eBay's shipping policies. If you're an eBay seller based in Asia, you can rest assured if you choose SpeedPAK.
Who delivers SpeedPAK in USA?
SpeedPAK partners with USPS for last-mile delivery in the United States. You can discover this by looking at the SpeedPAK tracking information. After the completion of import customs clearance, the package will be transferred to the USPS post office at the destination through the regional distribution center.
Does SpeedPAK use USPS?
Certainly, as mentioned in the last question, the delivery of SpeedPAK packages in the US is handled by USPS after customs clearance. Nevertheless, SpeedPAK doesn't show the USPS tracking number in the tracking information but lists the transit events with timestamps.
Who delivers SpeedPAK in UK?
As for last-mile delivery in the UK, SpeedPAK parcels are mostly handled by Royal Mail, the UK's state-owned postal service, whereas some are delivered by Hermes UK (now referred to as Evri). Certain eBay buyers prefer Royal Mail's last-mile delivery of SpeedPAK packages as the service is faster and more reliable.
How long does SpeedPAK take?
The SpeedPAK shipping time depends on the service level. SpeedPAK provides three types of direct mail services, namely, Expedited, Standard, and Economy. Although you can't find the Expedited service on the SpeedPAK official website, this service is available to certain merchants. SpeedPAK Expedited service can deliver packages within 5 ~ 8 business days. In comparison, the Standard and Economy services take 8 ~ 12 working days and 10 ~ 14 working days, respectively.
Why is SpeedPAK tracking not updating?
Don't worry too much if your SpeedPAK package tracking is not updating, especially if your SpeedPAK package has been shipped within 24 hours. Allow some time for the tracking information to be updated. Please note that tracking is unavailable in the destination country if your package is shipped via SpeedPAK Economy. Moreover, the delivery scan is the last piece of tracking information you can find.
SpeedPAK Customer Service
In case you need to contact SpeedPAK customer service for delivery delays or lost, stolen, or damaged packages, you may refer to the contact information in the table below:
SpeedPAK Customer Service Hotline/Phone Number
SpeedPAK Customer Service Email
Direct Mail Services
Hotline: 400-126-0008
Phone Number: +86 21 60662670 (Mainland China), +852 30183458 (Hong Kong)

[email protected]

Speed Freight Services
Phone Number: +86 21 32107642/ +86 21 32107646 (China Mainland)

[email protected]

Multi-Channel Services
Hotline: 400-126-0008
Phone Number: +86 21 60662670 (Mainland China)
/
Except for national holidays, the working hours of SpeedPAK customer service range from 9:00 to 18:00 GMT+8 (Monday to Saturday). You can find SpeedPAK's announcements on holiday schedules along with updates on the new collection area, new services, pricing adjustments, etc.