About Trackon Courier
Trackon Couriers Private Limited is a privately owned Indian-based delivery and logistics enterprise. The company was founded in 2002 with just two offices in Delhi and Mumbai. Trackon is a fast-growing family of 10,000 employees, successful business partners, and dedicated franchisees. In just 17 years of business, the company has achieved a turnover of more than 240 crores in the fiscal year 2018-2019.
Trackon has established a partnership with Xpressbees and hired an executive from Delhivery with 18+ years of experience as the company's Head of Sales and Marketing to help the company grow faster.
Currently, it is giving head-to-head competition to other Indian couriers such as BlueDart, India Post, DTDC, and others by delivering over 2 lakh consignments while serving 5,000 pin codes both domestically and internationally on a daily basis.
Trackon Courier Tracking
Trackon Courier offers express delivery services throughout India and around the world with an end-to-end tracking feature. The shipments traveling and delivering through the Trackon Courier network are given a unique waybill (AWB) number or reference number that is scanned and updated at every transit point.
These real-time shipment updates help to maintain the transparency of the service as well as provide the customers with peace of mind.
The following are the popular Trackon Courier services that include a tracking feature:
Trackon Prime Track Tracking
Prime Track is a premium shipping service offered by Trackon Couriers. This service is ideal for shipping valuable and urgent consignments across all metros and cities in India within the next or second business day. The service has an end-to-end tracking facility. As a result, customers can send their valuable goods through this service without any worry.
The Trackon Express product Prime Track has a specialized website with an integrated tracking tool.
The tracking numbers provided to Prime Track packages can be entered into the tool to monitor the whereabouts of the package from dispatch to delivery.
The tool allows the tracking of a maximum of 3 tracking numbers in a single search. Please note that to successfully query by using Trackon Tracking Prime Track, tracking numbers must be separated by a comma.
If you want to improve your productivity, consider using ParcelPanel's dedicated Trackon Courier Tracking service instead of Trackon Tracking Prime Track, because the former allows you to track up to 30 Trackon shipments at a single time, which can greatly improve your work efficiency.
Trackon Express Courier Tracking
Trackon Express Courier offers several express services with tracking features. The Express services are ideal for shipping non-time-critical heavy-weight shipments at an affordable price. The express services include:
Express Standard: With this service, shipments are delivered by air, road, and rail at a competitive rate.
Air Express Cargo: This service allows shipping of goods over 100 kg via air freight to any metropolitan area or city within India.
Surface Express Cargo: This is another shipping service for heavy shipments and special handling at the lowest cost. The shipments are transported by large vehicles and appropriate equipment.
The shipping services above are eligible for Value-Added Services as follows:
✔Cash on Delivery / Delivery on Demand
✔ToPay
✔Risk Coverage
Trackon Consignment Tracking
Trackon consignment tracking allows customers to track their packages or shipments online anytime, from anywhere. The consignments registered at Trackon are provided with a consignment number that can be used to track the shipment. Customers can view the shipment details right away by simply entering the Trackon consignment number in the tracking tool on the Trackon website.
Trackon AWB Tracking
Packages registered at Trackon are assigned an AWB number, also known as Air Waybill. Generally, the AWB number serves as the www.trackoncourier.com tracking number for the packages. The Trackon AWB number is 10 characters long and contains only numbers. Both the sender and the recipient of the package can use that number to check the shipment status.
Once the number is entered into the tracking tool of Trackon or a third-party tracking service, like ParcelPanel, the detailed shipment journey, including the transits the consignment has passed, current location, date, time, etc., will be displayed.
How to Track Trackon Courier?
Trackon's official website has an integrated tracking tool allowing customers to track their packages or shipments using the AWB or Order/Reference numbers. You can also track your Trackon package via a third-party tracking service like ParcelPanel.
Let's check out the different ways of tracking Trackon Courier packages- using the Trackon Courier tracking tool and ParcelPanel.
By using Trackon Courier tracking
To track your package or shipment using the inbuilt Trackon tracking tool, go to the Trackon official website. You will find the tracking tool on the right side of the homepage.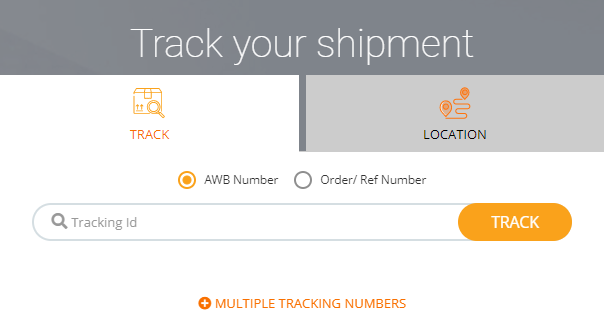 With this tool, you can track your Trackon package or freight shipment in two ways. Usually, the shipments are assigned AWB numbers, while an order or reference number may also be provided.
Step 1: If you want to track your Trackon package using the AWB number, select the AWB Number option. Alternatively, to track using an order or reference number, select the Order/Ref Number option.
Step 2: Enter the Trackon tracking number (AWB Number or Order/Ref Number) in the tracking field as per your option selection and click the 'Track' button.
Note: You can track multiple Trackon shipments with a single search. For that, select the "Multiple Tracking Numbers" option and enter your Trackon tracking numbers. Make sure to add a space between two tracking numbers.
Then, you'll find detailed shipment progress will appear under the search box. After it is delivered, by clicking "Show POD", you can check the proof of delivery.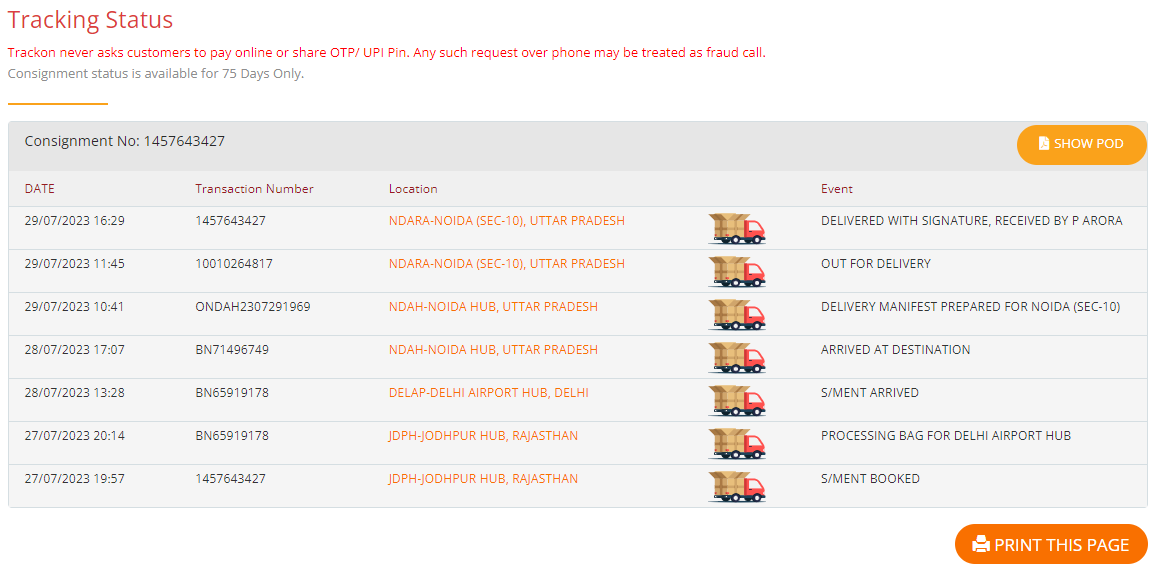 By using ParcelPanel
ParcelPanel is a leading shipment tracking solution for eCommerce. It integrates with over 1100 carriers around the world, and more integrations are on the way. Trackon is one of the carriers among the vast network of carriers ParcelPanel has established.
The seamless integration of ParcelPanel with the Trackon API allows end customers to access a branded tracking page, follow the delivery progress of their packages in real-time, get automated email notifications, and so on. The sender and recipient can track the Trackon shipment using the ParcelPanel website and ParcelPanel Order Tracking App.
Step 1: Go to the homepage of ParcelPanel.com and click "Carriers" on the top menu bar.
Step 2: Then, search for "Trackon" and click on "Trackon Courier" to access the dedicated "Trackon Courier Tracking" service.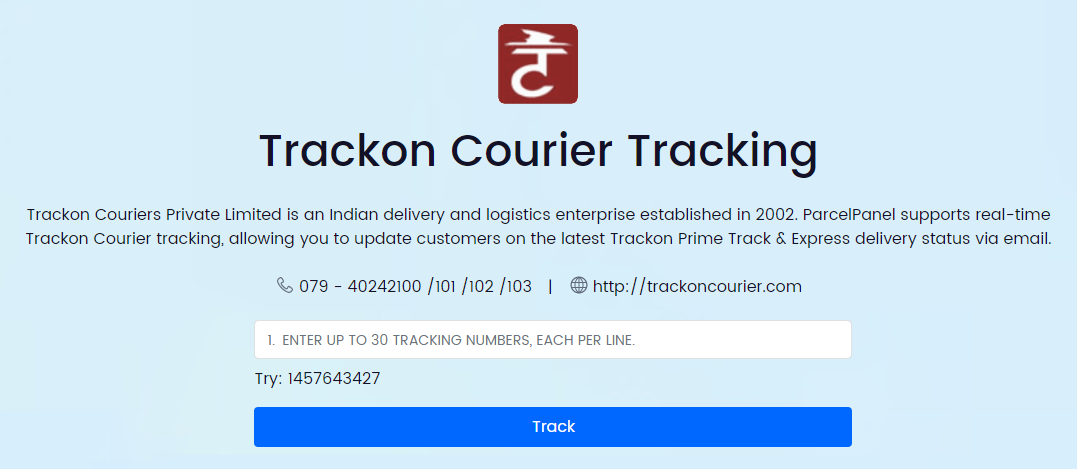 Step 3: A search box will appear in the most prominent position on the page. Enter your Trackon tracking number in the box and click the "Track" button.
You will be redirected to the tracking dashboard with a detailed shipment history.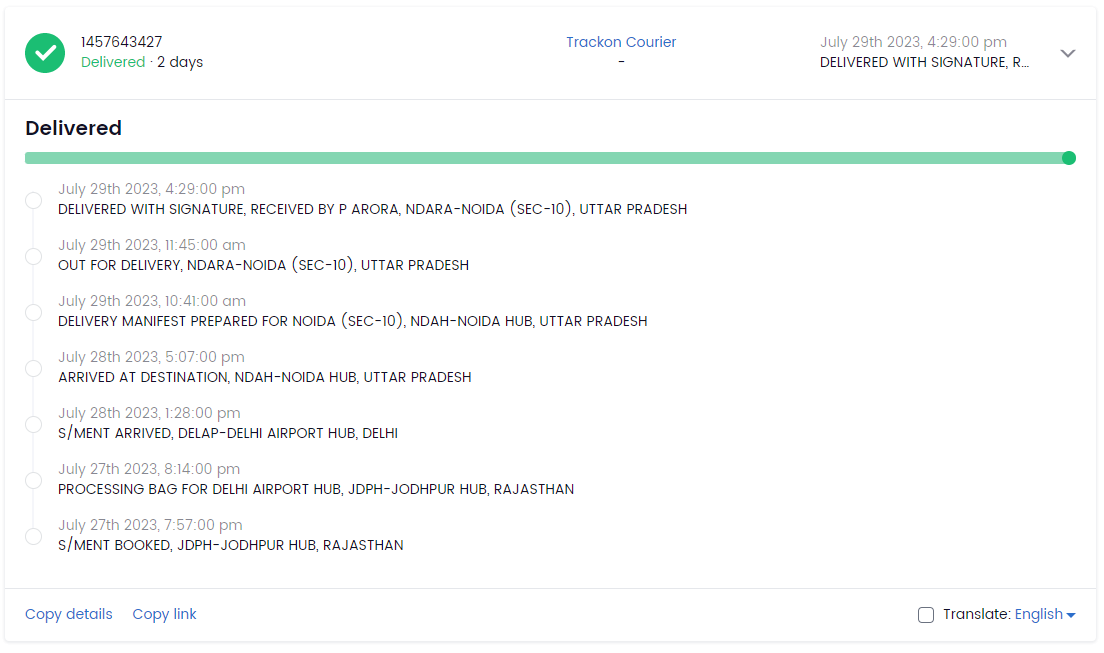 ParcelPanel order tracking app is a reliable product of ParcelPanel specially designed for Shopify and WooCommerce merchants. This app provides eCommerce merchants with a consistent shipment tracking experience.

As soon as the app is installed, it can retrieve information from the store order details, such as the order number, tracking number, courier names, zip codes, etc. On the tracking page that it generated, the details such as tracking numbers, courier names, last checkpoints, transit times, order dates, status, and other information can be displayed.
No matter how many different carriers a merchant uses, the tracking dashboard will have up-to-date information on every package that is in transit, pending, out for delivery, delivered, failed delivery, and other categories. The dashboard is accessible from the backend, giving merchants a seamless tracking experience. Moreover, it makes it easier for merchants to cope with delivery exceptions and provide satisfactory customer service.
Trackon Courier Tracking Number
Every package or shipment booked at Trackon is provided with an AWB number, also known as a consignment number or tracking number. The Trackon courier consignment/tracking numbers are different for every shipment. The sender, recipient, as well as courier company use this number to track the shipment's progress.
The AWB number or the Trackon tracking ID can be found on the shipping label or receipt and inside the shipping confirmation email. Ideally, the sender sends the Trackon tracking number through text message.
It's worth mentioning that the consignment tracking status stays available only for 75 days. If this period is over, the Trackon tracking number won't work anymore.
Trackon Courier Tracking Number Format
The Trackon courier tracking number is the AWB number or reference number assigned to the packages or shipments. The Trackon courier consignment number that is used as the tracking number consists of 10 numeric characters.
Trackon Courier Tracking Number Example
Here are some Trackon courier consignment tracking number examples to assist you in identifying your tracking number.
Trackon Courier Tracking Status
Shipment tracking shows the shipment's journey and the transits the package has passed through. The tracking statuses are short and concise. However, the person tracking the shipment must understand their meanings.
The Trackon tracking statuses you will encounter while tracking your Trackon package are listed below, along with their meanings, so you can understand the tracking status without the slightest difficulty and stay up to date on the delivery progress of the package.
| Trackon Courier Tracking Status | Meaning |
| --- | --- |
| Shipment booked | Trackon has been notified of the shipment. |
| Processing bag for (city name) Airport hub | The Trackon package is currently being processed and to be sent to the airport hub of the mentioned city. |
| Shipment arrived | The shipment has reached a hub/facility of Trackon. |
| Arrived at destination | The Trackon package or shipment has arrived at the hub or facility of the destination. |
| Delivery manifest prepared for (location) | The shipment at the Trackon facility or hub is to be delivered to its destination. |
| Out for delivery | The Trackon deliveryman is on his way to the destination with the package. |
| Delivered with signature, received by (recipient's sign/name) | The recipient has signed for the shipment or package, proving that it was successfully delivered. |
Trackon Courier Tracking FAQ
The following are answers to some of the frequently asked questions about Trackon courier tracking.
Does Trackon deliver on Sunday?
Yes, Trackon delivers on Sunday. The delivery schedule of Trackon is Monday to Sunday from 10:00 a.m. to 7:00 p.m (GMT+5:30). Trackon, however, does not deliver on holidays. Check the Trackon holiday calendar to stay up to date on the dates when consignments will not be delivered.
How long does Trackon take to deliver?
Trackon courier delivery time depends on several factors, such as the mode of transportation, size and weight of the shipment, the distance between the origin and destination, delivery options, and the type of service.
For instance, a shipment transported by air takes less time than a shipment by rail or road. Also, the distance between Delhi and Mumbai is way less compared to the distance between Delhi and Chennai. So, if a shipment takes one business day to deliver a package from Delhi to Mumbai, it will take two business days or more to deliver from Delhi to Chennai.
However, in the case of Prime delivery, the shipment may be delivered within one to two business days to any location within India. Hence, how long Trackon takes to deliver mostly depends on the type of service a customer has chosen.
What is a Trackon AWB number?
An AWB number refers to the Air Waybill number. A Trackon AWB number is the unique identifier assigned to every package or shipment registered at Trackon. These identifying numbers function as tracking numbers, allowing the sender and recipient to track the shipment's journey.
Trackon Courier Customer Care
If you have any issue related to your Trackon package, such as being unable to track, missing a package, losing a package, filing a complaint, or needing an answer to general queries, contact Trackon customer service.
Here is the contact information of Trackon's customer service.
Trackon Courier Registered Address
135 A, Raanikhara
New Delhi-110081, India
Trackon Customer Care Number
Dial Trackon Toll-Free Number 011-4559 3500 to speak directly with a Trackon customer care representative. Telephone service is available Monday to Saturday from 10 a.m. to 5.30 p.m.
Trackon Customer Care Email Address
You can contact Trackon via email at [email protected]
Trackon has several branch offices in major cities. Depending on your local location, you can contact the numbers listed below for assistance.
| Branch Office | Phone Number |
| --- | --- |
| Ahmedabad | 7940242100 |
| Bangalore | 8028567040, 8028567030 |
| Chennai | 4446617710, 4446617712 |
| Delhi | 1145593500, 8448011011 |
| Kolkata | 8334043012 |
| Hyderabad | 4069315555 |
| Mumbai | 9372800532, 9372800533 |
| Pune | 2026453600, 2026453601 |
| Nagpur | 7028018528, 7276030886 |
| Patna | 7870043815, 7870043806 |
| Lucknow | 5224951407, 7704800043 |
| Raipur | 7714017867, 7828095529 |
| Jammu | 1912431561, 7303244337 |
| Ranchi | 9709087111, 9297924009 |
| Ludhiana | 9781330060 |
| Jaipur (Raj) | 1414622300 |
| Guwahati | 7099276312 |
| Ghaziabad | 1202700031, 8448085067 |
| Dehradun | 1354067658, 8448085064 |
| Cochin | 7025280000 |
| Bhopal | 7554011777, 7554949909 |
| Bhubaneswar | 18008913773, 9692201014 |
| Chandigarh | 1722657627, 9914213359 |