About Yodel
Yodel is a leading privately-owned delivery service company based in Liverpool, England. Frederick Barclay is Yodel's founder. Formerly known as Home Delivery Network, the company acquired the services of DHL Express UK and rebranded in 2010. The carrier delivers over 190 million parcels each year for numerous UK businesses.
With over 50 sites nationwide, Yodel offers customers fully trackable services from its Yodel drop-off stores. Besides, Yodel provides various services, including specialised delivery, two-hour delivery windows, delivery notifications, and more. They collaborated with multiple partners in the UK, including Jersey Post and Guernsey Post, for deliveries to all addresses across the UK.
Yodel Inflight and Xperience delivery services accommodate every need of the customers. You can also shop from various brands and get items delivered to your local store using Yodel's click-and-collect services.
This smart delivery service offers services to a spectrum of industries, such as entertainment, health, beauty, leisure, fashion, gardening, gifts and more. They have expertise in handling fragile commodities like flowers and wine. Everything is transparent at Yodel, from collection to delivery.
Yodel's competitors in the UK include Royal Mail, Evri (Hermes), DPD and Parcelforce.
Yodel Tracking
With Yodel tracking, you get push notifications at every step and track your belongings at all times. Tracking your parcel with Yodel direct tracking is super easy. All you need is a Yodel tracking number and your delivery postcode, and you can catch the live status of your deliveries and shipments.
Package tracking is essential for merchants whose businesses are dependent on logistics services. Through Yodel live tracking, staying up-to-date about shipments' whereabouts is possible. Yodel parcel tracking works with a click. Enter your parcel tracking number and postcode, hit "Track this Parcel," and you will know exactly where your parcel is at present. Your Yodel tracking number can be found in your email, SMS, or courier bill.
Let's explore Yodel delivery tracking that helps retail traders keep an eye on their parcels till they reach the destination by service:
Yodel Direct Tracking
Yodel Direct is an easy way for you to send a parcel within the UK. You can choose from either the store-to-store or store-to-door option. The service is reliable and allows merchants to perform stress-free deliveries nationwide. Once you pay for Yodel Direct service, you will receive a Yodel reference number in your email, or you can check it by going to "My Account area". As for the corresponding Yodel Tracking UK service, you can visit the Yodel Direct website's parcel tracking page to monitor the shipment. Fill in the Yodel tracking number in the text field and click the track button. You will receive the live status of your parcel in a couple of seconds.

Yodel Express Tracking
Yodel Xpress (also referred to as Yodel Express) uses the Yodel dedicated courier network and van drivers combined to offer the remarkable one or two-day delivery service. Yodel Express is perfect for small and medium-sized parcels and takes the transit liability for POD (pay-on-delivery) parcels. Merchants can monitor their shipments through the Yodel website or application. Yodel Express tracking services are free of cost, and customer messaging is included as standard.
For eCommerce businesses, keeping customers updated about their items is necessary. Yodel Express tracking helps merchants to keep their customers informed about the good's transit information via messages, push notifications and emails.
To track your Yodel parcel, enter the Yodel tracking number and delivery postcode, click "Track", and the Yodel tracker will display the status of your package immediately. If you need to track Yodel parcels in bulk, you'd better use ParcelPanel's Yodel tracking service.
Yodel International Tracking
The best thing about Yodel international inbound service is that it can deliver a parcel in as little as 24 hours upon arrival. With Yodel as your last-mile courier, you shouldn't worry about your international deliveries once they arrive in the UK. Now you can track your Yodel international deliveries too throughout the entire journey in the UK, from the point of Yodel parcel collection to the destination.
You can go to the Yodel tracking page or third-party package tracking websites like ParcelPanel to track Yodel international inbound packages. If you want to receive real-time notifications about your package's whereabouts, you should download the Yodel parcel tracker App. It provides push notifications to customers and keeps them up-to-date about their parcel's delivery progress.
How to Track a Yodel Parcel?
Now that you are clear that the different types of Yodel delivery services and associated parcel tracking. We'll delve into different ways to track Yodel parcels.
Yodel tracking services made eCommerce business transparent and seamless. Using technology, you can locate your parcel in real time within seconds. There are numerous ways to track a Yodel parcel. Let's explore each in detail below:
By using the Yodel tracking page
Go to Yodel's official website and visit the track page. Alternatively, at the time of purchase, you receive mail and SMS from the company. There is a tracking link in it, along with a Yodel tracking number. By clicking on that link, you'll be taken to the tracking page.
On the Yodel tracking page, there are two text fields which require you to enter your tracking number and delivery postcode. After clicking "Track", you will get all the information about your package's whereabouts in a few seconds.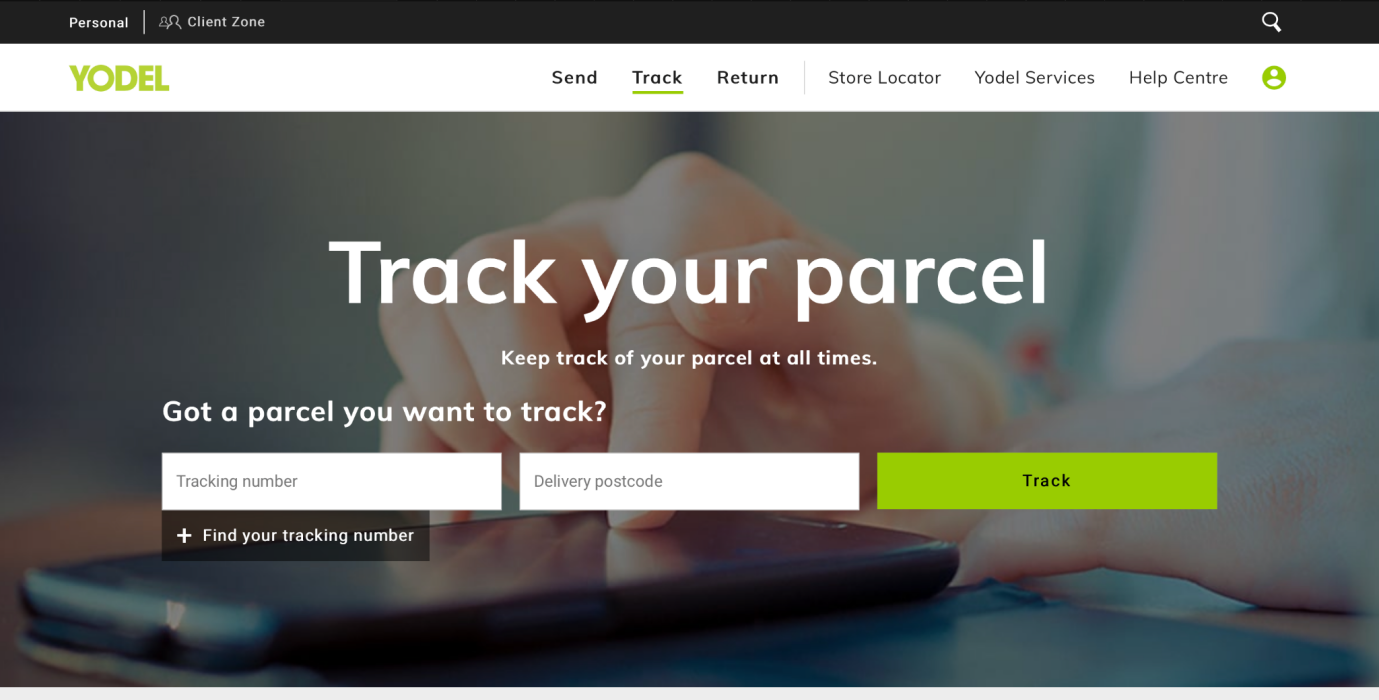 By using the Yodel Parcel Tracker app
Yodel App is one of the most convenient and reliable sources to track your Yodel parcels. After you register, the app provides push and email notifications and keeps you updated at every stage of the parcel's journey. You can also receive a two-hour delivery window and proof of delivery for every home delivery.
It gives users a seamless parcel management experience for deliveries, returns and "click and collect" orders in one place. Apart from tracking your Yodel parcels, you can change your delivery preferences and give specific instructions for delivery. The Yodel app is available in both the App Store and Google Play Store. With it, you can monitor your deliveries and manage Yodel shipments on the go.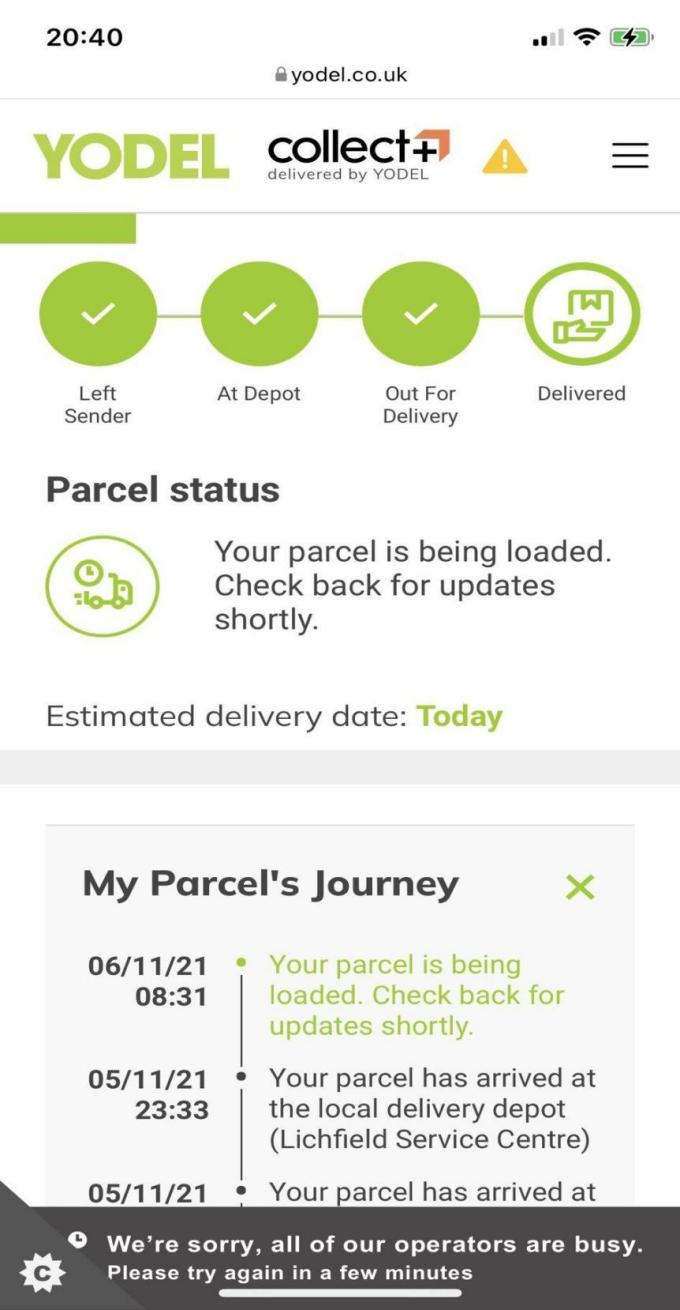 By using ParcelPanel
ParcelPanel is undoubtedly the best parcel tracking system for Shopify and WooCommerce businesses. Your customers get a top-notch post-purchase experience with this tracking solution. From the branded tracking page to 24/7 customer support, ParcelPanel caters to all merchants' and customers' shipment tracking needs. It has integrated with over 1,090 carriers worldwide, including Yodel, and has over 30,000 happy customers to date.
Our app will automatically use the Yodel tracking number and postcode to pull Yodel tracking updates for you and your customers in real time. Businesses can centralise their parcel tracking with the ParcelPanel Dashboard and proactively keep customers informed of the real-time shipment status via email.
The ParcelPanel website allows you to track up to 30 Yodel parcels' status at one time. Visit the Parcelpanel official website, and select Yodel as your carrier from the carrier list. After entering ParcelPanel's Yodel Tracking page, enter your Yodel tracking number and click "Track." All information regarding your parcels will be displayed on the page shortly.

The ParcelPanel Order Tracking app is a superior tracking tool to the ParcelPanel official website, because it can automatically pull the delivery postcode that Yodel requires along with the Yodel tracking number to automate e-commerce order tracking. With the ParcelPanel app, you don't need to go to the www.yodel.co.uk tracking tool anymore. Both you and your customers can receive automatic shipment notifications in real time.
Yodel Tracking Number
Yodel tracking number is a unique number which lies between 8 to 20 digits and is assigned to each package. It can be a mix of different numbers and alphabets. The Yodel tracking number can differ depending on the sender. Not all follow the same style of code.
The Yodel tracking number can be found at the bottom of the receipt, as indicated in the picture below: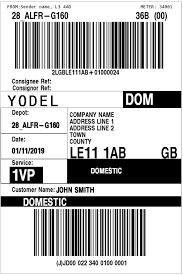 Customers can find an 8-digit reference number left if they miss a delivery.
You can enter the Yodel tracking number or the reference number on the Yodel official website to keep track of your parcel.
Yodel tracking number format
There is no specific Yodel tracking number format. Generally, a Yodel tracking number consists of 8 ~ 20 alphanumeric characters. Yodel tracking numbers vary according to senders.
Yodel tracking number example
A few examples of Yodel tracking numbers are as follows:
18760249
201427JK
EFJ2926720214
147J 2137 EF12 34TO
Yodel Tracking FAQ
Why is Yodel tracking not working?
If you placed your order a few moments back, you will see the tracking details in a couple of hours. It takes a short time for all the information about recent orders to get updated on the Yodel tracking system. It can be one reason why you cannot see any Yodel tracking information. However, if it was showing earlier and suddenly stopped working, you should recheck your reference number or contact the sender to confirm it.
If the reference number is correct, and you haven't seen any updates for several days, you should contact Yodel customer service to get information. You also can try the following tips:
Try refreshing the page after clearing the cache from your browser.
Try to track your order via the tracking link sent to your email or SMS.
Contact Yodel support via live chat to get information about your order.
Why is my Yodel parcel not delivered?
Sometimes when you are not at home, the driver reschedules the delivery of your parcel. If you can't find any information on rescheduling of delivery on the app or website, you can contact customer service. It is best to check your premises and ask your neighbours about your parcel. The driver often delivers parcels to your neighbours if they find your house locked.
When you searched everywhere and still couldn't locate your parcel, it might be lost. You'd better contact the Yodel support team. They will either help you locate your parcel or find a better solution for you.
I missed my Yodel parcel delivery. What should I do?
No worries if you missed your Yodel parcel delivery once because Yodel provides customers with up to three delivery attempts. If you received a green Yodel calling card, text or call the driver by using the mobile phone number on the card. If you received an orange calling card, you should use the Yodel tracking page to rearrange the delivery or collect your parcel from the Yodel store.
While rearranging the delivery, you can specify the time you are available to receive the order or ask the driver to deliver your parcel to your neighbour. Yodel's delivery service is flexible and customer-friendly. If you have any rescheduling concerns or queries, you can contact Yodel support for further assistance.
Yodel Tracking Customer Service
Yodel has the most reliable customer services, and UK citizens rely on their excellent customer support. Numerous ways are available to get in touch with Yodel customer service. The following are Yodel's contact channels:
Yodel Tracking Page
The tracking page allows merchants and end customers to monitor where their parcels are and when they will be delivered. All information from the point of collection to delivery will be there after you enter your tracking ID.
Yodel Live Chat
To get a solution immediately, contact Yodel customer service via Yodel Webchat. Drop a message, and a customer service representative will respond to your concerns in no time. This works at specific times throughout the day, i.e. Monday to Friday from 8 am to 8 pm (GMT+1), Saturday from 8 am to 5 pm (GMT+1), and the service is closed on Sundays.
Yodel Help Center
Customers can also browse FAQs to get help for their concerns and queries.
Yodel Customer Support
You can call Yodel customer support Monday to Friday from 8 am to 7 pm only. The customer service number is 0344 755 0117. It will cost the same as the national rate. It is advisable to keep parcel tracking numbers ready to inquire about your orders.
Yodel Direct
You can visit the local Yodel Direct shop or contact their support team for concerns related to Yodel Direct orders.