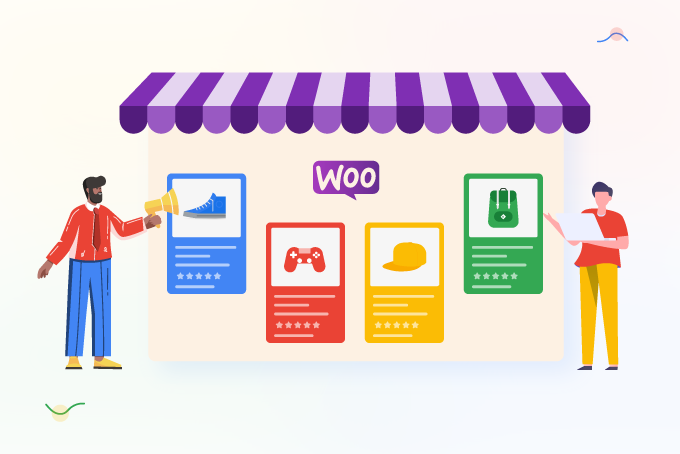 Did you know that 93% of your customers use the internet to conduct price comparisons before making a purchase, to ensure that they are receiving the best deal available on the market?
And about 36% of all product discovery occurs through a Google search and Google Shopping listings can boost your product visibility on the search engine.
In this article, we will discuss what Google Shopping is and how you can take advantage of Google Shopping for WooCommerce.

What is Google Shopping?
Simply put, Google Shopping (also known as Google Product Search, Google Products, and Froogle) is the place where Google displays product search results. It is a price comparison shopping engine where a consumer can compare the same product or similar products from different retailers like you and find out the best price/seller for the product they are looking to buy.
If you run a WooCommerce store, you can promote your WooCommerce products to Google Shopping by adding your products to the platform. The greatest thing about Google Shopping is, it lets you list your WooCommerce products absolutely free.
In addition to that, you can also run paid ads in Google Shopping.
To better serve shoppers, Google Shopping compiles results from multiple retailers, including yours, and presents them in a grid format on a single page. The shopper can then choose to buy from the store that provides the best overall value after quickly comparing the product's price and features without having to visit each individual store's website.
Google Shopping has been integrated into the search engine as a standard menu option, called as Shopping tab. However, this section is hidden unless a user is actively looking for an item/product to buy online.
Nonetheless, shoppers can access Google Shopping directly by going to the official URL.
How does Google Shopping work?
When a customer searches for some eCommerce products on Google, the search giant displays links related to that product. Along with the regular results, it also displays some product shopping ads that contain some visual details such as product image, ratings, price, etc.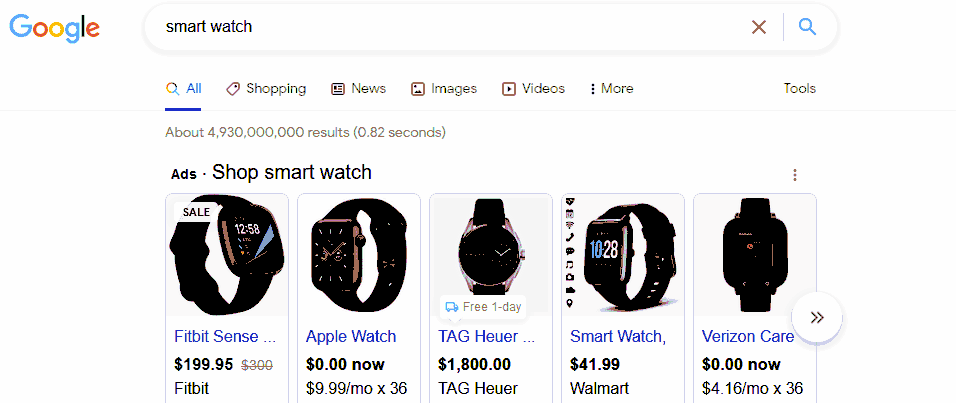 These ads are Google Shopping ads. If you run a paid WooCommerce google shopping campaign, then your ads will also be displayed here.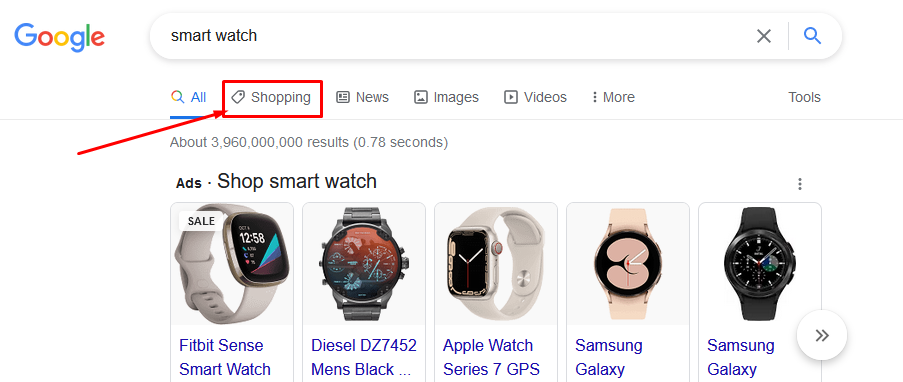 The customer/users can click on the Shopping tab or type in the official URL to access the Google Shopping price comparison engine. On the price comparison result page, Google displays the paid listings first and the free listings below that.

Users can also filter their search by different parameters/attributes. When a user clicks on any listing, a new window will appear with a gallery of that product's pictures and relevant information.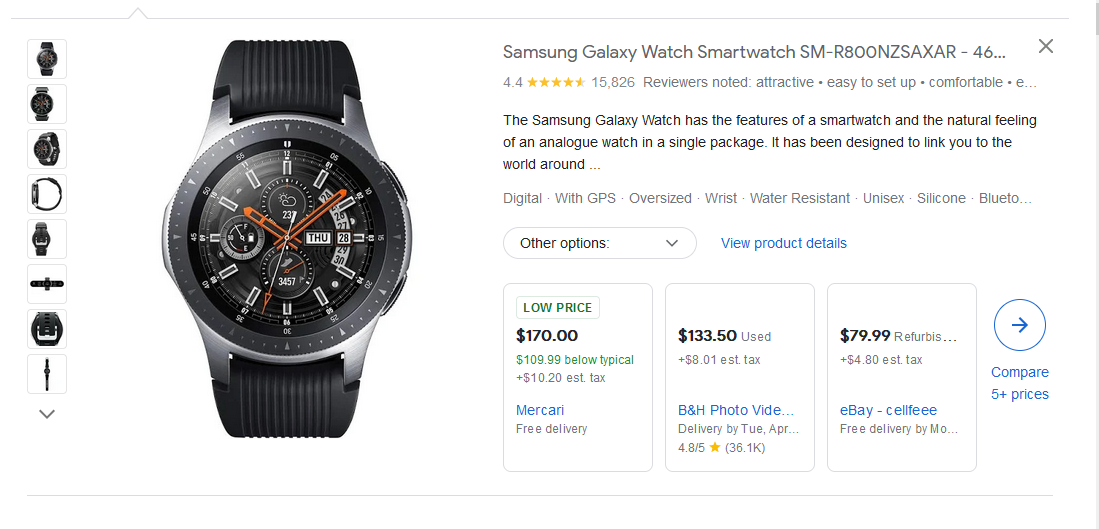 Customers have the option of clicking the title to be taken to the shop's page or the "product details" link to be taken to Google Shopping's product details page for that item. Google lists all the product's specs and features, as well as customer feedback, on its product details page.
What are the benefits of Google Shopping for WooCommerce?
We have already mentioned, Google Shopping offers free product listings to merchants who want to promote their products on Google Shopping. This is a game-changing move for businesses, especially for those who have been struggling to survive the fierce competition.
Here are some of the benefits of Google Shopping for WooCommerce.
Increased visibility
With the free listing on Google Shopping, WooCommerce store owners can take advantage of the increased visibility that their products will receive. By listing their products on Google Shopping, their products will appear at the top of the search results page, which will help potential customers discover their products more easily.
Google Shopping allows users to filter their search results based on various criteria, such as price, location, and brand. This makes it easier for customers to find the products they are looking for and ensures that only the most relevant products are displayed.
Greater reach
Google Shopping provides an excellent platform for WooCommerce store owners to expand their reach. By listing their products on Google Shopping, they can connect with millions of shoppers who are actively searching for products that they offer.
In addition, Google Shopping provides a more visual representation of the products being offered. Product listings include images, descriptions, and ratings, which help customers make informed decisions about the products they are interested in purchasing. This, in turn, can help WooCommerce stores to generate more sales and expand their customer base.
Increased sales
With Google Shopping's free listing, WooCommerce store owners can expect to see a significant increase in sales. As more customers discover their products through Google Shopping, they will be more likely to make a purchase.
Moreover, when customers search for products on Google Shopping, they are often ready to make a purchase. This means that they are more likely to convert into customers than those who discover products through other channels.
You can capitalize on this trend by optimizing your product listings on Google Shopping and ensuring that you provide customers with all the information they need to make a purchase.
Cost-effective marketing
Google Shopping organic listings provide an excellent opportunity for you to reach a wider audience without having to pay for expensive ads. This can be a huge advantage for businesses that are just starting out or that are trying to compete in a crowded market.
Google Shopping's free listing can also help improve the search engine optimization (SEO) of WooCommerce stores. By listing your products on Google Shopping, you can increase your online presence and improve your search engine ranking.
Google Shopping is highly optimized for search engines, meaning product listings are more likely to rank high in search engine results pages. By taking advantage of this, WooCommerce store owners like you can increase their visibility online and drive more traffic to the website.
Greater control over product listings
Google Shopping provides WooCommerce store owners with greater control over their product listings. With the free listing option, they can manage their product listings more effectively and optimize them to ensure that they appear at the top of the search results.
You can use Google Merchant Center to manage your product listings, which allows you to track the performance of your listings, optimize them for better visibility, and make changes to them as needed. This can help businesses like yours improve their product listings and generate more sales over time.
How to list your WooCommerce products on Google Shopping?
You will need to go through two primary steps to list your products on the Google Shopping organic/free listings platform.
Create a WooCommerce google product feed file.

Set up a Google Merchant center for uploading the free listings.
Create a WooCommerce Google Shopping product feed
First, we need to know what a product feed is.
A product feed is like a product catalog that contains information about your products such as product titles, descriptions, image links, product page links, prices, conditions, etc. Generally, product feed files are created in CSV/XML or TXT format.
If you are familiar with a Microsoft Excel or Google Sheets file, then you already know how it may look.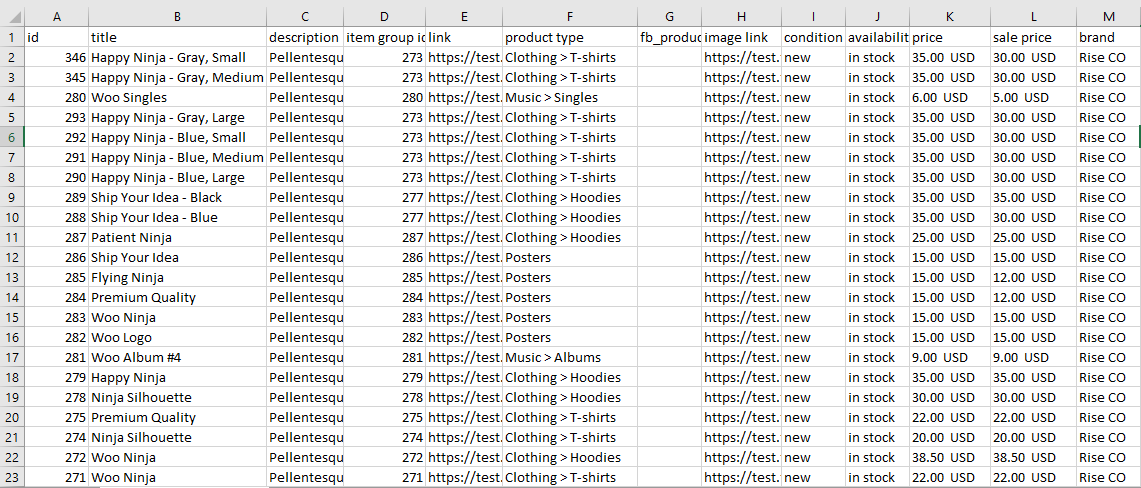 You can create product feed files to list your products on multiple channels. Retailers like you can list your WooCommerce products on marketplaces such as Amazon, eBay, Walmart, etc through a feed file.
You can list your products in price comparison engines such as Google Shopping, Idealo, Pricespy, etc. You can also list them on social media platforms as well.
In addition to that, you will also need a product feed file to run paid ads on shopping engines such as Google Shopping, Bing smart shopping, Snapchat ads, etc.
Now, how do you create a product feed file?
Every channel has guidelines for creating a product data feed. You will need to know the specific attributes a channel requires. Attributes in a product feed file are the pieces of information that describe the characteristics of the products being advertised.
These attributes provide important details about the product that help search engines and advertising platforms match products with relevant searches and display them to potential customers.
Necessary attributes for Google Shopping for WooCommerce product feed
Google Shopping requires specific product attributes to create and optimize free product listings. The required product attributes for Google Shopping are:
ID: Unique identifier for each product.

Title: Product name.

Description: Product description.

Link: Landing page URL for each product.

Image_link: URL of an image of the product.

Availability: Current availability of the product.

Price: Price of the product.
Brand: Brand name of the product.

GTIN (Global Trade Item Number): Unique product identifier.

MPN (Manufacturer Part Number): Unique identifier assigned by the manufacturer to the product

Condition: Condition of the product, such as new, used, or refurbished.
It is important to note that while these attributes are required, there are also recommended attributes that can help improve the visibility and performance of your products in Google Shopping, such as color, size, and shipping information.
Including as much relevant product information as possible can help improve the accuracy and relevance of your product listings in Google Shopping.
How to create a Google free listing product feed for WooCommerce
You can create a CSV file in software like Microsoft Excel or Google Sheets. You need to set the attributes as row headings and copy-paste your WooCommerce product data beneath them.
However, manually arranging and inputting your product information in a file will be time-consuming. Especially when you have a big store with a large number of products and randomly changing details, manually creating a product feed file will be painful.
Moreover, updating the file every time when there's any change in your product pages will be a nightmare. Your best option would be to use a WooCommerce Google Shopping plugin.
The plugin we recommend is CTX Feed. This plugin can make your product feed creation a breeze.
In addition to Google Shopping, this plugin supports 100+ other channels. You won't need to bother about what attributes different channel requires anymore. CTX Feed already knows the necessary attributes of different channels and has integrated them under templates.
All you need to do is select the channel template and the plugin will automatically populate all the necessary attributes for that channel. After you click the generate button, the plugin will automatically collect all your WooCommerce product information and arrange it in a product feed file according to the attributes.
Moreover, it automatically updates all the product feed files following your set intervals. Therefore, for any changes you make to your WooCommerce product pages, the plugin will collect them and update the feed files automatically.
Thus, you can connect and display the same and accurate product information across multiple channels without any effort.
Creating a Google Shopping for WooCommerce product feed file using a plugin
Let's begin by installing the plugin. Login to your WordPress Woo admin panel.
Then go to Plugins>>Add New and search for the plugin. Install and activate it once you find it.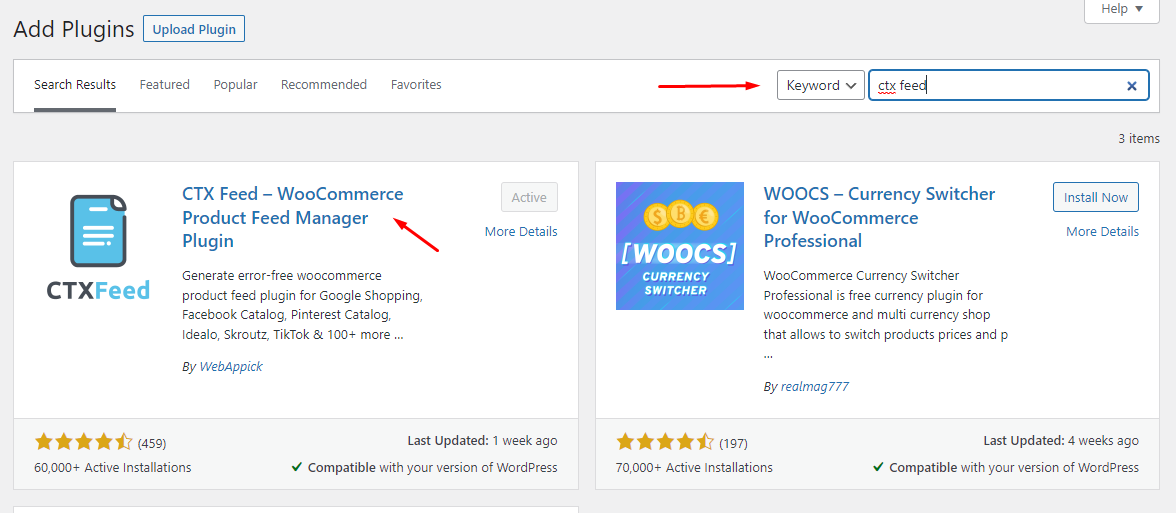 The plugin will create its own menu in the left panel. Click on Make Feed to start creating a new Google Shopping for WooCommerce feed.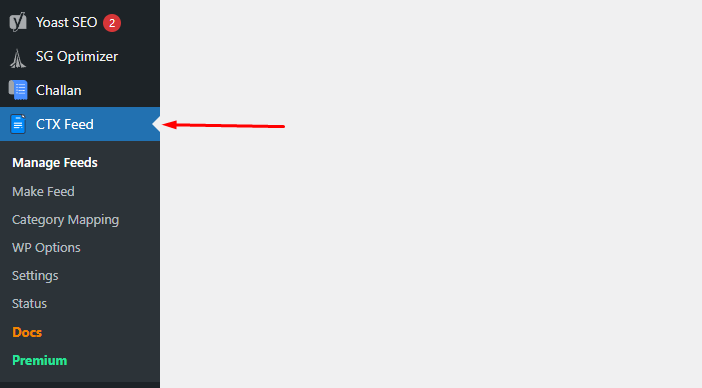 From the Templates, select the Google Shopping template. Also, give your file a name and select the file type.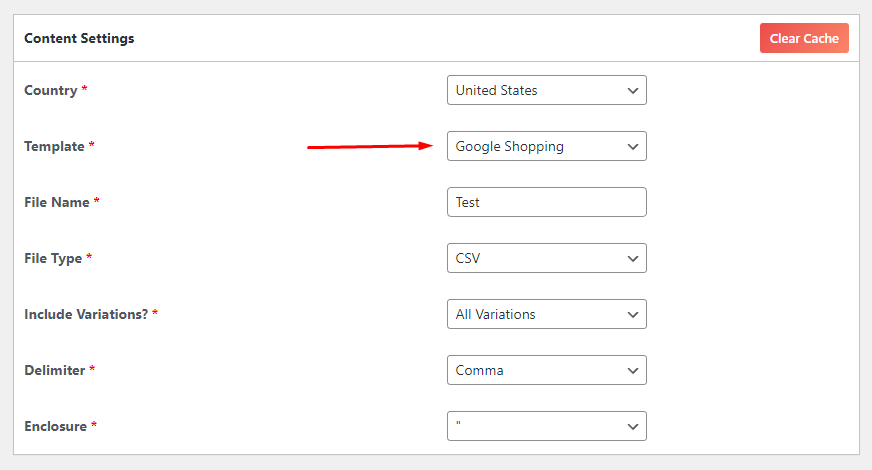 As soon as you select the template, the plugin will automatically bring all the required attributes to the bottom. All you have to do is click the generate button, and the plugin will automatically create a Google Shopping product feed file collecting all your product data.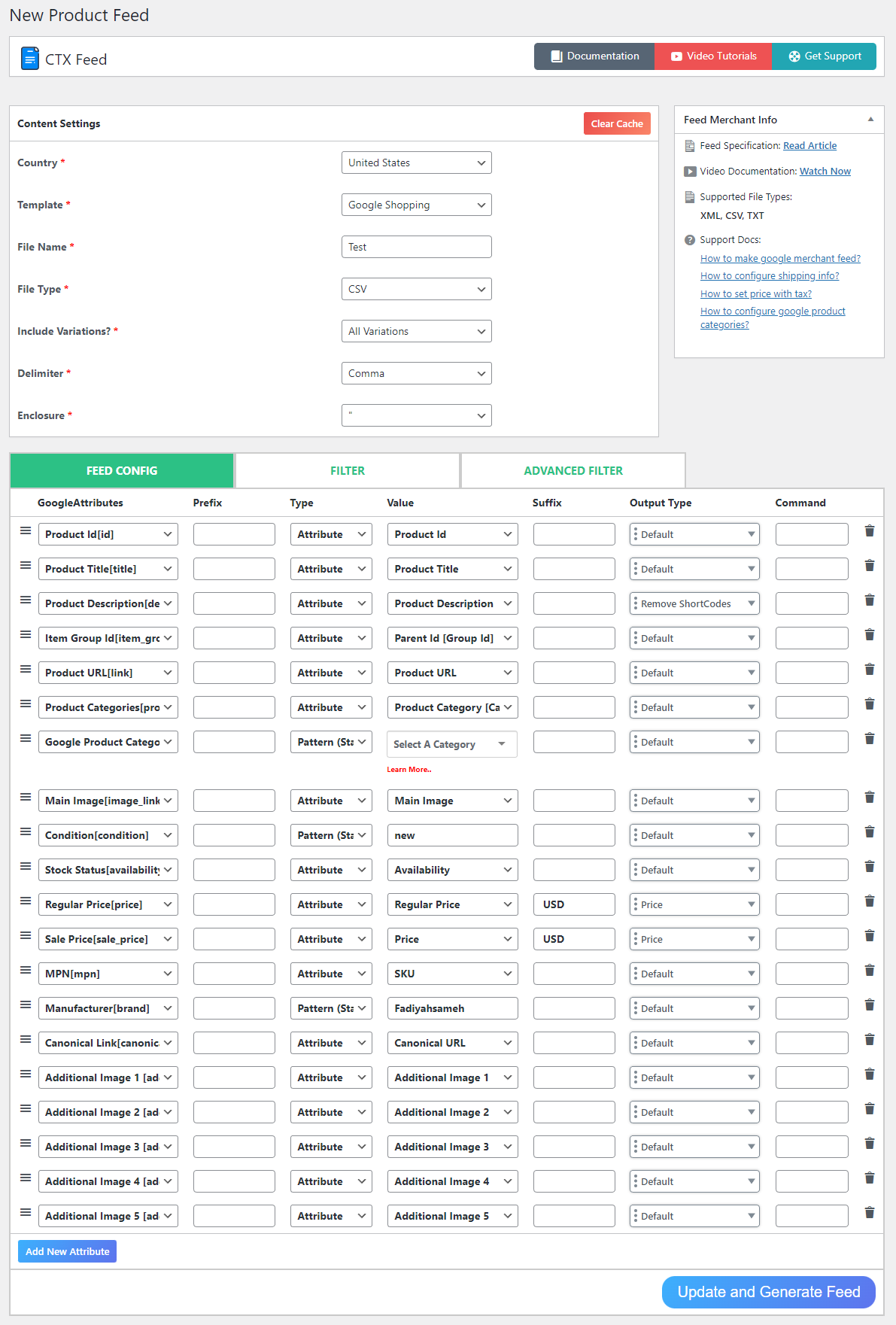 You can also apply different filters if you don't want to list all your products in the feed.
How to set up a Google Merchant Center account to promote WooCommerce products
You will need a Google Merchant Center account to list your WooCommerce products in Google Shopping for free.
Google Merchant Center is free for everyone. All you will need is a Gmail account to get started. After logging in, select Growth > Manage programs from the menu bar. You'll find the option Free Product Listings there. To get going, simply select the Get Started button.
However, if you want to start fresh, you can choose to sign up with an email address. Google Merchant Center will prompt you to begin your free product listing at the very first step.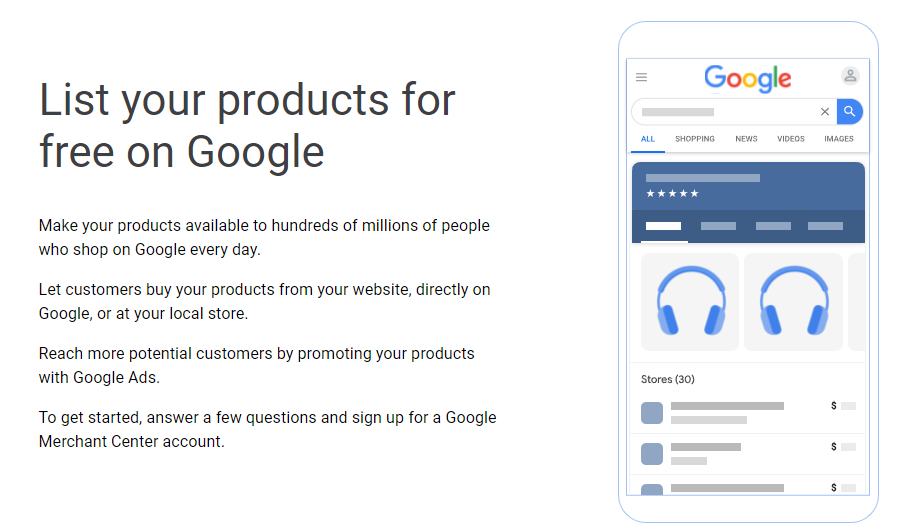 Nonetheless, if you want to list your Woo products in Google Shopping for free, you will need to fulfill the following steps.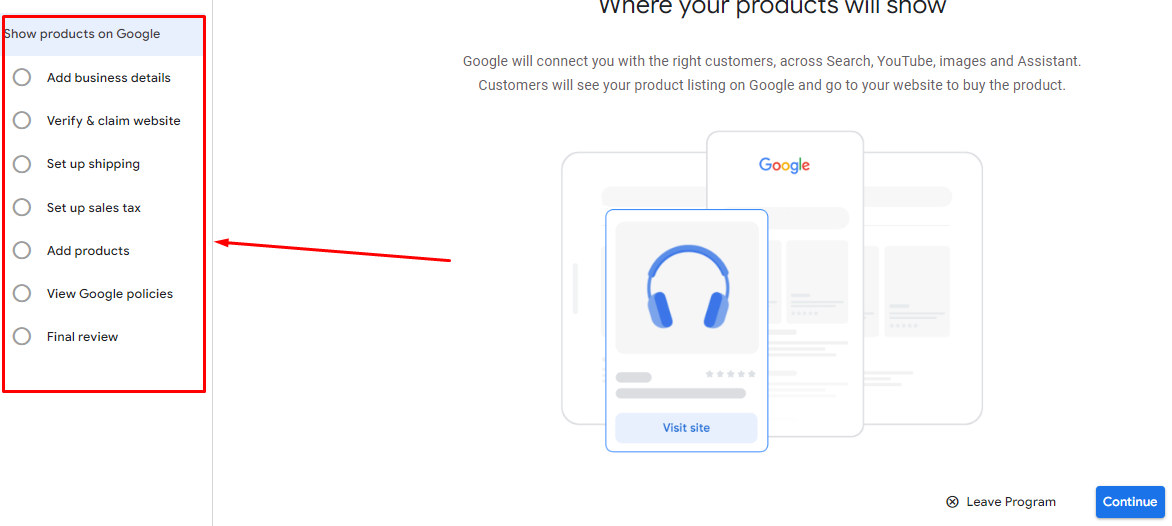 In the Add Products section, Google will offer you to add multiple products at once. Click on it to start the product feed uploading process.

Uploading/connecting a product feed file on Google Shopping
After you click the multiple products option, select country, language, and the Free listings option in the Basic Information section.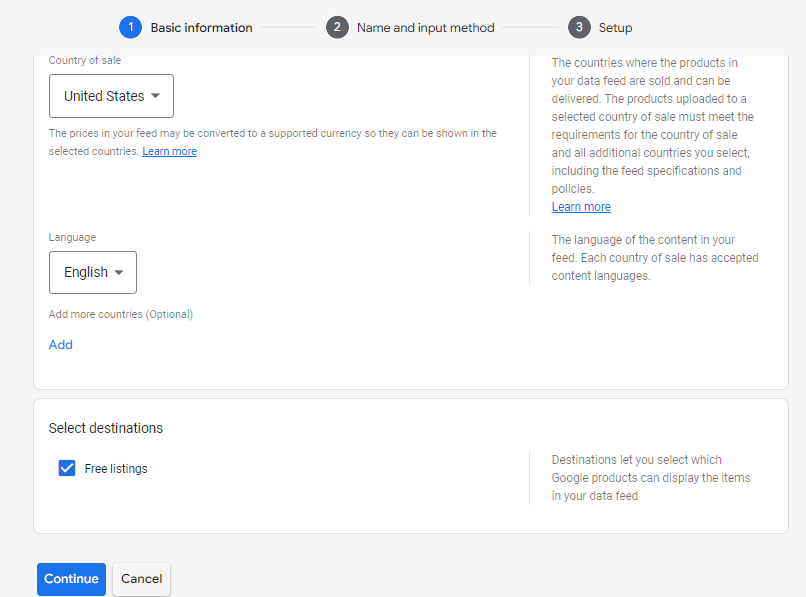 Google offers you multiple options to export WooCommerce to google shopping. You can pick any of the following methods.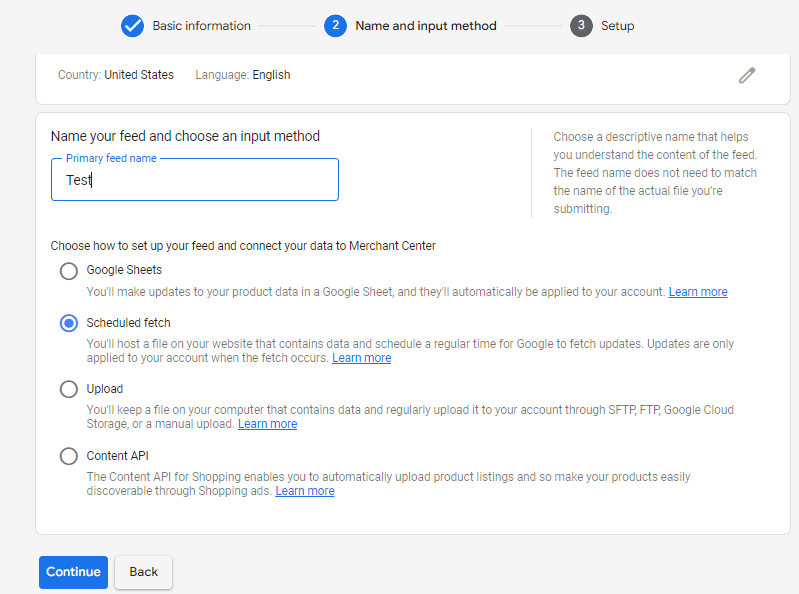 However, the best option is the Scheduled Fetch. The reason for that is, you can host the product feed file on your own server and connect it through this method. CTX Feed also works best when you connect through this method.
As we said before, for any changes you make to your WooCommerce product pages, CTX Feed will automatically update them in the feed file. And when you connect through a URL(Scheduled Fetch), Google will also fetch those updates automatically. So you won't need to worry about updating the information across your channels anymore.
In the Setup window, you will need to enter your Google Shopping product feed file URL.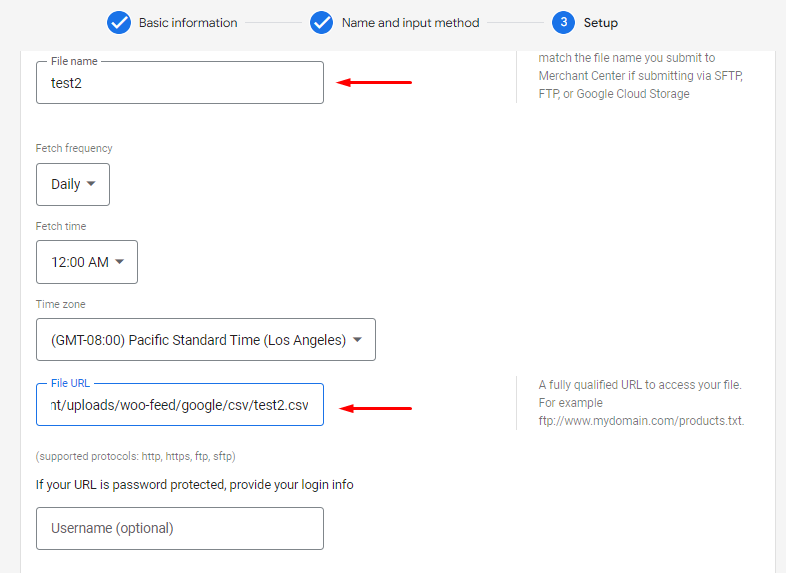 You can find the feed file URL from CTX Feed>>Manage Feeds.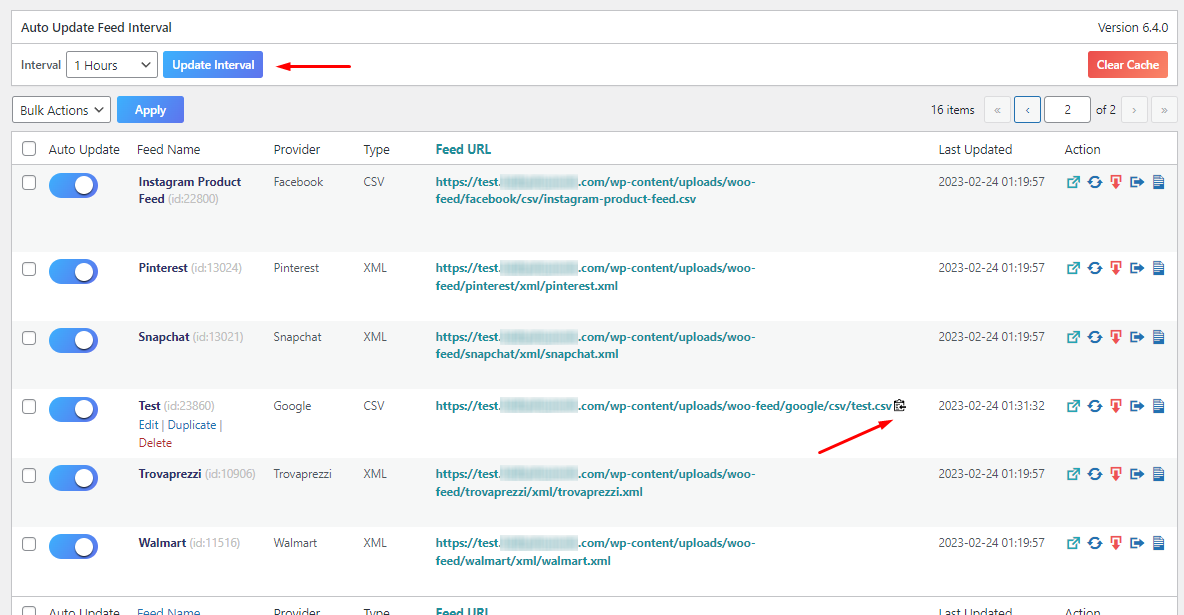 You can also set fixed intervals from the plugin settings. When you set an interval, the plugin will automatically update all your product feed files after that interval.
After you finish the process of uploading the file through Scheduled fetch, click on Create Feed button. Google will then fetch all your WooCommerce product information from the feed file and list/display them in the Google Shopping platform.
Frequently Asked Questions – FAQ
What Types of products are not allowed on Google Shopping?
Google has strict policies on what types of products are allowed and not allowed on Google Shopping. Here are some general categories of products that are not allowed:
It's important to note that this is not an exhaustive list, and Google's policies are subject to change.
What is the best image size for Google Shopping?
If you want your product to show up in Google Shopping results, you need to send in the best, highest-resolution image you can muster, which can be up to 64 megapixels and 16 megabytes in size. They suggest using a minimum image size of 1500px by 1500px.
Conclusion
Google Shopping is undoubtedly a powerful platform that gives you the opportunity to promote your products to a vast audience. The visitors to Google Shopping are not there to just casually search for random products.
They are specifically looking to buy the products you are selling. Therefore, you are promoting your products directly to potential customers. And the best part is, you can list and promote on Google Shopping without spending a dime.
Overall, Google Shopping organic listings can increase your WooCommerce site's traffic, conversion, and revenue. Hope this article on Google Shopping for WooCommerce was of help to you. Let us know if you have a question or suggestions on the topic.