Do you consistently get messages from customers asking about the status of their package? Are you looking for a way to minimize the WISMO requests for your WooCommerce store? Well, we've got just the solution for you.
With a WooCommerce order tracking plugin, you can streamline the post-purchase process and give buyers real-time visibility into their orders. It's a great way to build trust with new and existing customers, as well as free up your support staff so they can focus on other areas of the business.

1. What is the WooCommerce order tracking plugin?

A WooCommerce order tracking plugin (aka. a shipment tracker app) adds tracking numbers and courier fields to your website so you can stay updated on all your orders with different shipping companies.
Once you've added the tracking code for ordered items, their status will appear in the plugin along with a tracking URL. You can share this URL with your customers via email so that they can easily track their products anytime.
Some of these plugins automatically match couriers and generate tracking URLs based on the ID. Some go a step further and allow you to add a branded tracking page to your own website. With a dedicated page, you no longer have to direct customers to third-party courier pages.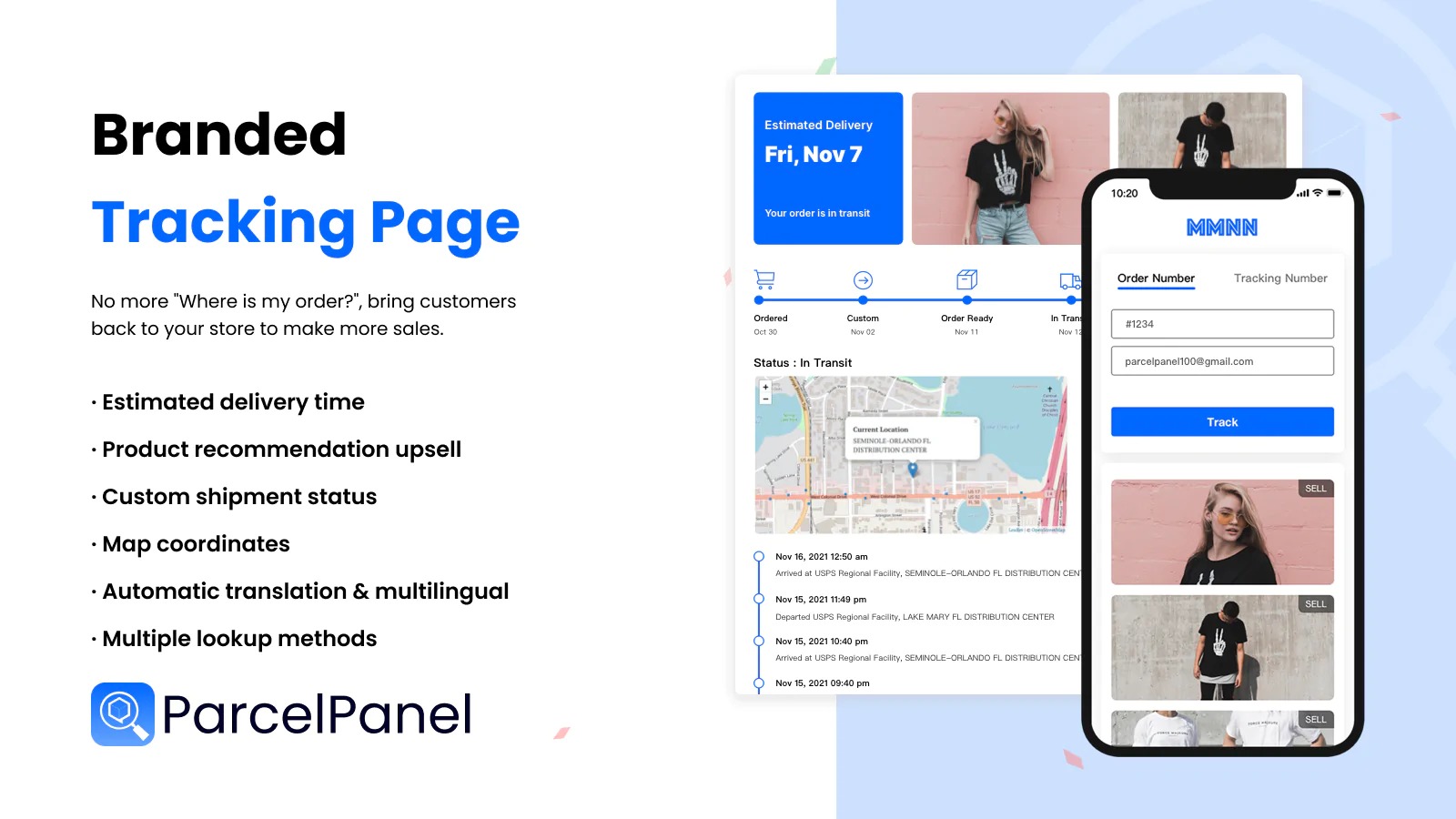 2. Why do you need a WooCommerce order tracking plugin?

Effective order tracking is crucial for most WooCommerce businesses since it directly impacts the customer experience. Tracking experiences from Amazon have made customers more demanding. They now want to be informed about their orders from the moment of purchase to the time when it arrives at their doorstep. Providing customers with accurate package information and order tracking lets them know that your company is reliable, which is crucial to customer retention.

However, you need to be aware of where your orders are at any given time.
This can be challenging as a customer's order goes through various channels during transportation. After leaving the packing facility or warehouse, it can pass through multiple sorting facilities and hubs before it reaches the customer. This can make it difficult for WooCommerce merchants to track its real-time status.
This is where a WooCommerce order tracking plugin comes in handy. It tracks all your orders without requiring you to jump between carrier partner platforms. The right plugin diminishes the case of delayed orders, but also provides high transparency to customers, enhancing their post-purchase experience.
3. What will happen if you don't have a WooCommerce order tracking plugin?

Without a WooCommerce order tracking plugin, your customer experience will suffer. Plus, you won't be able to:
Know the order's location
Simplify purchase order reporting
Keep track of multiple delivery dates
Address delivery exceptions
Identify carriers who deliver on time
This means you would miss out on potential repurchases and loyalty. Customers are likely to stick with brands that keep them informed on the whereabouts of their orders.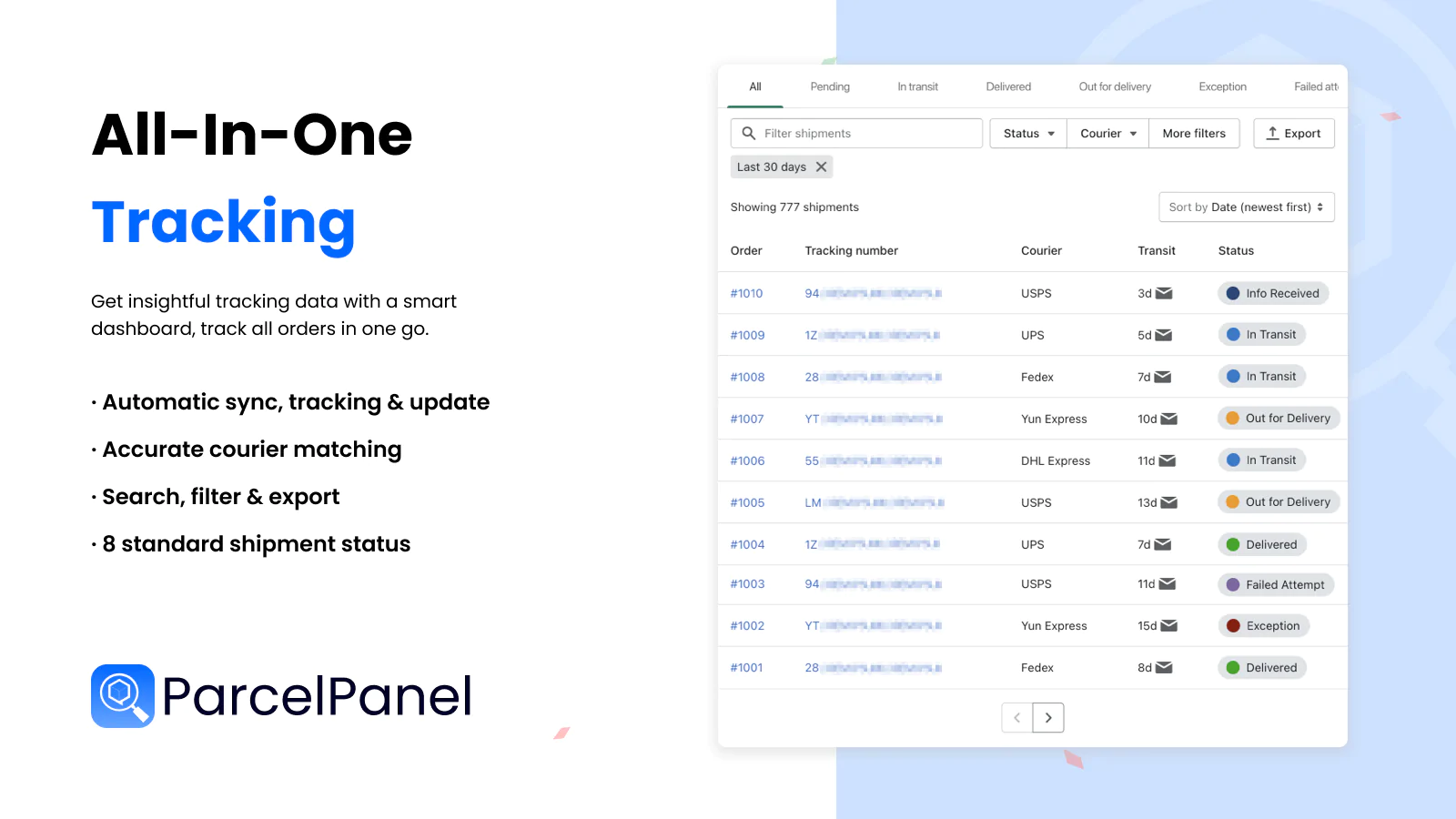 4. Signs your order tracking process needs work
Already have an order tracking process in place? Watch out for signs that indicate that it needs work, or a total revamp. These include:
1) Too many order-related customer support calls
If your support team is answering WISMO queries all day, your order-tracking process is not satisfying the customer. 
This is not only bad for your CX but also inconvenient for your support staff, who are getting less time to answer non-order-related questions. A WooCommerce order tracker can help customer support providers quickly share accurate delivery updates.
2) Customer jumping through multiple hoops
Do customers need to visit your website and get the shipping ID, then head to the carrier's site and enter that ID to track their order? They're jumping through multiple hoops here, which is inefficient and time-consuming.
It's also a subtle sign that you need to eliminate friction from your order-tracking process. The best way to proceed is to add a personalized tracking page to your site—something a WooCommerce order tracking plugin can help you do.
3) Struggling to maintain a consistent brand experience
Is there a gap between your pre-purchase and post-purchase experience? That gap is reducing your odds of fostering loyalty in customers.

To provide a consistent experience, make sure the post-purchase part of the customer journey is aligned with your brand ethos. An order tracking plugin can help you achieve this by allowing you to offer branded tracking, product recommendations, and more.
5. Why are people recommending the order-tracking plugin?
There are several reasons why people recommend an order tracking plugin for WooCommerce merchants:
Reduce delivery anxiety. When people worry that they won't receive their package by the estimated delivery date, it's because they receive no or few order status updates to assure them everything is in place. Order tracking helps alleviate this by offering critical information when customers need it. 
Promote beyond the purchase. Customers increasingly engage with tracking emails, which means there's an opportunity for you to optimize the post-purchase experience with additional content. You can show complements, sales deals, or upcoming products to get people to repurchase. 
Reduce abandoned carts. Lack of transparency around shipping is one of the leading reasons for abandoned carts. You should immediately give an estimated delivery date and information on how long it will take to ship the order to customers.
Address problems early. An order tracking plugin can notify you should any issues arise during the shipping process. This means you can address problems before the customer faces them, saving you a lot of money from fewer returns and refund requests.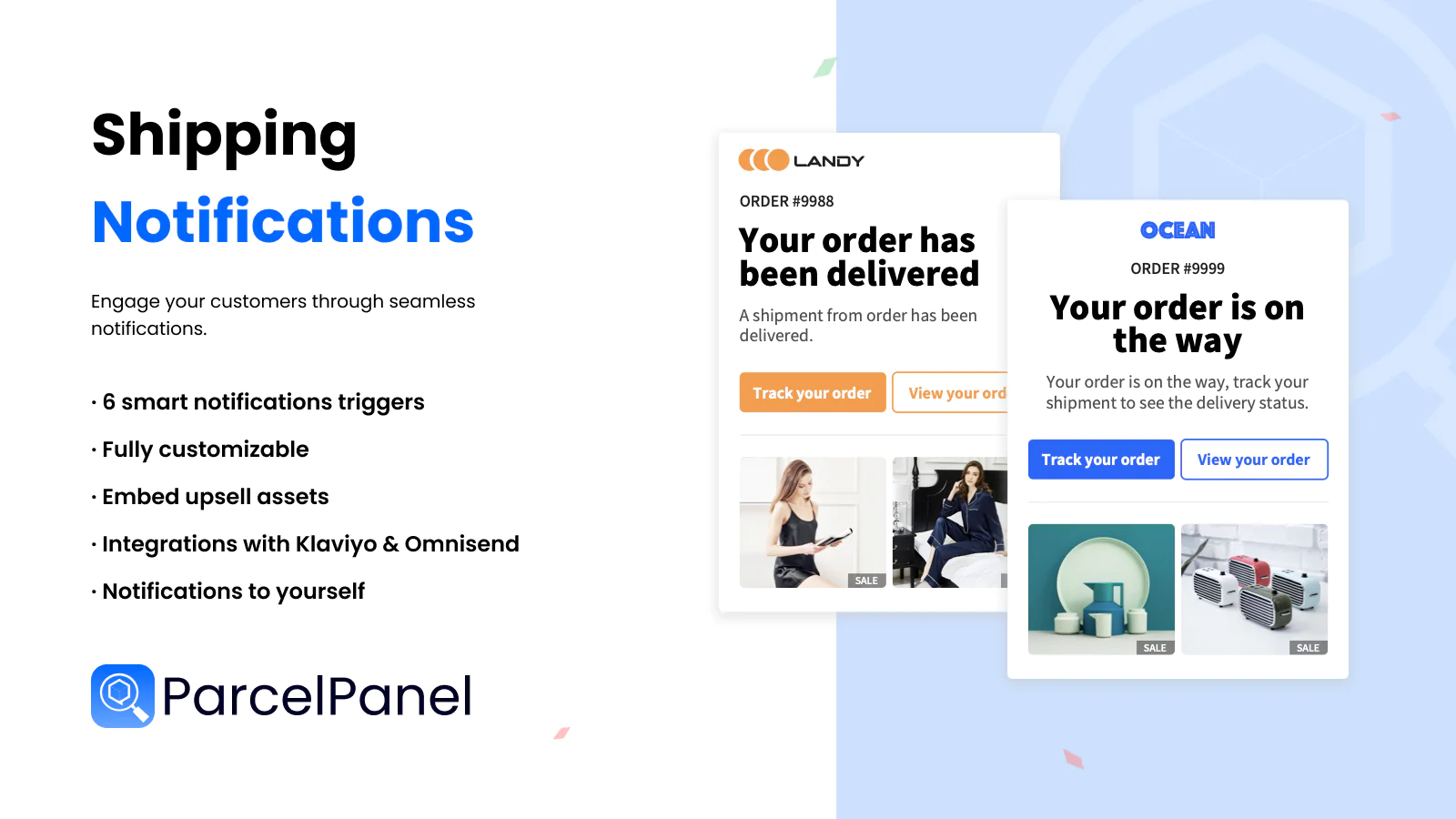 6. How do I use an order-tracking plugin to track my package globally?
Order-tracking plugins like ParcelPanel make it easy to track shipments globally. Just follow the steps below and you'll be able to start tracking your orders in no time:
1) Install ParcelPanel
You can do this by going to ParcelPanel's WordPress plugin page and downloading its .zip file.
Next, go to your WordPress admin, click Plugins > Add New, upload the ParcelPanel zip file and activate it.
You'll now see ParcelPanel's options in the left menu:
2)Add a tracking page to your WooCommerce navigation menu
To do this:
1) Go to the Appearance and then the menu section in your WordPress admin.
2) Click the "Track your order" option, then choose "Add to Menu." You can add it anywhere, but we recommend placing it in the main menu.
3) Save changes.
3). Start tracking your orders globally
Once you have added the tracking page, import tracking numbers to start tracking your orders globally.
ParcelPanel lets you import via CSV file—it should mainly include the order number and tracking number, but can also include courier name, SKU, quantity, and date shipped.
You can get order IDs from your WooCommerce dashboard and shipment IDs from the respective shipping carriers.  
Once you provide this information to ParcelPanel, it will populate the current status of all your orders, no matter what part of the world they are currently present.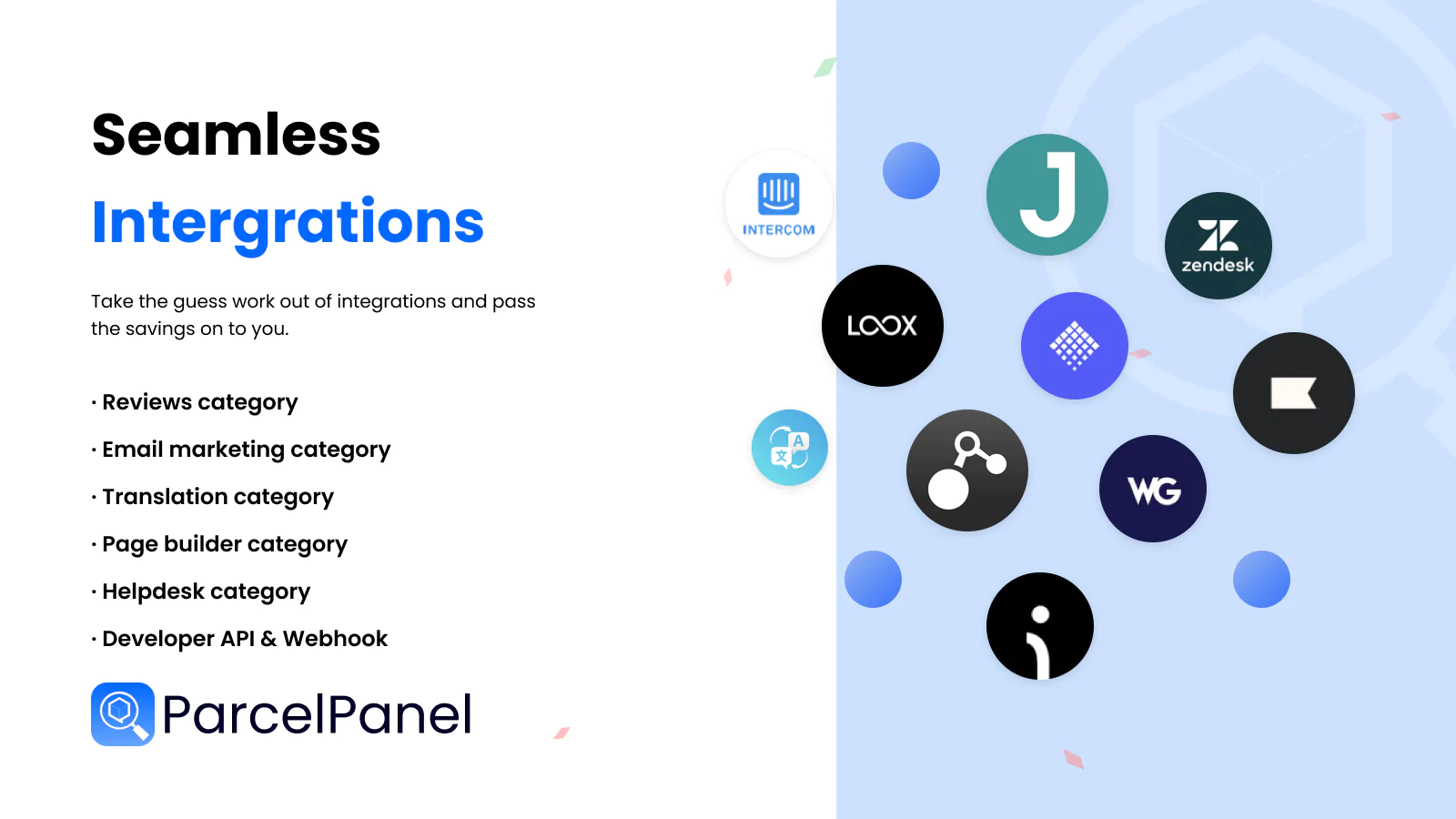 7. What features does an order tracking solution must have?
With a plethora of order-tracking plugins available for WooCommerce, you need to know about the must-have features for this kind of solution. This knowledge can help you identify the best option for your eCommerce business.
Here's what to look for in an order-tracking solution:
Actionable insights & data
Data and insights are the bread and butter of an order tracking solution. Without these metrics, you won't be able to make actionable decisions regarding your shipping performance.
Make sure the order tracking solution you choose provides granular insights into the status of customers' packages. You can use the data to optimize delivery time, exception rate, delivery rate, and more.
The best order tracking solutions also offer engagement data for branded tracking pages. Plus, if you're going to use shipping notifications, make sure you can get insights about their performance so you can improve their content for better impact.
A revenue-boosting solution
Does the order tracking solution allow you to upsell products? Can you embed product recommendations in the tracking emails you send to customers?
Make sure the solution you choose offers ways to improve your revenue. For example, some solutions allow you to drive additional sales with personalized marketing assets like product feeds. Others display your product collections as recommendations, enabling you to profit post-purchase.
The order tracking solution's features and technology should help you reduce customer support costs. The savings should be measurable, such as the number of support tickets reduced after putting up an order tracking page.
Choosing an order tracking solution checklist
Now that you know some of the must-haves for an order tracking solution, let's go over a checklist that should be handy when choosing this kind solution for your WooCommerce business. 
 WooCommerce order tracking solution checklist:
Offers real-time sync and tracks orders in one place
Supports thousands of global carriers
Bulk imports tracking numbers via import widget
Accurately matches couriers
Offers order statuses like exception orders
Has built-in notifications but also leverages WooCommerce notifications
Lets you search, export, and filter orders
Provides a dedicated tracking page
Has a smart-field mapping tool 
Shows estimated delivery time 
Displays custom order status 
Offers order lookup widget and shipping progress bar
Integrates with dropshipping apps like Ali2Woo
Offers an all-round brand shopping experience
Has good customer support for store owners
8. Best WooCommerce order tracking plugin: ParcelPanel
If there is any order tracking plugin you need on your WooCommerce store, it's ParcelPanel. Equipped with a range of cutting-edge features, ParcelPanel is designed to make order tracking a breeze for you and your customers.
 ParcePanel checks all the boxes on the list above, including support for 1,000+ global carriers. Remember that you need extended coverage to be able to satisfy and meet your customer's tracking needs.
The solution communicates transparency to buyers, which exudes your brand's integrity in the post-purchase stage. When people can see their package's movement, they will know that your business is honest and works hard to reduce delivery anxiety.
ParcelPanel's order tracking function:
After someone buys a product from you, they will be automatically given a tracking number for the product. They can use this tracking number to see what stage of the shipment journey their order is at any moment.
ParcelPanel has eight order statuses:
Pending– this implies the tracking detail hasn't been provided yet.
In Transit– this confirms the order is on its way to the local point of distribution
Info Received– this tells that the carrier received a shipping request and will soon pick up the item.
Delivered– this tells the order has been successfully delivered to the customer.
Out for Delivery– this means the order has reached the local distribution point and is on its way to the destination.
Exception– This shows up in rare cases like when the shipment is damaged, returned, or lost.
Failed Attempt– This implies that the courier attempted the delivery but wasn't successful due to certain reasons
Expired– this shows up when no tracking details are provided for an order for 30 or 60 days (or on express or postal service).
For most orders, your customers will see 1-5 of these statuses except when logistical complications or technical difficulties arise. ParcelPanel will extend the range of statuses depending on the severity and nature of the situation. 
 Final verdict
There you have it—everything you need to know about a WooCommerce order tracking plugin, how to choose one, and the best option available for your business.
To summarize, using a plugin like ParcelPanel is one of the smartest decisions you could make as an online retailer or business. Whether you're into regular ecommerce, dropshipping, or logistics, ParcePanel has something for you.
Use it to create a one-of-a-kind post-purchase experience that sticks in your customers' minds for a long period. ParcelPanel is 100% free to use, meaning you can delight customers without spending anything from your financial budget. It can't get any better than this!
 Try ParcelPanel free WooCommerce plugin