About Shree Maruti Courier
Shree Maruti Courier Service Pvt. Ltd. is an India-based privately owned delivery and logistics company. The company has 37 years of experience in providing logistics solutions to businesses across India and is headquartered in Ahmedabad with a zonal office in Mumbai.
Shree Maruti Courier offers one-stop logistics solutions to achieve their goal of meeting the diverse delivery demands of their customers. It has a wide range of services, including e-commerce logistics, warehousing, 3PL, 4PL, 5PL, and so on. Moreover, the Shree Maruti Courier network covers 5,170 pin codes within India and over 220 destinations worldwide.
Although Shree Maruti Courier is not among the top 10 Indian couriers, its popularity is undeniable, and it offers comprehensive solutions. If you're looking for a Shree Maruti Courier alternative, consider Delhivery, DTDC, Blue Dart, eKart Logistics, Ecom Express, Shiprocket, Pallet2Ship, etc.
Shree Maruti Courier Tracking
Shree Maruti Courier provides domestic and international logistics services to customers, including individuals, small entrepreneurs, large businesses, and e-commerce merchants. The services include advanced features such as real-time Shree Maruti Courier tracking, which allows customers to monitor the progress of packages.
Let's check out more details about the logistics services Shree Maruti Courier offers.
Shree Maruti Courier Service & Tracking
InnoFulfill
This is a modern technology-based platform that meets the mass delivery demand of eCommerce platforms at a competitive price and shortens the delivery time. It helps to streamline shipment management, send notifications, generate shipping routes, locate fulfillment centers, and assign orders.
What InnoFulfill offers include:
✔Integration with Marketplace, WMS, Shopify
✔Multi-SLA offerings
✔RTO (return-to-origin) Management
✔Collection Center Management
✔COD Reconciliation Dashboard
✔Finance Dashboard
Innodel
This is a comprehensive shipping solution that offers customized pickup and delivery options - domestic, hyperlocal, or e-commerce - to satisfy your company's needs.
✔Domestic Delivery: Fast shipping solution for documents and packages under 50 kg. Delivery is conducted in two modes of transportation-
Standard Surface

: Cost-effective door-to-door delivery solution to more than 15,000 destinations across India. Benefits of the service include real-time tracking, convenient pickup, competitive tariffs, and more.

Standard Air

: Urgent shipping service with direct flight connections between major airports.
✔Hyperlocal Delivery: Delivers at the customer's doorstep at lightning speed, increasing customer satisfaction.
✔ E-commerce Delivery: This service includes product shipping, inventory management, RTO management, online Shree Maruti courier service tracking, COD payment, etc.
Innospace
This service offers storage space for goods near your consumer base to ensure faster delivery within 24 to 48 hours. Innospace offers-
✔Fulfillment Centers
✔Micro Fulfillment Centers
✔Warehouse Management System
Travel-Free Service
This is a luggage and baggage shipping service that offers doorstep delivery via both air and surface transportation modes based on the customer's preferences, as well as real-time tracking.
International Delivery
The international shipping service delivers documents and packages to over 220 destinations worldwide.
Generally, packages registered for shipping via any of these services are assigned a unique 14-digit shipment number, which also serves as the Shree Maruti Courier tracking number. Both Shree Maruti's official site and professional third-party tracking platforms integrated with Sree Maruti's tracking API, like ParcelPanel, allow you to track Shree Maruti shipment's progress at any time from booking to final delivery.
How to Track Shree Maruti Courier?
The Shree Maruti Courier online tracking feature is extremely useful for customers expecting both domestic and international deliveries. Scanning packages at every transit point and updates on the 24/7 tracking system enable customers to track their packages online.
Customers can track their package using the Shree Maruti Courier tracking tool available on Shree Maruti's official website and a third-party tracking website like ParcelPanel.
Shree Maruti Courier shipments can be tracked in the following ways.
By Using Shree Maruti Courier Online Tracking
To track your Shree Maruti courier using the tracking tool provided by Shree Maruti, go to the official website. At the bottom of the home page, there is a "Track Your Shipment" button. Click it and you'll be taken to the Shree Maruti courier tracking tool.

The tracking tool offers 3 ways to track your package:
✔Using the shipment number
✔Using the mobile number
✔Using the order ID/Ref ID
To track your Shree Maruti package:
Select your preferred option (shipment no./ mobile no./ order ID/Ref ID) and enter the number in the tracking field.

Then, click the "Track Shipment" button to proceed

Finally, enter Captcha and click the "Submit" button
Now, you can see detailed information about your shipment history in the tracking dashboard.
Notably, the Shree Maruti tracking details include 3 sections: booking information, shipment traveling information, and delivery information.
You can find that the Shree Maruti tracking number is referred to as Document No. here. There is also a booking date, booking center, destination center, booking type, delivery date, and current shipment status.

Further down the page is the shipment traveling information, which consists of locations marked with in-scans and out-scans.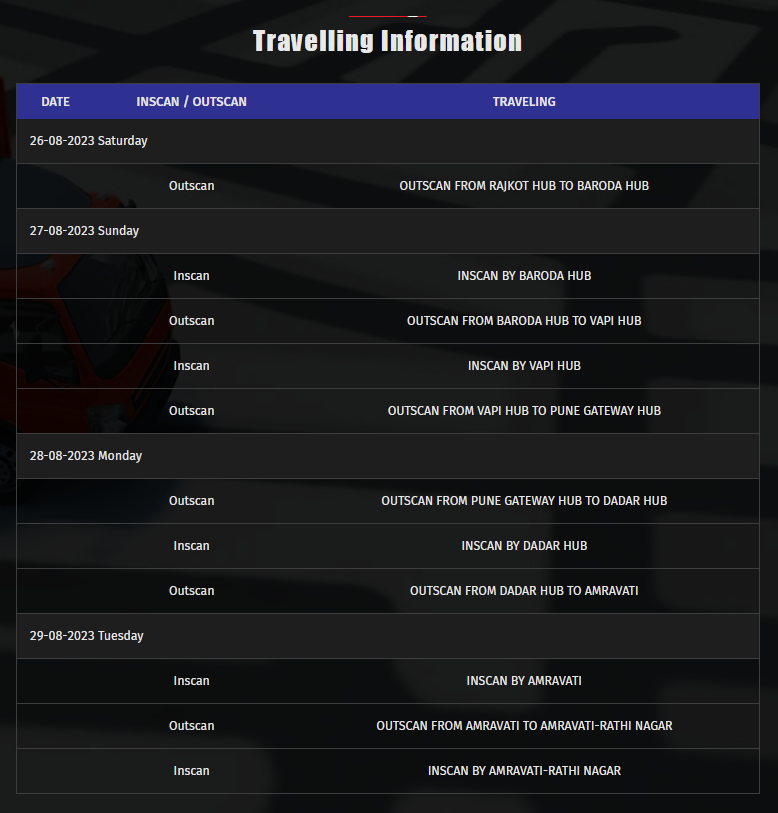 If you want to obtain POD (proof of delivery), go to the "Delivery Information" section and click the "View File" button under "POD." Only after entering the mobile number provided at the time of booking will you be able to access the electronic proof.
Shree Maruti Courier can also send you the POD via email. You just need to enter your name and the Email ID that you've provided upon shipment booking.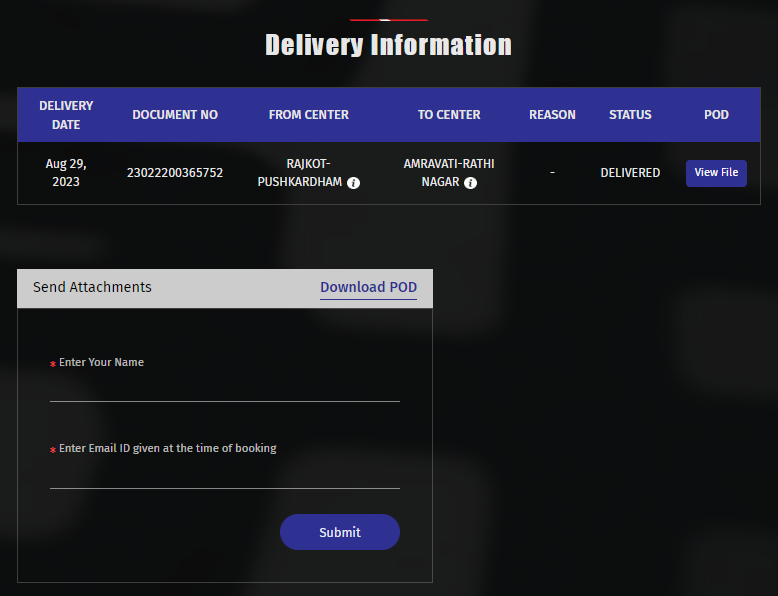 By Using Shree Maruti Mobile App
Shree Maruti has an app in both the Play Store and the App Store to make tracking convenient for customers. The app has an integrated tracking tool where customers can enter their Shree Maruti tracking numbers to receive real-time shipment updates. The app also has a barcode scanner with which customers can avoid typing their Shree Maruti tracking number manually.
All shipments that have been tracked will be saved in the "Favorite" section for great convenience.
Customers can also log in to their Shree Maruti Courier account to see the shipments they booked.
ParcelPanel is one of the best third-party logistics tracking service providers for eCommerce. It supports more than 1100 Logistics Service Providers (LSPs), and Shree Maruti is one of them. Besides, over 42 integrations with leading eCommerce platforms and apps, 24/7 support service, and ISO 27001 certification make tracking seamless and reliable with ParcelPanel.
Here is a step-by-step guide to tracking your courier using ParcelPanel's official website and app.
ParcelPanel Official Website
Step 1:

Go to the carriers page by clicking the option "

Carriers

" from the menu bar of the official website home page.

Step 2:

Use the Carriers search bar to find "Shree Maruti Courier," and then click on the carrier when it appears below the search bar.

Step 3:

Then, you will land on the "

Shree Maruti Courier Tracking

" page. Here, you will see a tracking field where you can enter up to 30 Shree Maruti tracking numbers (shipment numbers) in a single search. Enter your tracking numbers and click on the "Track" button.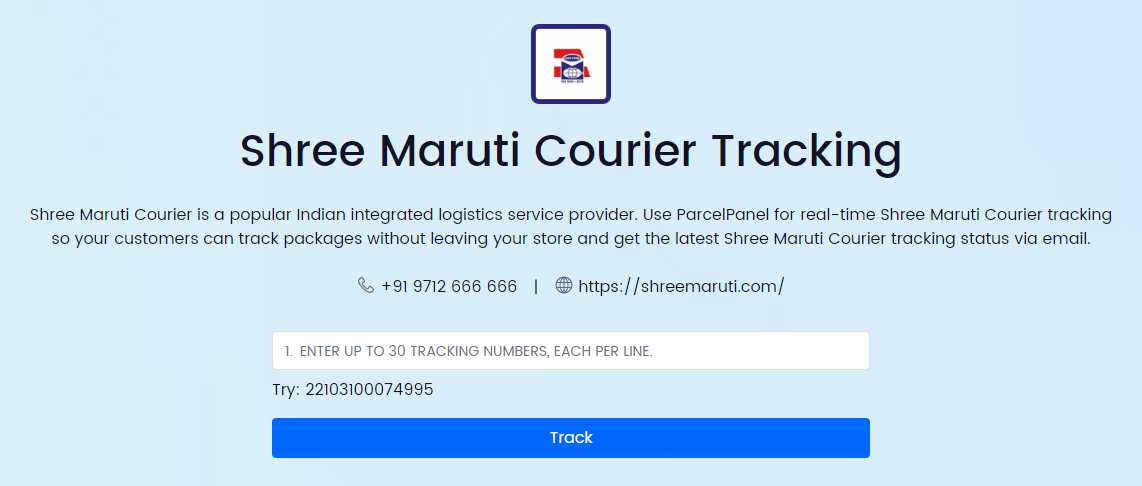 Then, you will get access to the Shree Maruti Courier tracking details, including where the shipment route traveled to with precise date and time, along with the current delivery status of the package.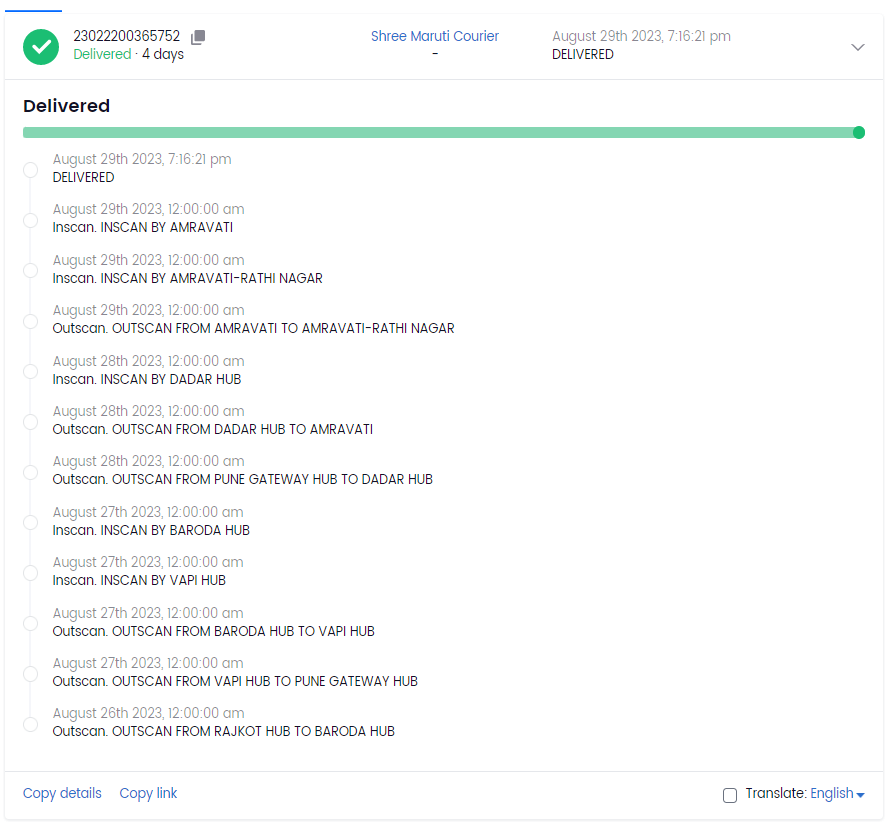 Using ParcelPanel, you won't need to enter the Captcha; what's more, you can greatly improve efficiency in Shree Maruti Courier tracking and export the tracking information to a spreadsheet.
If you have a Shopify or WooCommerce store, the ParcelPanel Order Tracking app can be your ultimate courier tracking solution. After you install the app, it automatically generates a branded order tracking page. It pulls out information from the store order details and tracking information across its network of over 1,100 carriers and arranges everything in the dashboard for easier order management. The app synchronizes data of the last 30 days automatically for free.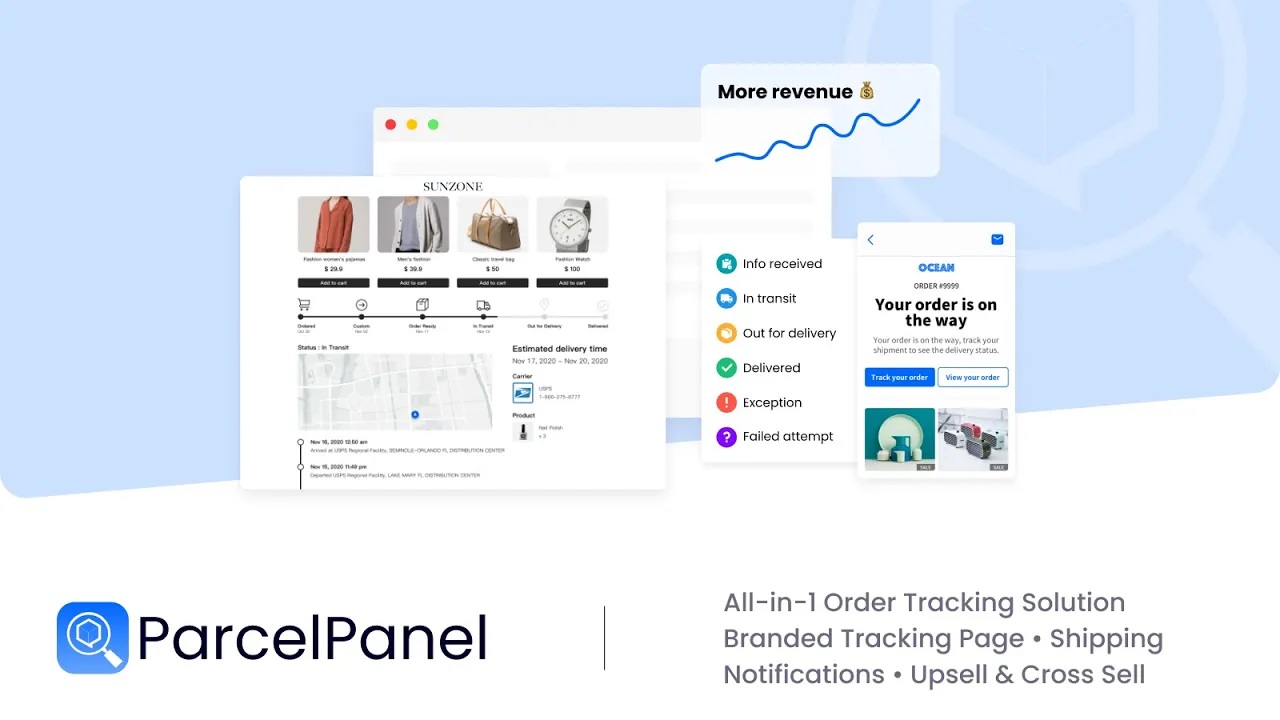 Merchants can access the order tracking page from the backend, as well as put the branded tracking page in the navigation menu so that customers can access them easily and track their packages themselves. The app can also be used to notify customers of their shipment updates to create meaningful engagement and recommend products to drive repeat business.
If you have any questions related to our solutions, fill in the Contact Us form to request a demo, and our expert will get back to you as soon as possible.
Shree Maruti Courier Tracking Number
Shree Maruti Courier assigns a document number to every package registered for delivery. This number is the unique identifier of the package and also serves as the Shree Maruti Courier tracking number (or Shree Maruti Courier tracking ID). While crossing every transit point of the shipment route, the shipment number is scanned, and related information gets updated in the tracking system.
The Shree Maruti Courier tracking No. is provided on the shipping label given to the sender after registering the package. The sender usually sends the tracking number to the receiver through a confirmation email or text message.
Both the sender and recipient can monitor the shipment's progress from dispatch to delivery. If they request assistance, the courier company can inform customers about the package's whereabouts and provide the Maruti Courier tracking number.
Shree Maruti Courier Tracking Number Format
The standard Shree Maruti Courier tracking number consists of 14 numerical digits.
Shree Maruti Courier Tracking Number Example
The following are some examples of Shree Maruti Courier tracking numbers.
23022200365752
23040200172195
Shree Maruti Courier Tracking Status
When the packages are scanned at transit points, the shipping progress is updated using different tracking statuses. Usually, the tracking statuses are like short messages without detailed explanations.
The list of tracking statuses you will see while tracking your package, along with their meanings, is provided below so you can understand the status regarding your package's shipping progress.
| Shree Maruti Courier Tracking Status | Meaning |
| --- | --- |
| Inscan by (location name) | The package is at the specified Shree Maruti Courier facility. |
| Outscan from (location name) hub to (location name) | The Shree Maruti Courier package has been scanned for the required processing in the mentioned hub and sent to the mentioned location. |
| Outscan from (location name) airport hub to (location name) hub | The Shree Maruti Courier package has been scanned at the mentioned airport hub and will be dispatched to the next hub on the shipping route, which is mentioned in the traveling history. |
| Inscan by (location name) airport hub | The Shree Maruti Courier package has arrived at the mentioned airport hub, where it is undergoing the scanning process. |
| Delivered | The Shree Maruti Courier package has been delivered successfully. |
| Return | The Shree Maruti Courier package has been returned for various reasons, such as address change, wrong address, absence of the recipient, etc. |
Shree Maruti Courier Customer Care
If you are facing any issues regarding your package, contact Shree Maruti Courier customer care service. The support center is available 24/7. Here are several ways to get in touch with Shree Maruti:
52A, 5th Floor "TITANIUM"
Near Prahladnagar Garden, Corporate Road,
Ahmedabad - 380015
B/1101, Kanakia Wall Street
Chakala, Andheri-Kurla Road Andheri (East)
Mumbai 400093
For immediate response, dial the helpline number of Shree Maruti Courier, +91 9712 666 666. The office hours are between 10:00 a.m. and 06:00 p.m. from Monday to Saturday.
You can email your queries to [email protected] if you don't require an instant response.
You can also contact Shree Maruti Courier via their social media platforms: Facebook, Instagram, Twitter, LinkedIn.