Affirm announced on July 6 that it would sunset Returnly by early October 2023. To make a smooth transition, you should start looking for a Returnly alternative now. 
Meet ParcelPanel Returns & Exchanges, the best free alternative to the Returnly Shopify app. Our app aims to help Shopify merchants automate returns management, deliver a seamless on-brand return experience, and effectively retain revenue with exchanges. 
If you're exploring the best Returnly alternatives, read on to know what makes a good Returnly alternative and why you should look at ParcelPanel Returns & Exchange.
What is Returnly?
Returnly is an innovative returns management solution for Shopify merchants to provide easy returns for customers, improve efficiency in returns processing, and engage with customers at every touch point of the return journey. With it, you can deliver a satisfying post-purchase experience, whether you want to offer instant credits, green returns, international returns, or in-store returns.
Returnly is trusted by the world's leading DTC brands, including Outdoor Voices, UNTUCKit, Frank And Oak, ILIA, SOLUDOS, and Supergoop.
Returnly Features
With Returnly, your customers can access a 24/7 returns center to submit a return request at any time without your team's assistance.
Automated returns management
Just set up your return window, automation rules, and non-returnable items, and Returnly will process returns automatically for you.
You're paid by Returnly on behalf of your customers. This way, exchange orders can be shipped without causing disappointment, confusion, and delays.
Flexible returns & refunds
Refund your best customers while saving the costs of shipping back unwanted items. Offer in-store returns, and deliver an easy localized return experience for cross-border purchases.
Seamless tracking experience
Returnly provides fully branded reverse logistics tracking to reduce customer support calls. Plus, it can collect customer feedback on the return experience.
Track and monitor customer engagement and behaviors, measure customer satisfaction on returns, and get valuable insights to take your business to the next level.
Returnly can be connected to a wide range of ERPs, 3PLs, CRMs, and major shipping carriers for workflow automation.
Returnly Pricing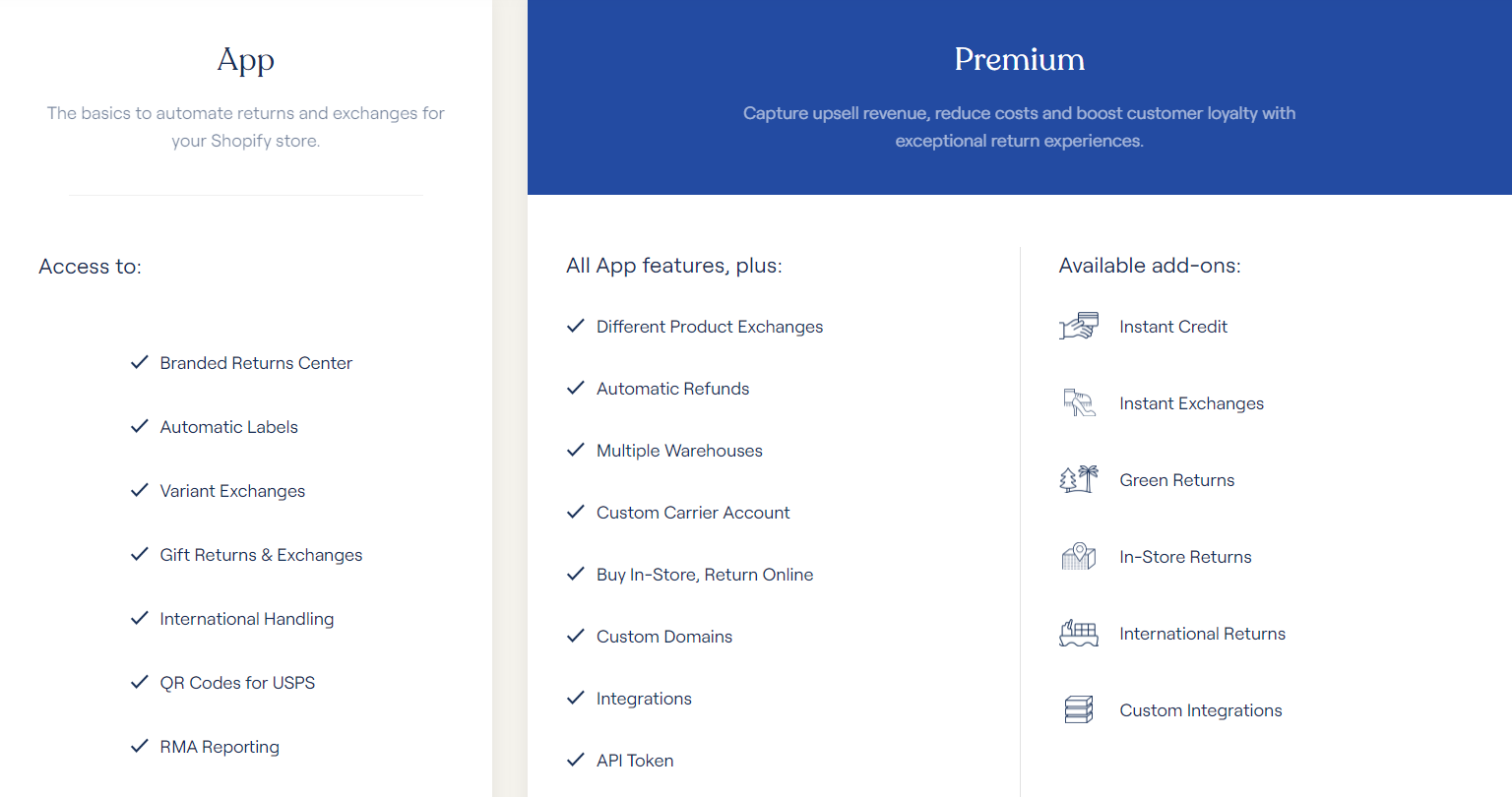 Shopify App Plan: $149/month
Premium Plan: Not revealed. You should contact sales and request a demo.
Compared with the Returnly Premium Plan, the features of the Returnly App Plan are limited. To unlock features such as Automatic Refunds, Integrations, and API Access, you'll have to upgrade.
Returnly App Drawbacks
Returnly's pricing is relatively high compared with other options. It is not suitable for SMBs striving to achieve high ROIs.
Only one warehouse address
The Returnly Shopify App only offers basic features. With it, you can't add multiple warehouses for returns and exchanges.
Lack of carrier integrations
You can only connect to Retunrly's supported shipping carriers, i.e., USPS, FedEx, UPS, DHL, and Canada Post.
You can only access RMA reporting, which just includes basic returns metrics.
5 Things to Consider When Choosing a Returnly Alternative
1.Branded Returns Center
You need an on-brand returns center that can be customized to enable customers to submit return requests by themselves around the clock.
Above all, the returns center should present products within your return window and exclude non-returnables to prevent loss and avoid confusing customers. 
Secondly, your customers can choose from the unwanted item to initiate the return process, choose the desired solution, provide reasons, and upload proof. 
l If they choose the "Exchange" option, they select from variants of the same product or different products to proceed.
l If they choose to get a "Refund," they can decide whether to refund to the store credit or the original payment method.
Last but not least, the self-service returns center should enable them to keep track of the entire process.
2. Easier Returns Management
The best Returnly alternative must allow you to manage all returns, refunds, and exchanges in one place. You can decide whether to approve or decline the requests according to your return policy.
You can set up return windows, eligibility rules, multiple warehouse addresses, acceptable return reasons, flexible refunds & exchanges solutions, and so on. 
Ideally, it should come with reverse logistics tracking so that you know where is the unwanted item and when it will arrive.
Moreover, you should be able to connect with your own logistics carriers to automate return label generation. If the carrier integration is currently not available, the Returnly Shopify app alternative should at least allow you to upload your return label and enable auto-recognition of carrier and tracking number.
Apart from analytics, it would be even better if the return solution could automatically add return information to Shopify order details to facilitate financial management.
3. Email Notifications
Admittedly, not all disappointed customers come back to your Shopify store to monitor their returns. Nevertheless, it's meaningful to provide a seamless return experience to drive customer engagement. The Returnly alternative should automatically trigger email notifications to keep customers updated at every step. Besides, after the request is approved, the email content must include an attached return label and necessary return instructions.
4. Budget & ROI
The Returnly alternative you're looking for should be at a reasonable price and within your budget. It must be a flawless solution that allows you to process all your returns properly every day. It fully satisfies your needs for improving the post-purchase experience, turning disappointment into opportunity, and building customer loyalty.
5. 24/7 Customer Support
Taking good care of returns means saving lost sales. To avoid anything going wrong and completely disappointing your customers, it's critical that you can get help from a professional customer service team at any time you need.
All things considered, the newly launched ParcelPanel Returns & Exchanges app is the best free Returnly alternative that you can use. It is an ideal solution that satisfies most Shopify merchants' needs for automated returns management, self-service returns portal, real-time email notifications, and 24/7 customer support. Plus, just like the top-rated ParcelPanal Order Tracking, the ParcelPanel Returns & Exchanges app is a solution that grows with your brand. Click the button below to install ParcelPanel Returns & Exchanges and take your post-purchase experience to the next level!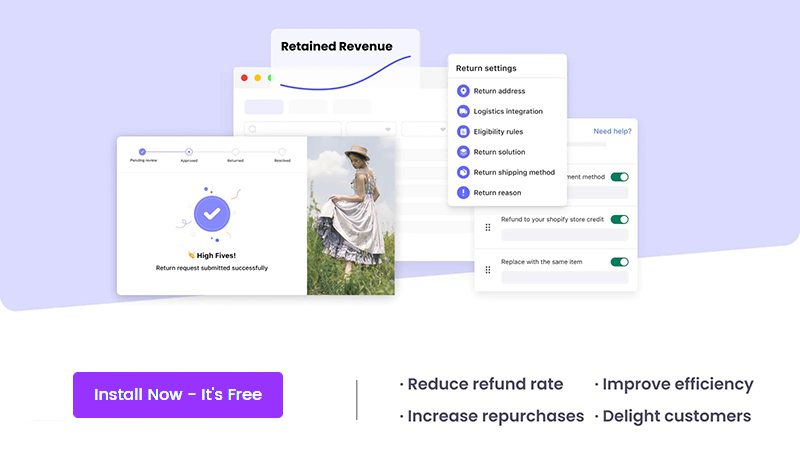 If you have any questions, feel free to contact our customer service team via live chat. Or, you can provide feedback to our development team by emailing [email protected].