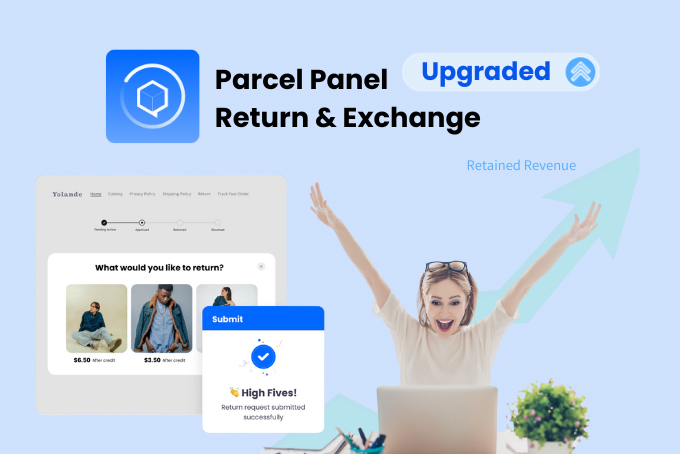 Launched in June 2023, our Parcel Panel Return & Exchange app has gone through several rounds of significant updates. Now, it offers basically everything you need to simplify Shopify returns. If you're looking for the best free Shopify returns app, read further, and you won't be disappointed. This article will go into the details of all the features of Parcel Panel Return & Exchange.
1. Self-Service Return Center
As soon as you finish the installation, our app will automatically create a return page for you. Just follow the onboarding guide to customize any element on the page:
Login method: ①Order number + email address; ②email + verification code
Branding: Background, logo, text colors, font, etc.
Description
Return policy content and URL
Email address error message
Verification code error message
Language: Our return page can speak 16 languages, including English, Spanish, Portuguese (Brazil and Portugal), French, German, Italian, Czech, Dutch, Danish, Polish, Finnish, Swedish, Japanese, and Chinese (Simplified). More languages will be added soon. Translations are provided, and you can further edit the translated texts. The return page automatically adapts to the browser language preferences of your customers.
You'd better choose "Preview" or "Preview on storefront" after you finish adjustments.
You may further test the login by using an order number and your customer's email address. If you choose the other login method, try to place a test order by using your own email address.
After submitting a request to return or exchange a product, your customers can use the 24/7 return center to monitor the progress at any time.
To learn how the return center powered by Parcel Panel Return & Exchange works for end customers, you also may visit our demo store to choose an order to initiate the return processing by clicking "Create return" and "View request progress."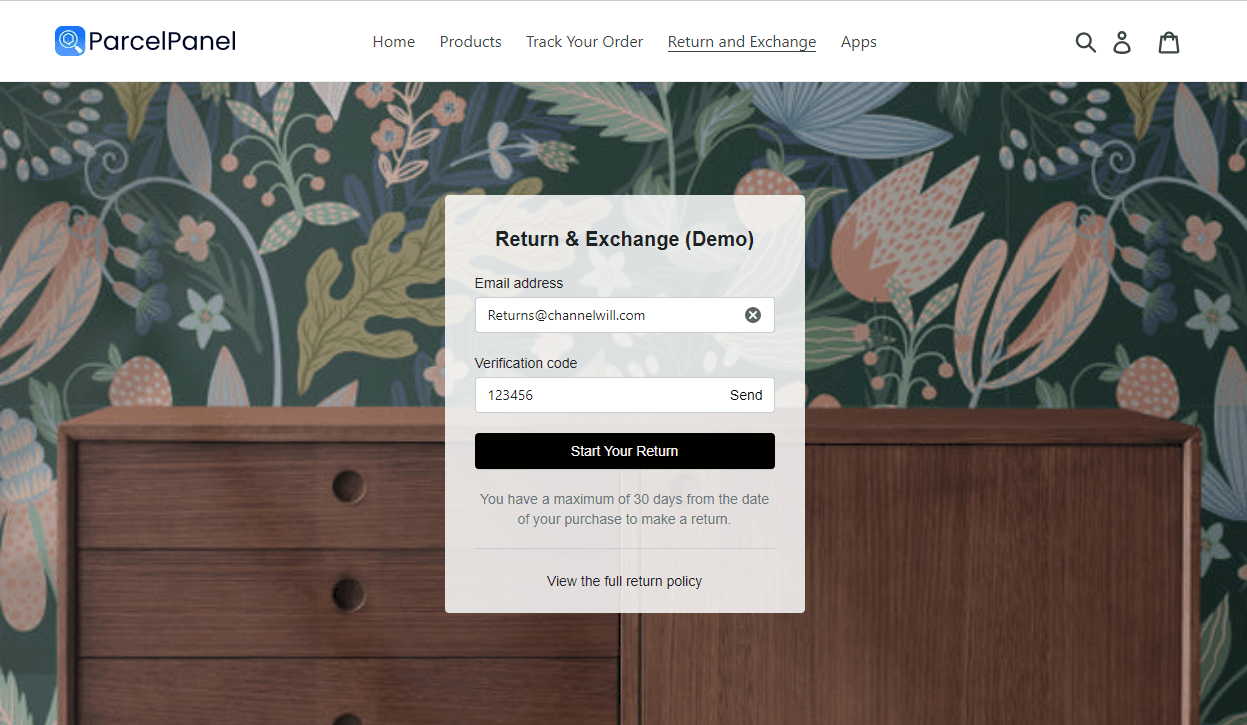 2. Absolute Control of Returns
By using Parcel Panel Return & Exchange, you can add multiple return addresses, define eligibility rules and acceptable reasons for returns, provide various return solutions, return shipping methods & instructions, and integrate with your reverse logistics partners.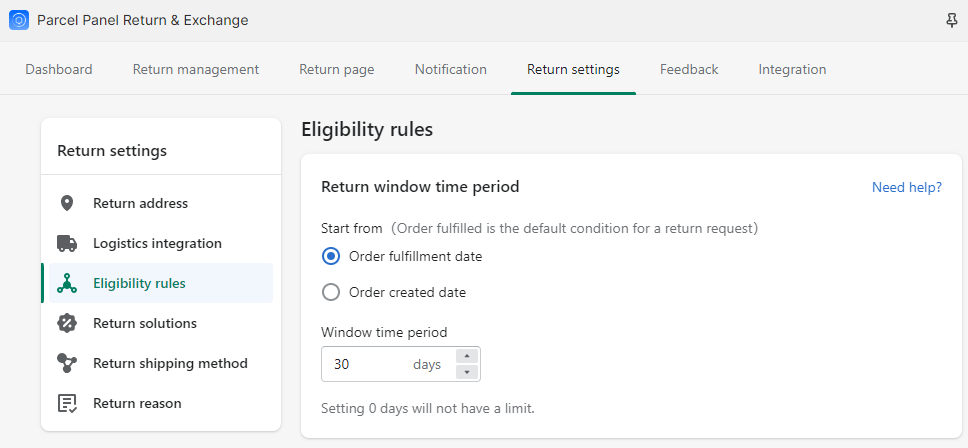 We'll dive into the details of all the available settings by going from those influencing your customers' return experiences to those affecting your reverse supply chain operations.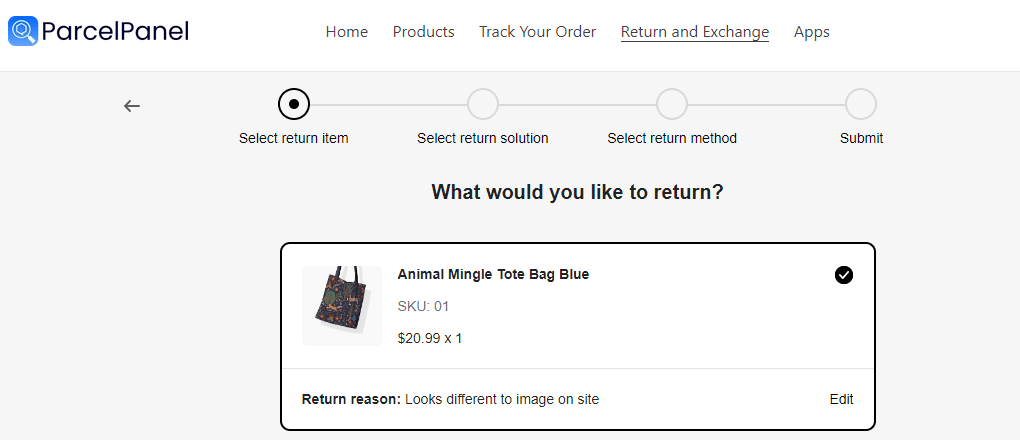 Therefore, in this section, we'll cover everything you need to know about Parcel Panel Return & Exchange by following this order:
Eligibility rules
Return reasons
Return solutions
Return shipping methods
Return address
Logistics integration
a. Eligibility Rules
By going to the settings of "Eligibility rules," you can define the return window according to your return policy. In this way, if an order exceeds the time limit, no request can be submitted. This feature ensures the unbiased enforcement of your return policy.
As for product exchanges, you can save time by using variant replacement settings to limit replaceable items. More specifically, you can allow customers to choose:
All variants with stock
Variants currently out of stock
Variants with stock at a higher/lower price tag
"Blocklist" is available for you to exclude return requests of promotional items by SKU, product name, or product type, block the accounts of unreasonable customers, and prevent fraud.
For Shopify merchants who don't want to receive too many return requests, it is possible to set a return request limit. For example, you can set the number of returnable items per order as one. In this case, after submitting a return request for an item, your customers won't be able to request returns for other items in that order.
b. Return Reasons
To avoid wasting time on communication, it's advised to set acceptable reasons for returns according to your business needs.
By going to "Return reasons," the reason library is populated with common return reasons. Here, you can add and modify acceptable return reasons and set the return description and image proof as "Optional" or "Required." You may also edit the translations by switching to another language.
If you sell products in multiple categories, consider using "Add reason group" by product type.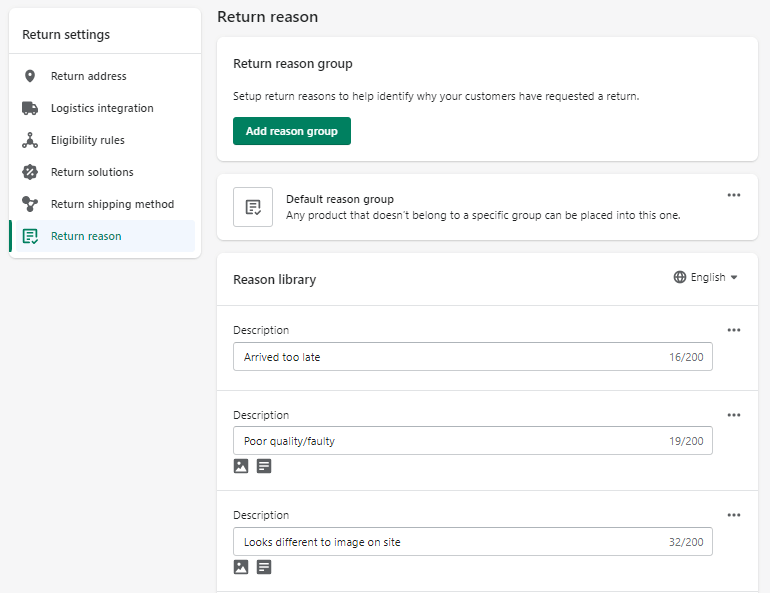 c. Return Solutions
Parcel Panel Return & Exchange helps you provide various solutions to refunds and exchanges. You may enable customers to replace with the same item, get a refund to the original payment method, or choose store credits or gift cards instead of refunds.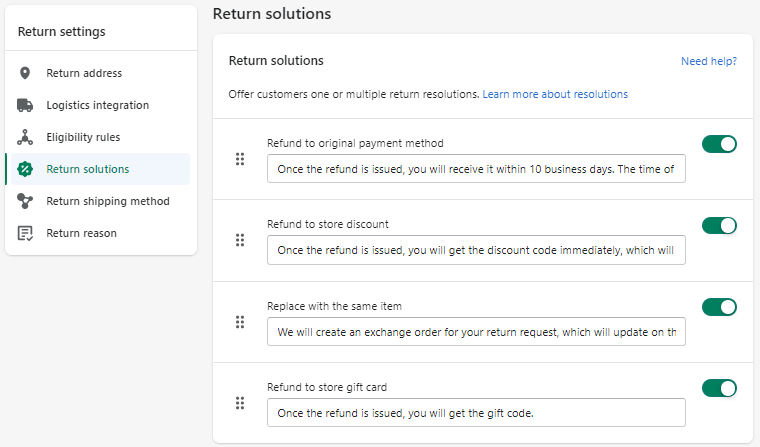 You can edit the description for each return solution so your customers can make an informed decision.
If your business charges return fees or restocking fees, Parcel Panel Return & Exchange can also help you with fee collection. Before submitting the return request, a fixed-amount return fee will appear.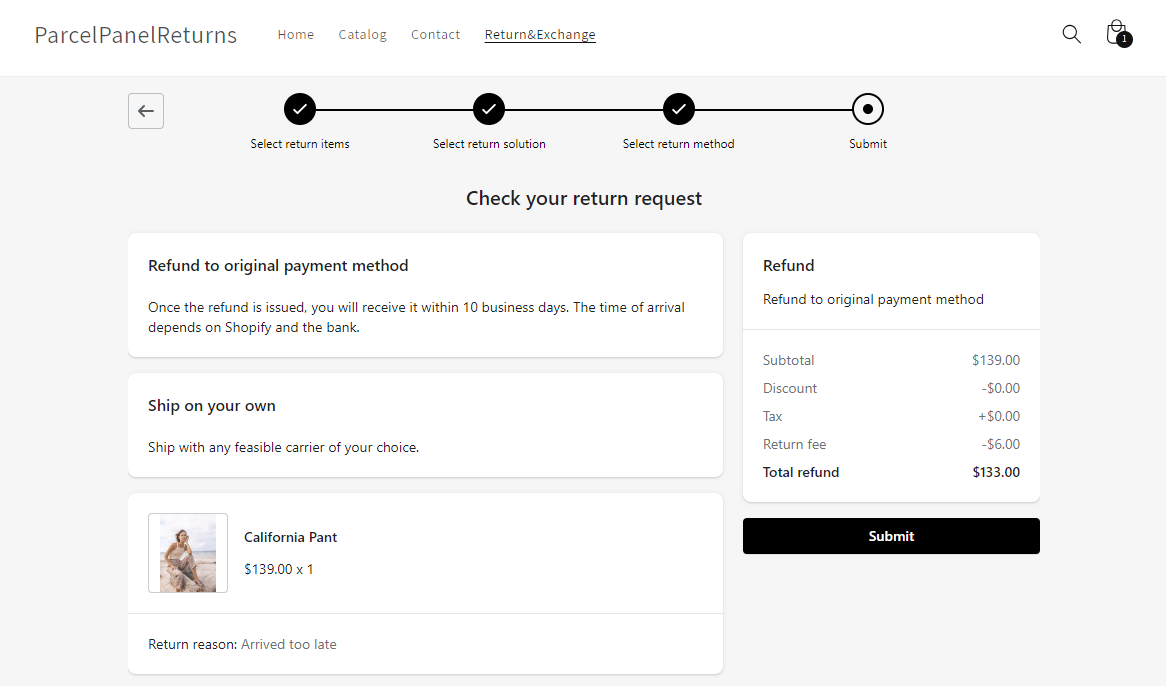 You should take into account any specific return solution and/or return reason to set the condition for the refund amount deduction. For example, a return reason like "Arrived too late" may incur a return fee. If you want to save lost sales, you may set "Refund to original payment method" as the return solution that will cause a refund fee.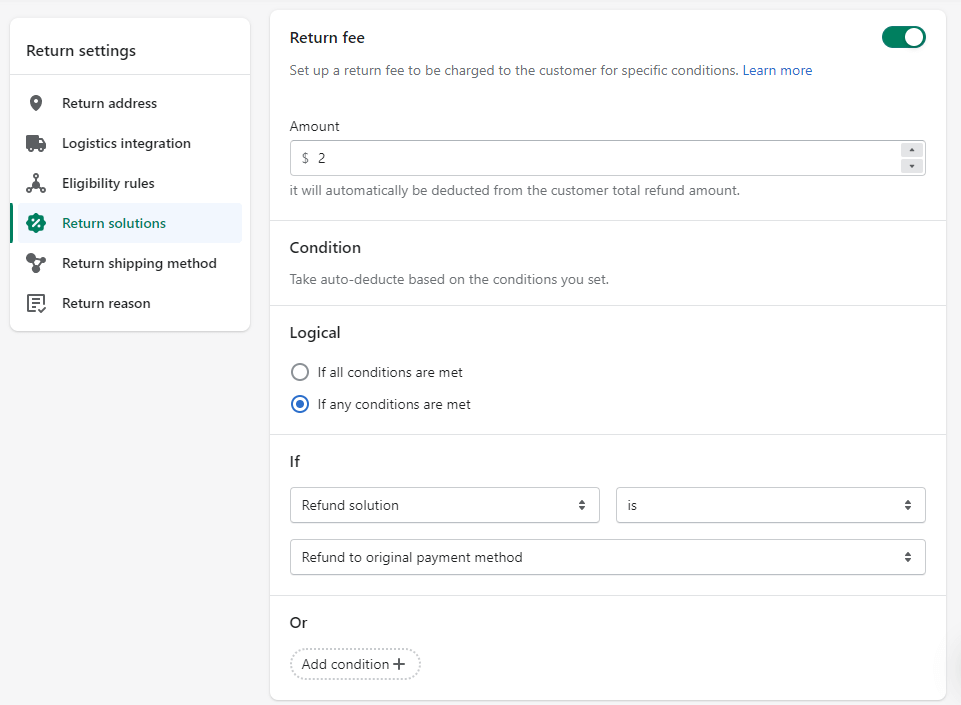 Planned Features:
Multiple condition settings
Setting a percentage return fee based on the refund amount
d. Return Shipping Methods
As for return shipping, Parcel Panel allows you to offer different options and provide necessary instructions for customers to return unwanted products, including:
Ship with a return label you provide: Whether you offer free returns or charge a return fee, make this option available to your customers so they will take the package to an authorized drop-off point. In this way, you can easily keep track of the shipment progress, from drop-off to final delivery.
If a customer has chosen this return shipping method, he/she can download the return label after you approve the return request and upload the return label. If you've enabled corresponding email notifications, the return label and return shipping instructions will also be sent to your customer's inbox.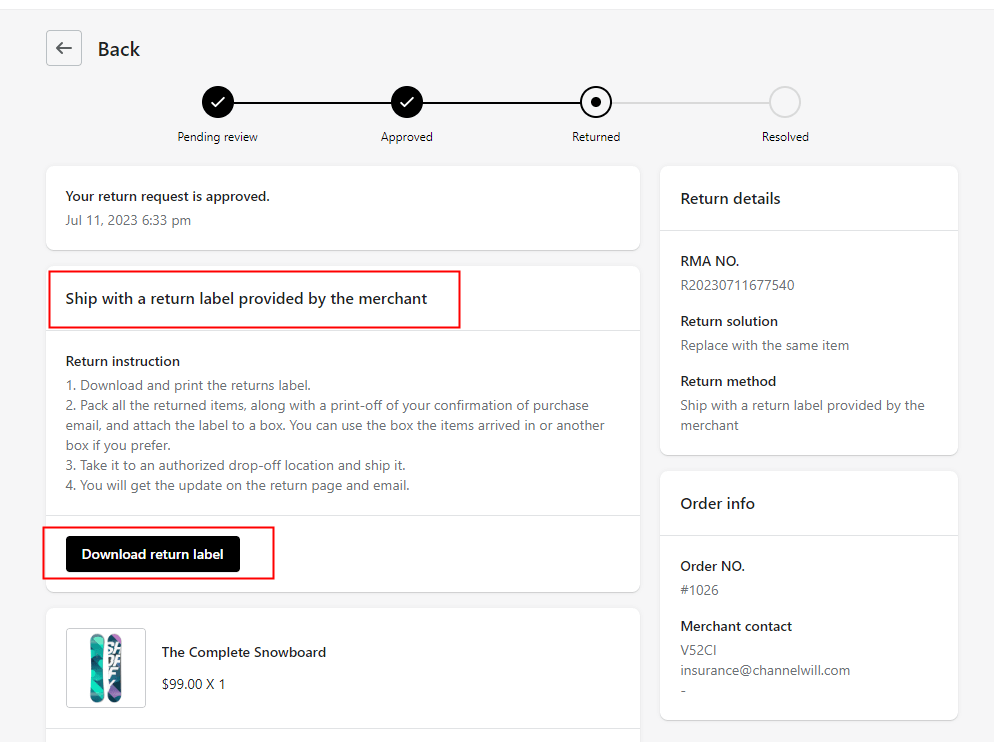 Ship by customer: If you don't offer free returns, consider only providing this option so that customers need to ship the package on their own by going to a local post office or a drop-off point of the courier of their choice.
If approved, the customer who chooses this return shipping method can "Enter shipment details" in the return center, including the tracking number and courier.
If you've enabled email notifications for "Return request approved," your customer will be informed of the approval and receive the specific instructions.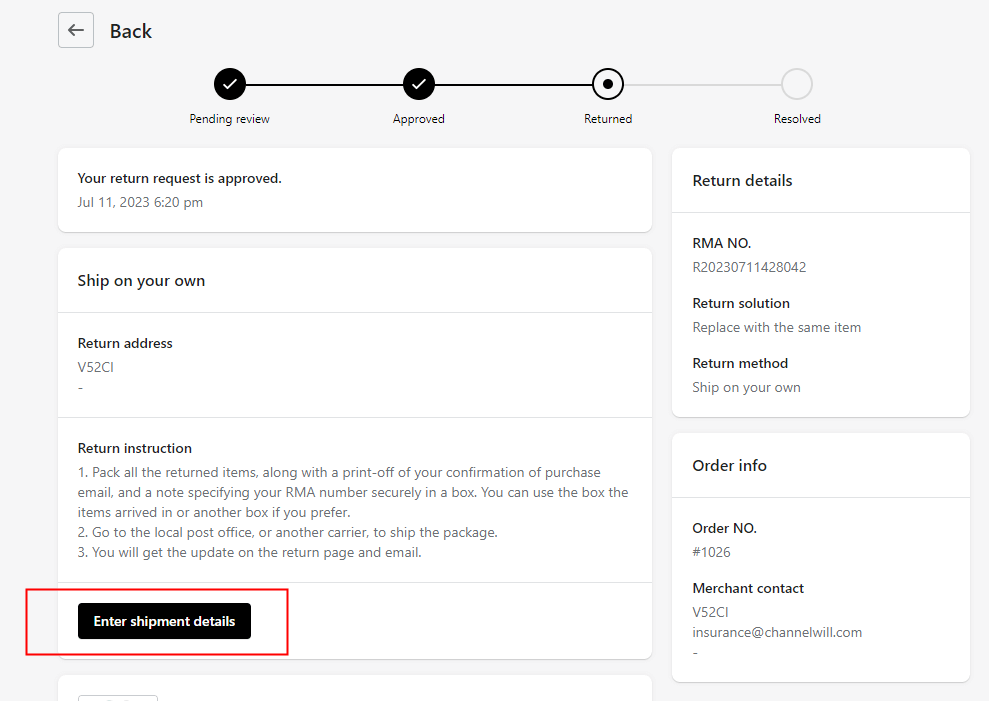 Green returns: If the return shipping cost is much higher than the product cost, you may allow your customers to keep the item to avoid the reverse logistics process and reduce carbon emissions. With Parcel Panel Return & Exchange, you can pre-define conditions for green returns and encourage repeat business.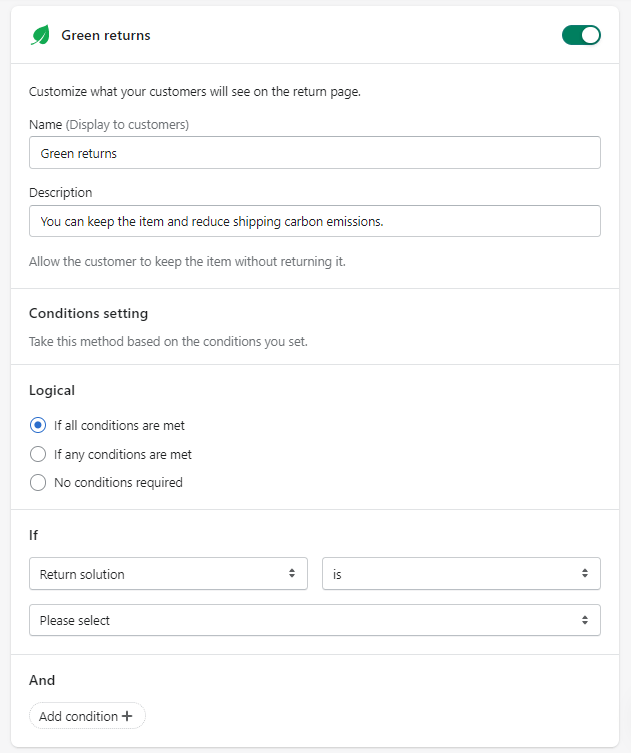 Upcoming Features:
"No-Box, No-Label" returns
Pickup appointment
In-store returns
e. Return Address
After installed, Parcel Panel Return & Exchange will automatically synchronize your Shop locations. You may also set other addresses to accept returns. Our app also allows you to edit and delete a return address.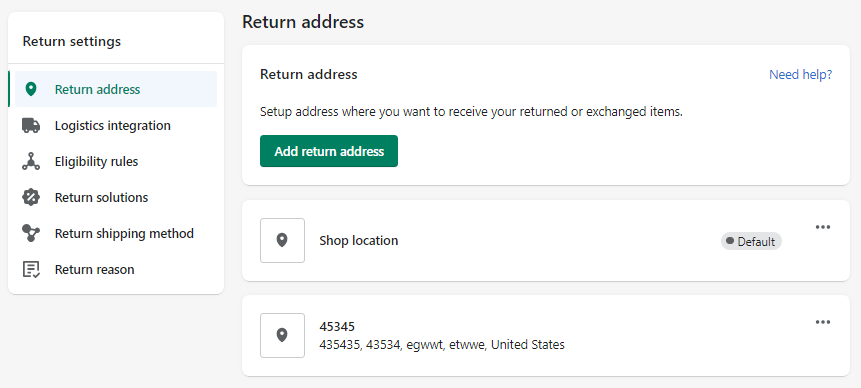 The return address will be shown to your customers if a customer has decided to ship the item back on his/her own.
Except for Green Returns, whatever return shipping method your customer has chosen, to approve the return request, you're required to choose a return address.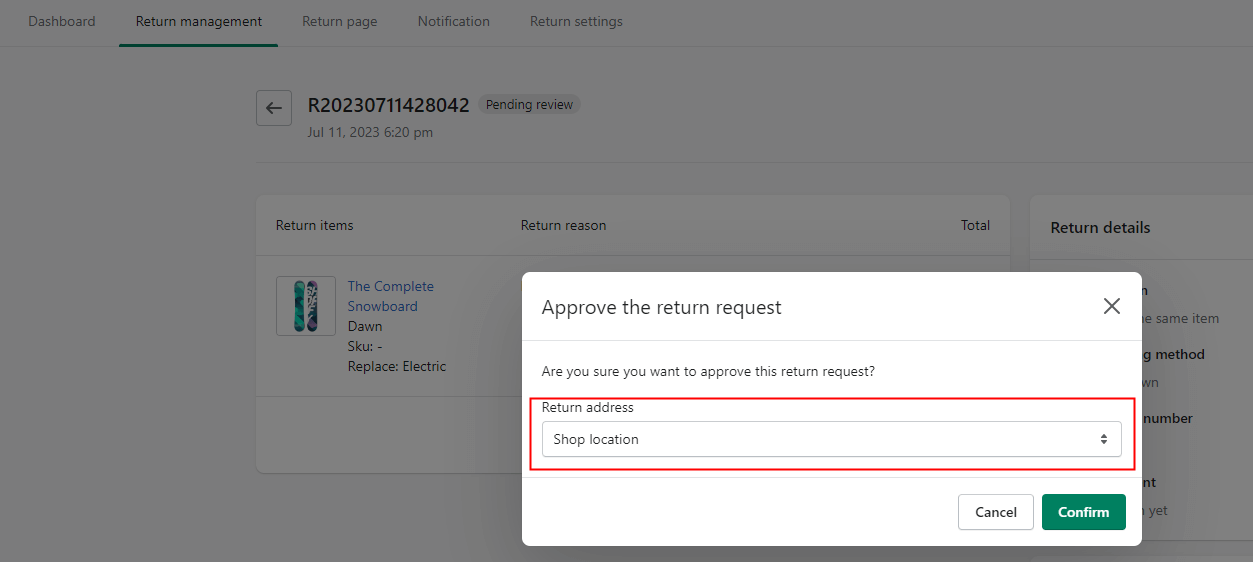 After finishing the settings above, you can put the URL at the storefront to enable customers to initiate returns and exchanges by themselves. In our app, there are two video tutorials with detailed instructions for you to easily complete the setup.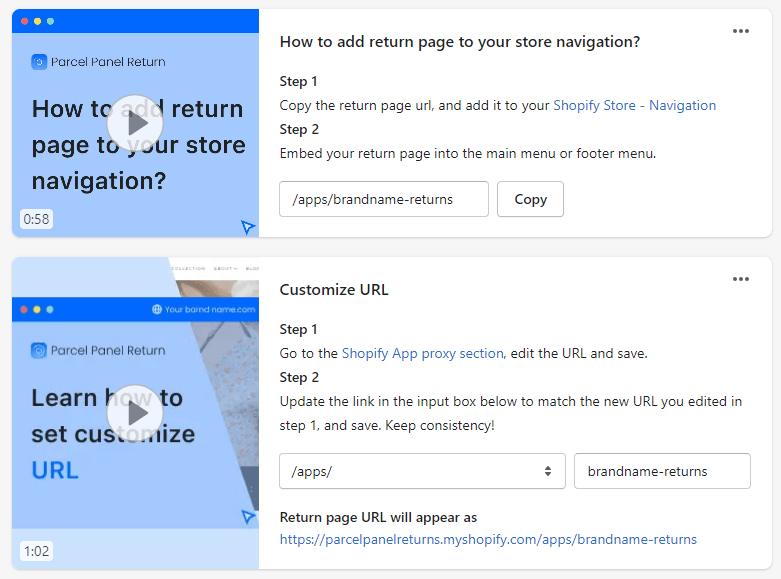 f. Logistics Integration
Currently, the Parcel Panel Return & Exchange app allows you to integrate shipping services, including Shippo, Sendcloud, and FedEx by using API. Tutorials for logistics integration are available, which makes it a breeze for you to bring your reverse supply chain partners on board.
DHL integration will be coming soon. Our technical team is striving to cover popular couriers. If you consider using Parcel Panel to simplify returns, you may submit a request for logistics integration.
3. Centralized Returns Management
Parcel Panel Return & Exchange is the best free Shopify Returns app you can use to manage returns, refunds, and exchanges in one place. Go to "Return Management," and you can find all requests submitted in the last 7 - 180 days or a custom time range. You can search for a specific return request by using the RMA number, order number, customer email, or even tracking number. A combination of filters under "Return solution" and "Process status" are also available for easy management.

You may use the "Create a return" feature if certain customers ask you or your customer service team to submit a return request on their behalf. To proceed, the order number and customer email address are required.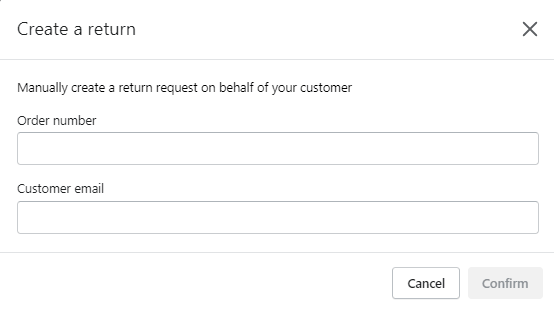 The main workflow of Parcel Panel is illustrated is shown as below: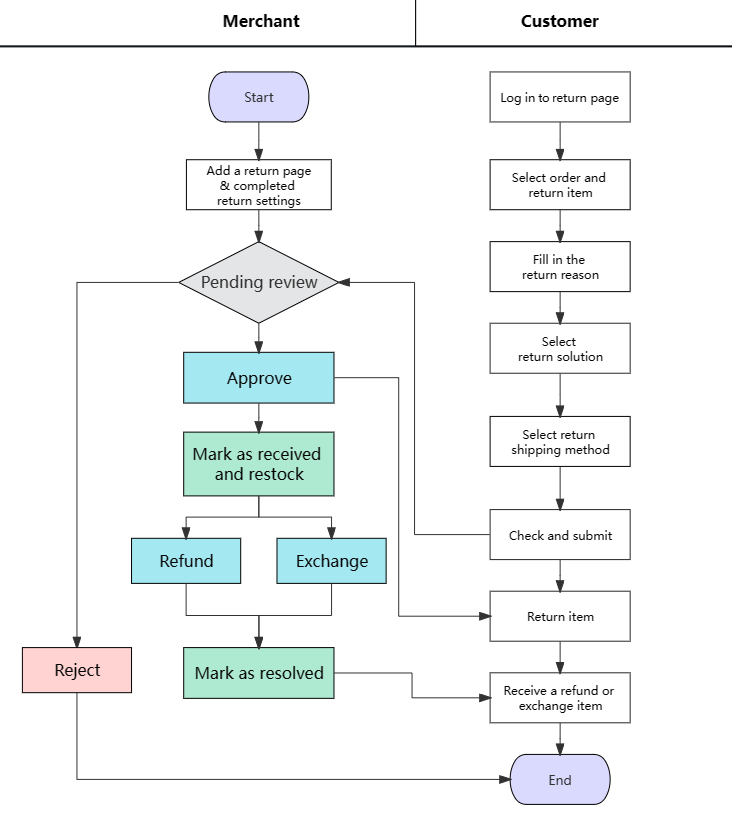 As you can see, requests are categorized into 4 different return processing statuses, namely:
Pending review: Requests in this status need processing. You can either choose "Approve" or "Reject." If you choose "Reject," the procedure will come to an end.
Approved: As for "Approved" requests, if your customer expects a refund after you confirm that you've received the returned product, you can "Mark as received" and issue a refund; if your customer expects an exchange, create an exchange order and after confirming the person has received the replacement, "Mark as resolved." Please note that an approved request is associated with an RMA number.
Resolved: Refund/exchange requests that have been successfully processed and marked as "Resolved" are shown here.
Rejected: By going to the tab "Rejected," you can find requests that have been rejected in the past.
Planned Feature:
Automatic return shipment tracking by integrating with Parcel Panel Order Tracking
4. Return Processing Notifications
Our app allows you to send email notifications to customers based on all the following events:
Return request confirmation
Return request approved
Return request rejected
Refunded to store credit
Refunded to store gift card
Refunded to original payment method
Exchanged order created
It's worth mentioning that you can turn on/off any notification mentioned above. Besides, the sender name and sender email of the notifications can also be changed to meet your needs.
You can edit the content of all email templates, including the subject line, title, email body, button, and store name/logo. Five variables can be inserted into any position you like - store name, RMA number, order number, email address, and business name. Thanks to the visual editor, any changes will appear in real time.
Before activating a notification, don't forget to click "Send test email" and fill in your email address to double-check in the perspective of a customer.
If you're responsible for returns management to ensure timely processing, you may opt-in to merchant notifications. Go to the "Notification" section, choose "Notify merchant," enter your business email, and enable "Return request confirmation."
5. Returns Analytics & Reporting
The dashboard of the Parcel Panel Return & Exchange app gives you an overview of return requests in the past 7, 30, 60, 90, or 180 days or a custom time range. You can also be reminded of the number of pending requests here.
Other metrics available include:
Return requests:The number of requests created within the specific time range
Returns value: The total value of items purchased by customers who have requested returns
Back-in-store value: The total revenue retained through exchanges and refunds to store credits
Return requests over time: The graph helps you visualize the number of requests created by customers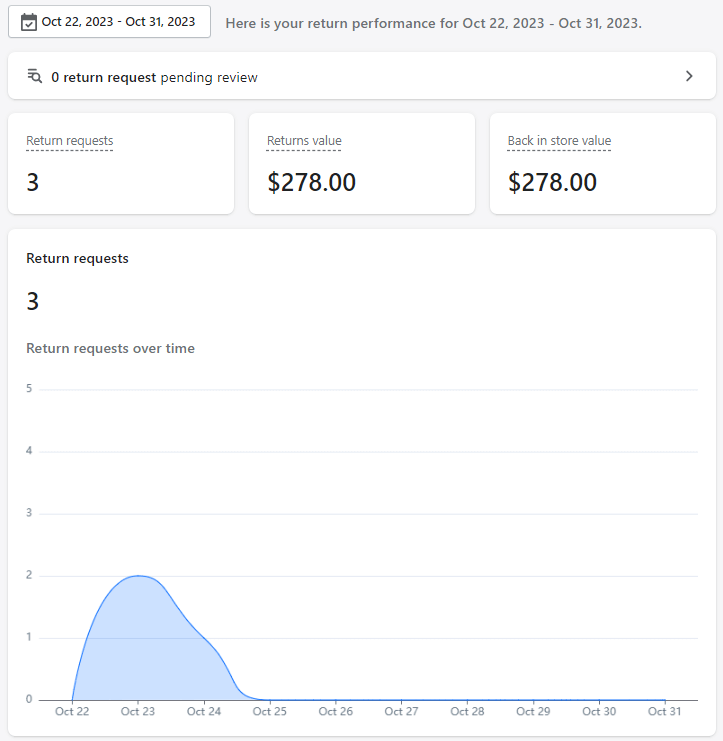 (Taken from one of our test stores)
Below the graph, you can find the summary of top return variants, top return reasons, and return solutions for making informed decisions.

Final Words
Don't hesitate to use Parcel Panel Return & Exchange to elevate your post-purchase experience and boost work efficiency. If you have any questions, reach out to our 24/7 customer service to get immediate answers; if you wish to suggest new features, you are welcome to contact our product manager, Sunny, at [email protected] and join our Early Adopter program.