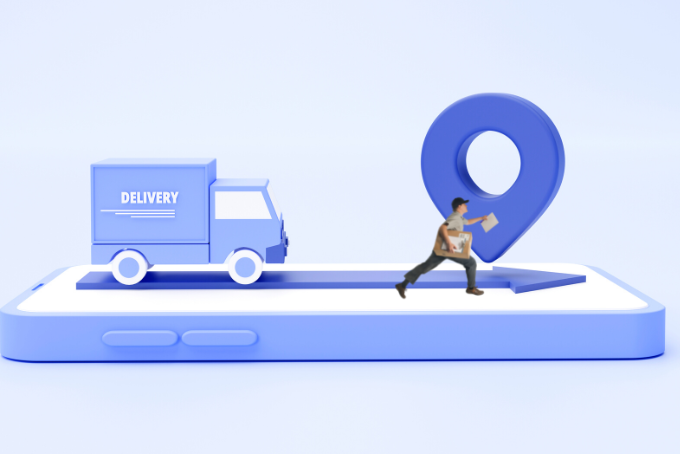 Picture this: you've just placed an order online, and you're eagerly anticipating its arrival. You keep refreshing the tracking page, hoping for an update. Sound familiar? Well, according to a BusinessWire report, 9 out of 10 consumers actively track their packages - that's a lot of people refreshing tracking pages. 
The last mile delivery can be the most nerve-wracking part of the process. It's where obstacles like traffic congestion and unexpected road closures can cause delivery delays. Fortunately, you can ease your customers' minds and make the experience a breeze with last mile tracking. This type of tracking can help people prepare for the arrival of their packages and be assured of their location.
In this guide, we will equip you with all the knowledge that you need to excel in last mile tracking and keep your customers happy (and refreshing the tracking page a little less).
What is Last Mile Tracking? 
Last mile tracking is a crucial part of the last mile delivery process. It involves tracking the location and status of packages from the warehouse or distribution center to the final delivery destination. This type of tracking is affected by traffic, weather conditions, and other factors, and it provides up-to-date information on package location and delivery time. This helps businesses efficiently manage their delivery operations, ensuring timely delivery and high customer satisfaction.
One critical component of this tracking process is the last mile delivery tracking number. This number enables customers to track their packages and monitor the delivery process in real time. In addition, SMS alerts, real-time tracking on a map via a mobile phone, the ability to communicate directly with the driver, and the ability to rate the experience are essential requirements for creating a system that enables smart last mile tracking for customers.
As the eCommerce industry continues to expand, offering last mile delivery tracking is crucial for companies aiming to provide excellent customer service. Companies such as Uber and Amazon have set the standard for effective management and communication with customers, and other businesses across all sectors must follow suit to meet customer expectations.
Why Ecommerce Brands Need Last Mile Tracking
There are several benefits of integrating last mile tracking into your customer experience. With this tracking option, you can:
1. Give customers peace of mind and build trust
After placing an order with a business, it's common for customers to feel anxious about whether their package will arrive on time or encounter any unforeseen obstacles like road closures or difficulty finding their address. 
With last mile tracking, you can give your customers real-time updates on their orders. This means they'll always know the package's location, whether it's waiting at the shipping port or on the way with the assigned driver. By offering this level of transparency, you can relieve delivery anxiety and build trust in your brand, making customers more likely to return for future purchases.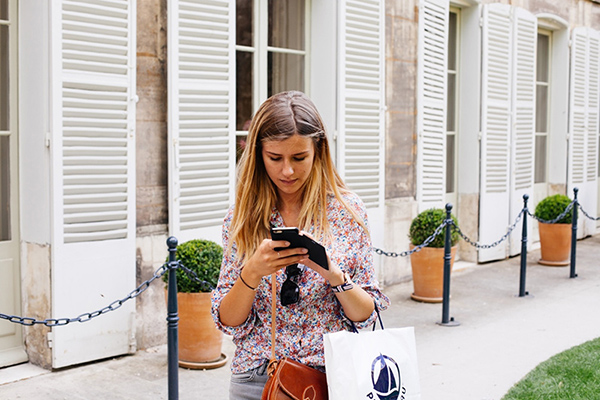 2. Improve the post-purchase experience and brand perception
When it comes to ecommerce delivery, a late or missing package damages your brand's reputation. Even though you might feel a little safe once the order is in the hands of a carrier like DHL or FedEx, mishaps happen, and customers tend to see the brand as the culprit.
That's why you must take ownership of the final mile of delivery. By using robust shipment tracking information, you can identify potential issues before they escalate and cause headaches for your customers. This can improve your post-purchase customer experience and foster trust in your brand. 
Providing transparent and up-to-date delivery information can also help build customer loyalty. When you actively monitor the delivery process and keep customers informed in every step of the way, you give them a solid reason to make repeat purchases and make endorsements for your brand.
3. Reduce pressure on customer support
E-commerce support teams are no strangers to WISMO (where is my order?) inquiries. It's a customer's right of passage to inquire about their orders. But let's face it: constantly retrieving order and delivery status information for customers is not only tedious, but it's also a time-sucking black hole that prevents teams from tackling more complex issues.
Take advantage of real-time package tracking software, the superhero of the post-purchase experience. By empowering customers to check their order's ETA on their own, this ultimate self-service tool helps reduce the number of inquiries your support team has to process. So you can say goodbye to being buried under an avalanche of "Where is my order?" emails and hello to tackling other important tasks.
4. Proactively prevent delivery disputes and chargebacks
Contrary to popular belief, chargebacks aren't always requested for the sake of getting money. Sometimes, a customer might request a chargeback for a legitimate reason. For example, if you don't give them any shipping info or estimated delivery date, they might start seeing red and file a dispute.
So how do you avoid negatively impacting your business's relationship with your bank? Simple, folks! Just give your customers the gift of last mile tracking. You can do it through shipping companies or by embedding fancy tracking technology into your website. Trust us, and your bank account (and your sanity) will thank you.
5. Bring customers back and successfully upsell
Last mile tracking can also be a powerful tool for increasing your average customer value. With parcel tracking software, you can send emails informing customers of the status of their order and include coupon codes to encourage them to return and make another purchase. Additionally, you can recommend products on the order tracking page, which can lead to a successful upsell and boost your revenue.
Last mile tracking can also lower your costs because compared to trying to attract new customers, focusing on repeat business helps save advertising and marketing costs, leaving you with more to invest in creating exceptional experiences for your customer base.
ParcelPanel offers a branded tracking page solution that can reduce WISMO requests and drive sales for your business. With this tool, you can build a custom tracking page that aligns with your brand identity to provide a seamless customer experience. Plus, you can showcase complementary products that your customers may be interested in, driving additional revenue and sales.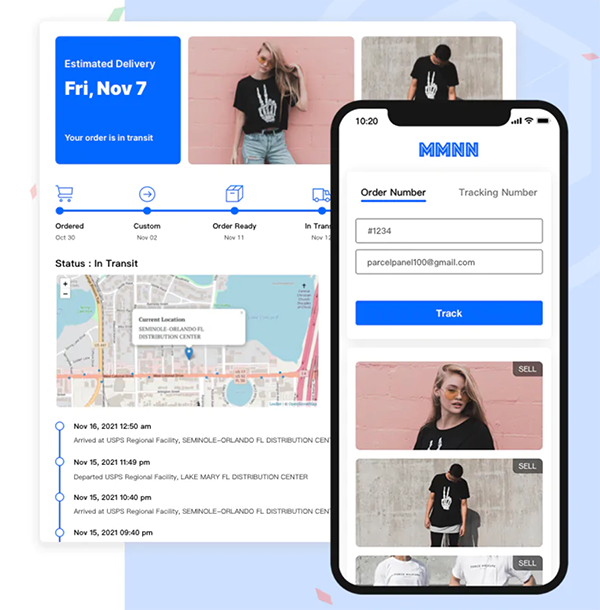 ParcelPanel's technology also helps customers track their packages during the last mile delivery. With real-time tracking and estimated delivery times, customers are always notified of the status of their package. As a cherry on top, ParcelPanel operates under your store domain, meaning your brand gets consistent exposure throughout the shipping journey. 
6. Choose the best last mile carriers
Last mile delivery has become a crucial aspect of the ecommerce supply chain in recent years. With the same-day or next-day delivery concept on the rise, customers now demand more from retailers than ever before. Meeting these expectations comes at a cost.
According to a report by Insider Intelligence, last mile delivery can account for up to 53% of the total cost of delivery. Factors like the need for specialized vehicles and equipment, fuel expenses, and labor contribute to this percentage. These costs are further compounded by the rising demand for faster delivery times, which often requires additional resources and investments.
That being said, the pressure to meet customer expectations continues to be on. Customers now expect not only fast and reliable delivery but also real-time tracking updates, delivery notifications, and more. Failing to meet these expectations can result in negative reviews, lost sales, and a notorious reputation.
To succeed in today's cutthroat environment, companies must find ways to balance the increasing demands of customers with the high costs of last mile delivery. This may involve investing in new technology or processes, such as route optimization software or automated delivery systems. It may also involve partnering with logistics providers or leveraging data to make more informed decisions about delivery routes and methods.
How Last Mile Carrier Tracking Works
Now that you know the potential costs of offering last mile tracking, let's go over the key elements involved in the process.
Direct contact between customers and delivery personnel
Brands often act as intermediaries between delivery personnel and customers. Instead, businesses can allow customers to communicate directly with delivery personnel. After all, it's the customers who possess important delivery information like gate codes and secure drop-off locations. Providing them with the ability to relay this information directly to the delivery personnel can reduce the risk of lost or misinterpreted instructions.
Real-time transit data
Modern customers are known to avoid brands that don't offer "real-time" order tracking. We're all spoiled by mobile apps that let us follow our packages around in real time, whether it's milk or sushi. But if order tracking lacks this feature, it's easy for customers to get the jitters, especially if they've paid for express delivery. 
To save the day, give your customers real-time delivery tracking during that crucial last mile. Your delivery service will be notorious for errors such as missed turns and dead ends, so full visibility can put everyone at ease. By tracking packages from when they hop onto delivery trucks, you'll spot ways to make the process smoother and cut costs.
Proof of delivery (POD)
Once the delivery person drops off the package at the correct address and heads out, it may seem like another successful customer order is complete. But the reality is that the customer journey only ends once the customer knows their package has been delivered. That's why providing proof of delivery (POD) is crucial to wrapping up the customer experience on a positive note.
Brands can even consider the practice of sending a photo of the parcel on the customer's porch comes in handy. This tactic, pioneered by Amazon, is an effective way to alert customers that their package has arrived and put their minds at ease.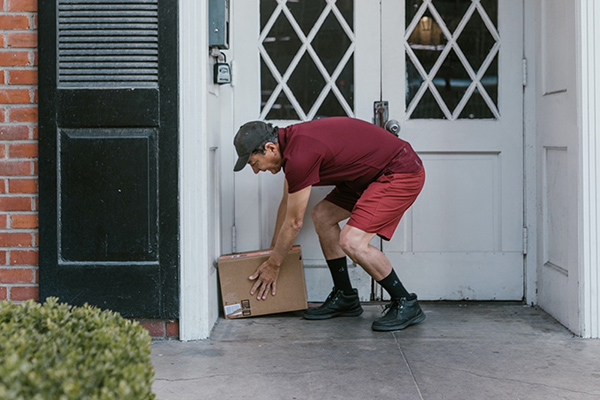 How to Track Last Mile Delivery?
There are several ways a person can track last mile delivery:
1. Go to the carrier website
To track your last mile delivery, the first way is to visit the carrier's website. Among the well-known last mile carriers, FedEx, UPS, and USPS offer comprehensive last mile delivery tracking services. However, it's worth noting that some carriers, like YunExpress, don't provide last mile delivery services but offer last mile delivery tracking. For instance, if you choose YunExpress for your delivery needs in the United Kingdom, your package will be delivered by Royal Mail.
2. Go to a universal parcel tracking website
To keep tabs on the last mile delivery status of your package, a universal parcel tracking website like ParcelPanel may be useful. Not all tracking websites offer last mile tracking, usually because the shipping carrier has changed and the new tracking number can't be retrieved.
ParcelPanel pulls complete tracking information from over 1,086 carriers worldwide, simplifying the process of tracking your package's last mile delivery. Additionally, the website features carrier auto-detection for added convenience.
Visit ParcelPanel's courier page to view the comprehensive list of supported carriers and start tracking your package with assurance.
3. Use software for last mile delivery tracking
Last mile delivery tracking software is known to offer comprehensive insights into the package's status. While there are many software choices available, such as Bringg and Onfleet, they typically only offer last mile tracking.
With ParcelPanel, however, you can enjoy an all-in-one end-to-end tracking solution designed specifically for Shopify and WooCommerce ecommerce brands. Here are some of the benefits ParcelPanel can offer:
Set up your own branded tracking pages for a more professional look and feel.
Collect valuable data and delivery insights, allowing you to optimize your logistics processes and improve your overall customer experience.
Send automated emails to notify customers of their delivery status, reducing the number of inquiries you receive.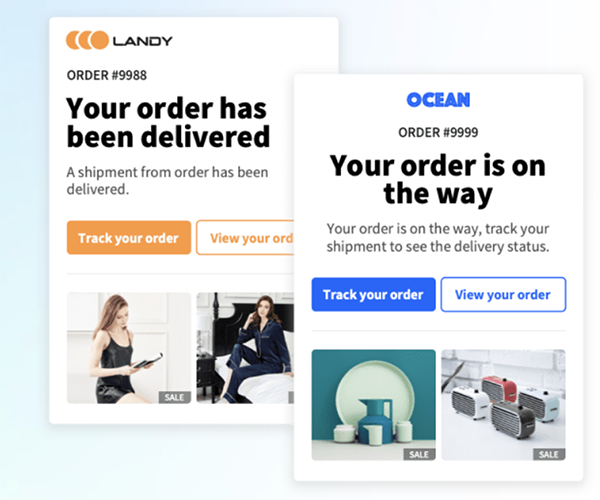 By choosing ParcelPanel for your ecommerce tracking needs, you can ensure that you're providing your customers with the best possible delivery experience while also gaining valuable insights into your own logistics operations.
4. Extend functionality with tracking API
For e-commerce brands with strong technical resources, integrating a tracking API into their system can greatly enhance their tracking capabilities. With real-time tracking information, brands can help customers know the up-to-date whereabouts of their package.
To get started with tracking APIs, consider reaching out to top tracking API service providers such as Aftership and TrackingMore. These companies offer user-friendly and reliable APIs that can help streamline the tracking process for your audience.
For example, TrackingMore's tracking API provides real-time tracking updates across 1080+ carriers, and it offers a RESTful API that simplifies the tracking process, and it supports Webhook integration. It is similar to ParcelPanel. Notably, for Shopify or WooCommerce businesses, ParcelPanel is a better choice.
Overall, integrating a tracking API into your order tracking experience is a great way to streamline the customer journey. Reach out to top tracking API service providers to learn more about how a tracking API can benefit your business.
5. Partner with tech-enabled couriers
The final way to track your last mile delivery is by partnering with tech-savvy couriers. These couriers offer GPS tracking to their drivers and have their own software that customers can use to follow their package's journey.
By outsourcing your last mile delivery work to these experts, you'll avoid pulling your hair out over the setup and maintenance of your own tracking system. Plus, you'll be supported by a local business instead of battling the last mile yourself. And we all know that outsourcing is the key to success or at least a good night's sleep.
Conclusion 
Last mile delivery tracking isn't just a fancy add-on for businesses anymore—it's a must-have feature. It provides customers with the transparency and convenience they crave and helps to reduce the risk of lost packages and frustrated shoppers. By partnering with a reliable courier or using tech-enabled solutions, you can take the headache out of managing the last leg of the delivery process.
Don't let your customers be clueless about their package delivery. Get on board with last mile tracking using solutions like ParcelPanel and give them the reassurance they need.